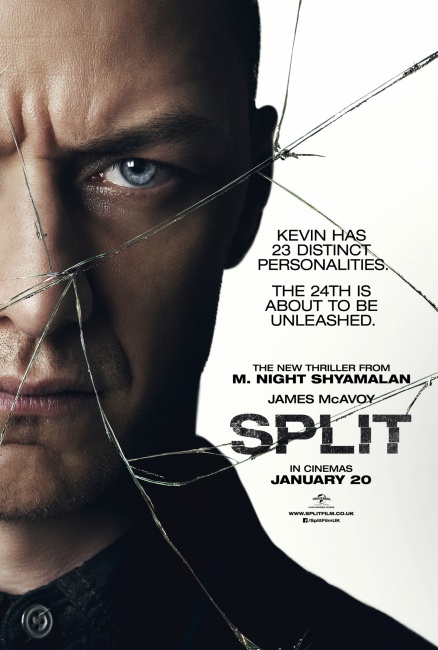 M. Night Shyamalan's
Split
eked out a narrow victory to claim its third straight weekend box office crown with a modest total of $14.5 million. Overall the weekend totals were down almost 30% from the same frame last year, but just about even with 2016's Super Bowl showing, which came one weekend later into the year (and will likely result in a substantial year-over-year gain next weekend). Two widely released new films, the third movie in
The Ring
horror film trilogy and the teen-targeting romance
The Space Between Us,
both opened poorly in the unforgiving football-centric environment.
Split
is the first Shyamalan film to three-peat at the weekend box office since
The Sixth Sense
back in 1999, and the split-personality hostage thriller has now earned $98.1 million at the domestic box office. Possibly as soon as tomorrow
Split
will become the fifth Shyamalan-helmed film to earn more than $100 million here in North America. With a current global total of $142.7 versus a cost of just $9 million,
Split
is setting a high bar for subsequent 2017 horror films to match.
Split
certainly shouldn't fear
Rings,
the third film in the North American trilogy based on the 1998 Japanese horror film
Ring
(or "
Ringu
"), which is based on the novel by Koji Suzuki.
Rings
posted the franchise's lowest opening ever with just $13 million. 2005's
Ring 2
debuted with $35 million, and the first American
Ring
film in 2002 opened with $15 million, which when adjusted for inflation is over $20 million today, and the initial
Ring
film ended up with what would amount to a domestic run of $160 million today.
In spite of the success of the previous
Ring
films,
Rings
has little in the way of future prospects, given its miserable 5% positive rating on review aggregator Rotten Tomatoes and its lousy "C-" CinemaScore from opening weekend audiences, which skewed female (54%) and younger (67% under 25).
Rings
was supposed to be released in November of 2015, but was shelved for 15 months and then dumped out on Super Bowl weekend—not exactly the way a studio like Paramount treats a film in which it has the slightest bit of confidence.
A Dog's Purpose
, which specifically targets dog lovers with its empathetic examination of canine existence, was hurt by a TMZ video report that reportedly showed abuse of a dog on the set. A
report
from the American Humane Society that found that there was no abuse of animals on the set (and that the TMZ clip was edited deceptively to give the impression of abuse) may have helped a bit this week as
A Dog's Purpose
dropped just 40.6% in its second weekend as it earned $10.8 million to bring its domestic total to nearly $33 million, but as is often the case with misleading news stories it is very difficult to overcome the perception they generate, even if they are later shown to be inaccurate, so it should be interesting to see if
A Dog's Purpose
will be able to overcome the effects of that deceptive video.
Fourth and fifth places this weekend went to two films with big Oscar hopes, the biopic
Hidden Figures
about the largely unsung work of a group of African-American female mathematicians at NASA, dipped only 27.9% as it earned $10.1 million to bring its domestic total to a robust $119.4 million, and the "jazz musical"
La La Land
, which slipped 39.1% as it added $7.5 million to bring its North American tally to $118.3 million.
Hidden Figures
has pulled ahead here in North America, but
La La Land
has a huge lead overseas, and has already earned $268.3 million globally.
Weekend Box Office (Studio Estimates): February 3-5, 2017

Film

Weekend Gross

Screens

Avg./Screen

Total Gross

Wk#

1

Split

$14,584,485

3,373

$4,324

$98,700,950

3

2

Rings

$13,000,000

2,931

$4,435

$13,000,000

1

3

A Dog's Purpose

$10,824,830

3,178

$3,406

$32,926,095

2

4

Hidden Figures

$10,100,000

3,401

$2,970

$119,402,095

7

5

La La Land

$7,450,000

3,236

$2,302

$118,306,924

9

6

Resident Evil: The Final Chapter

$4,500,000

3,104

$1,450

$21,851,775

2

7

Sing

$4,080,715

2,293

$1,780

$262,907,195

7

8

Lion

$4,006,000

1,405

$2,851

$24,711,674

11

9

The Space Between Us

$3,820,000

2,812

$1,358

$3,820,000

1

10

xXx: The Return of Xander Cage

$3,700,000

2,478

$1,493

$40,024,887

3
The last film in the game-based Resident Evil saga, Resident Evil: The Final Chapter, tumbled 66.9% in its second frame, earning just $4.5 million for a 10-day North American total of just $21.9 million, which represents just 18.6% of the film's earnings so far, and also demonstrates that this franchise has all but expired here in the U.S. and Canada.

With little animated competition Universal's Sing has managed to stay in the top 10 for seven straight weekends and has earned a healthy $262.9 million here in North America, a great showing, but only good enough for the fifth spot among animated features released in 2016—proof that it was another very good year for animated films, which are key contributors to the modern box office. Next weekend however Sing will face direct (and possible withering) competition from The LEGO Batman Movie.

Another film with Oscar potential, The Weinstein Company's biopic Lion, added 830 theaters to bring its total to 1,405, and earned an estimated $4 million to bring its North American total to $24.7 million.

The teen-targeting science fiction/romance The Space Between Us debuted well below expectations with $3.8 million. There is a divide here between sentiment-averse movie critics, who gave the film a lousy 18% positive rating on Rotten Tomatoes, and opening weekend audiences, who gave the film a solid "A-" CinemaScore. As expected the audience skewed heavily female (69%) and younger (33% under 18). Word-of-mouth could help The Space Between Us hang around for a while, but the tiny opening weekend audience certainly doesn't indicate much interest, even among the film's targeted audience.

Paramount couldn't be happy with the opening of Rings, but the studio might also be worrying about the steep drop of xXx: The Return of Xander Cage, the ultra-action film starring Vin Diesel, which slipped to #10 in just its third weekend of release, dropping 57% as it earned a mere $3.7 million to bring the domestic total of the $85 million production to just $40 million.

Slipping out of the top ten for the first time in 8 weeks, Rogue One: A Star Wars Story still managed to earn $3 million to drive its 2016-leading domestic total to $524.6 million.

Opening in just 848 theaters, The Comedian, which stars Robert DeNiro as an insult comedian, earned just $1.1 million for a lousy debut average of $1,323 per venue, which translates into "here's another box office bomb."

Next week should see a big shake-up in the top ten with the arrival of 2017's first superhero offering, the animated LEGO Batman Movie, plus the debuts of the erotic sequel Fifty Shades Darker, and the Keanu Reeves-starring John Wick: Chapter Two, which promises to have almost as much "gun porn" as Fifty Shades has of the other kind.