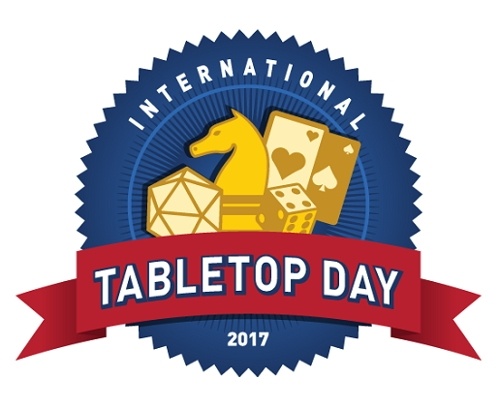 Rolling for Initiative is a weekly column by Scott Thorne, PhD, owner of Castle Perilous Games & Books in Carbondale, Illinois and instructor in marketing at Southeast Missouri State University. This week, Thorne shares some observations on International Tabletop Day, held on Saturday.
In case you missed it, this year's
International Tabletop Day
took place this past weekend on April 29th. This is the third year for the event and we, and a whole lot of other retailers, hosted events for it with varying degrees of success. Some stores hosted designers and game companies with an organized schedule of events and giveaways, while others set aside a table or two for players and let them play whatever they wanted. Both methods worked and stores had differing levels of success. Herein, some thoughts about this year's event and its future.
Promo items.
The promo items offered for ITTD this year (see "
International Tabletop Day Promo Items Revealed
") almost seem an afterthought. Unlike offerings in the previous years, which had been provided as part of a kit of materials that stores could order for the event, this year promo cards and tokens for games such as
Castle Panic, FUSE,
and
Clank
were offered a la carte. Stores could select the promos they wanted from a distributor with which they dealt. Some promo items were free; others had to be paid for; some were allocated (see "
Demand for Tabletop Day Promo Items Exceed Supply
"); and in one case, time constraints prevented the supplier of the item from getting it to stores in time for the event period.
This year's promotional item selection reflects a problem I have had with the promo items offered for ITTD since the event started: they almost never reflect the games played on
TableTop
. This year, we had promo items for
Clank, FUSE
, and
Castle Panic
as noted above. Also included were promos for
Aeon's End, Master of
Orion and
Biotix
. Of all of these, the only game that has been played on
TableTop
is
Castle Panic
. From what I have been told in past years, non-
TableTop
games that get promoted in the kits are games that Wil Wheaton likes but that for some reason or another, the producers of the show did not feel them suitable for play on
TableTop
. It would be nice to have more promotional items available for games that actually appeared on the show, though.
Sustainability.
Will ITTD last should the webseries cease production? Right now, the event generates most of its publicity and interest through fans of the
TableTop
series and the Geek & Sundry website, which promotes it heavily each year. Should Tabletop cease production or Geek & Sundry shift focus to other activities, does ITTD have enough inertia to continue as an independent event or would it suffer the fate of National Games Week, which launched with significant publicity back about 2005 (see "
National Games Week Set for November 21-27
"), but was unable to maintain itself as an ongoing event when the founder, Mark Matthew Simmons, stepped away and turned operations over to the
National Games Week Foundation
in 2007. The
National Games Week website
, hosted on MySpace, has not been updated since about 2008.
It's What You Make of It.
Since ITTD fell on the same day as our scheduled
Pokemon
Pre-release tournament and
Yu-Gi-Oh!
Sneak Peek, we opted to utilize the less labor intensive version of ITTD as we promoted it via electronic and social media but did not make a big event of it in the store, setting aside a couple of tables for players and one table for
Bellwether Games
demos with good sales for the day. Other stores that made a bigger event reported anywhere from 50 to several hundred players and commensurate sales over the course of the day. As with any other event, what you put into it is what you get out.
The opinions expressed in this column are solely those of the writer, and do not necessarily reflect the views of the editorial staff of ICv2.com.