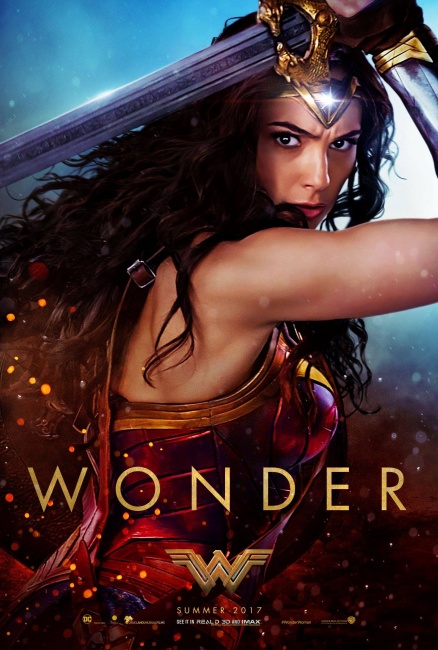 Patty Jenkins'
Wonder Woman
broke all kinds of gender-based records with a rip-roaring North American debut estimated at $100.5 million. Teaming up with Dreamworks Animation's cartoon superhero
Captain Underpants
,
Wonder Woman
resuscitated Hollywood's summer movie season that was reeling from the effects of the worst Memorial Day weekend of the 21st Century. This weekend's total of the top twelve films was up 38% from the first post-Memorial Day weekend in 2016, when
Teenage Mutant Ninja Turtles 2
debuted with $35.3 million.
Jenkins'
Wonder Woman
is the first stand-alone female superhero film since two notable failures from the aughts
, Catwoman
in 2004, and
Elektra
in 2005, and perhaps its success will overcome some studio executives' well known prejudice against distaff superheroes (see "
Wondering Why There Is No Black Widow Movie?
"). There is no doubt that
Wonder Woman's
debut has set new records, both domestic and global, for the size of a debut of a film from a woman director. In addition to its $100.5 million domestic bow,
Wonder Woman
earned $122.5 million overseas for current global cumulative of $223 million, meaning that in just three days
Wonder Woman
has earned more than Warner Bros.' expensive
Green Lantern
film took in during its entire global run. By next weekend
Wonder Woman
will have earned more than any other DC Comics film that does not feature either
Batman
or
Superman
(not adjusting for inflation).
Maybe even more importantly with a 93% positive rating on Rotten Tomatoes and a solid "A" CinemaScore from opening weekend audiences, Jenkins'
Wonder Woman
has at last recaptured the cachet of quality that made Christopher Nolan's
Dark Knight Trilogy
so potent at the box office.
Wonder Woman
is the first film in Warner Bros.' "extended DC cinematic universe" to win over both critics and audiences, and she has singlehandedly revived a sinking franchise that was mired in its own cinematic gloom. Although
Wonder Woman
will face stiff competition in the coming weeks, it could display the kind of "legs" that get it to $300 million domestic.
Wonder Woman
posted the sixteenth best superhero opening ever, and the sixth best for non-sequels, as well as the sixth best June opening ever (not adjusted for inflation). The majority (52%) of the opening weekend audience for
Wonder Woman
was female, in contrast to the typical superhero film, which typically skew male (often as much as 60%). If there is one warning sign in
Wonder Woman's
opening demographics, it is that the audience skewed older with 47% over 35, and just 14% under 18 for the "PG-13" release—though superhero films with male stars also tend to skew older.
Second place went to Dreamworks Animation's adaptation of Dave Pilkey's
Captain Underpants
, which came in just a hair under expectations with an estimated $23.5 million. While this is one of the smallest openings for a Dreamworks Animation title (#26 out of 35 produced so far—not adjusting for inflation),
Captain Underpants
cost just $38 million to produce, making it far cheaper than the typical Dreamworks feature, and attendance could pick up as more kids get out of school, though heavy competition is coming soon in the form of two heavyweight "threequels"
Cars 3
and
Despicable Me 3.
Since
Captain Underpants
is a male superhero it is no surprise that played to an audience that skewed male (54%), and given the film's propensity for toilet humor (the villain is named "Pippy P. Poopypants"), it is no surprise that the audience, in contrast to
Wonder Woman
, skewed younger with 65% under 25. Boys made up 60% of the under-25 crowd, and 91% of the under-25 segment were from 7-12 years old.
Captain Underpants
received an OK "B+" CinemaScore, which indicates that it could continue doing well with the underage crowd until something better comes along.
Disney's
Pirates of the Caribbean: Dead Men Tell No Tales
, which won the Memorial Day box office in underwhelming fashion, is displaying more signs of "franchise fatigue" here in North America as it dropped 66% in its second weekend, earning $21.5 million, bringing its domestic total to $114.6 million. As it appears now
Dead Men Tell No Tales
could well end up its domestic run $80-$100 million behind its predecessor
On Stranger Tides
, which earned $240 million in 2011, and even further behind the first three
Pirates
films, which earned between $300 and $423 million here in North America.
The problem for Disney is
Dead Men Tell No Tales'
$250 million production cost. The good news is that the film continues to do well overseas, where it has earned $386.6 so far (a whopping 77.1% of its total). If it continues to perform well outside of North America,
Dead Men Tell No Tales
could eventually show a modest profit for the studio, but the franchise is in serious trouble here North America, where it has earned $27 million less than it has already amassed in China.
Weekend Box Office (Studio Estimates): June 2-4, 2017

Film

Weekend Gross

Screens

Avg./Screen

Total Gross

Wk#

1

Wonder Woman

$100,505,000

4,165

$24,131

$100,505,000

1

2

Captain Underpants: The First Epic Movie

$23,500,000

3,434

$6,843

$23,500,000

1

3

Pirates of the Caribbean: Dead Men Tell No Tales

$21,613,000

4,276

$5,054

$114,621,771

2

4

Guardians of the Galaxy Vol. 2

$9,733,000

3,507

$2,775

$355,474,332

5

5

Baywatch

$8,500,000

3,647

$2,331

$41,724,438

2

6

Alien: Covenant

$4,000,000

2,660

$1,504

$67,219,484

3

7

Everything, Everything

$3,320,000

2,375

$1,398

$28,301,587

3

8

Snatched

$1,340,000

1,625

$825

$43,868,414

4

9

Diary of a Wimpy Kid: The Long Haul

$1,220,000

2,088

$584

$17,824,604

3

10

King Arthur: Legend of the Sword

$1,170,000

1,222

$957

$37,172,957

4
Disney also grabbed the #4 spot with Guardians of The Galaxy Vol.2, which earned $9.7 million to bring its domestic total to more than $355 million (the second highest total of 2017 so far). With a global haul of $816.6 million Vol. 2 is now the fifth highest-grossing film in the Marvel Cinematic Universe (not adjusting for inflation). Look for Vol. 2 to finish with around $850 million.

The R-rated action comedy Baywatch dropped 54.1% in its second frame, earning $8.5 million to bring its domestic total to $41.7 million. Unfortunately Paramount spent $70 million to produce Baywatch (and millions more to market the film), so it will have to do very well overseas just to break even. So far it has earned $25.5 million overseas, which means it has a long way to go before getting out of the red, but even if Paramount does take a bit of a bath on the film, it won't be like the soaking that Warner Bros. is going to take on Guy Ritchie's $175 million King Arthur: Legend of the Sword.

Another film that will be dependent on overseas earnings to escape red ink is Ridley Scott's Alien: Covenant, which tumbled 62.3% in its third weekend, earning just $4 million to bring its domestic total to $67.2 million. Working in the film's favor is its $97 million production cost. It has already made $106 million overseas, and opens in China in two weeks—so it has a real chance to break even, or perhaps show a modest profit, if it does well in the Middle Kingdom.

Low budgets can make a difference. Warner Bros.' adaptation of the YA novel Everything, Everything cost just $10 million to produce, and has earned $28.3 million without gaining much notice.

The final three films in the top ten are in trouble. The Amy Schumer R-rated comedy Snatched is shedding theaters and earned just $1.3 million to bring its domestic total $43.9 million. With limited prospects overseas, and a $42 million production cost, Snatched looks like it will end up a modest loser for Fox.

Fox is also behind the rebooting of the Diary of a Wimpy Kid franchise, with Diary of a Wimpy Kid: The Long Haul, which tumbled 73% in its third weekend as it earned just $1.2 million to bring its domestic total to $17.8 million. With a $22 million production cost, Fox's losses will be fairly small, but at this point they look unavoidable.

Tenth place went to a film that will put a dent in a studio's bottom line, Guy Ritchie's King Arthur: Legend of the Sword, which dropped 65% in its fourth weekend as it earned just $1.1 million to bring its North America total to $37. 2 million—not much when considering the movie's massive $175 million cost.

Be sure to check back here next week to see if Wonder Woman can hold off a horde of newcomers led by Universal's attempt to jump start its Marvel-esque Dark Universe (see "Universal Unveils Its Dark Universe") with the Tom Cruise-starring The Mummy, plus the dog/war story Megan Leavey, the horror film It Comes At Night, and in limited release (500 theaters), the mystery/romance My Cousin Rachel.