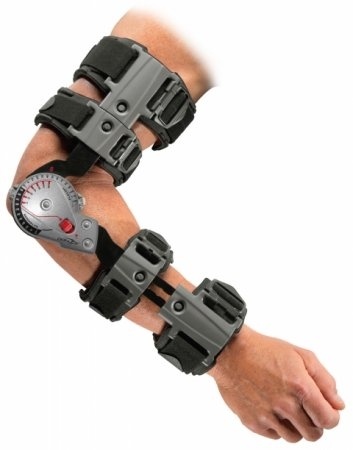 Confessions of a Comic Book Guy is a weekly column by Steve Bennett of Super-Fly Comics and Games in Yellow Springs, Ohio. This week, Bennett rounds up news from New York Comic Con.
One final injury update. I've been wearing my arm brace for over a week now and have constantly struggled to find some way of wearing it which was at least a little comfortable. Then, two days ago, I got the brilliant idea to look up online how someone with a radical head break is supposed to wear one. Which is when I learned why I'd been so uncomfortable; I'd been wearing it on the wrong side of my arm.
NYCC has once again come and gone, and while a lot of news came out of it, I have to concur with the headline of the piece by Rob Salkowitz on Forbes "The Three Biggest Stories From NYCC Involved Marvel And They Were All Terrible." The first story being about Marvel and Netflix cancelling their panel on the upcoming Punisher series. Understandable, given the recent Las Vegas shooting, something clearly beyond their control.
The second was about how the Custom Edition comic done for military contractor Northrop Grumman featuring The Avengers was cancelled. Because, among other things, some critics claimed it would "indoctrinate young minds into the values of the military-industrial complex." Marvel CCO Joe Quesada is quoted as saying "I think there were some messaging issues" and admitted that he didn't have advance warning about the project. Interestingly, the article said, the "Custom Solutions group generally works independently from the mainstream editorial division." Though I imagine after this, that might change.
For me it was the third news item which I felt really gave the comic book industry a "black eye," as Salkowitz put it. He quotes from a report on Bleeding Cool that during a breakfast retailer meeting "Two older retailers started raising their voices arguing about diversity and how it does not work. The words 'black,' 'homo' and 'freaking females' were used multiple times, at which point other retailers started to boo those retailers and the room started to turn on itself." After this, the event abruptly ended.
Happily, there stories that came out of NYCC that were, well, happier, like the one on the Archie panel I found on The Verge, "How Riverdale made Archie relevant for a new generation of fans". The piece makes a case that by not advertising the show as having comic book roots, it could be marketed as "just another CW high school drama in the vein of Vampire Diaries or Gossip Girl." In just one season, Riverdale has generated a substantial fanbase, and if you can go by the fans who attended the panel, the show has become a pathway to actually reading Archie Comics.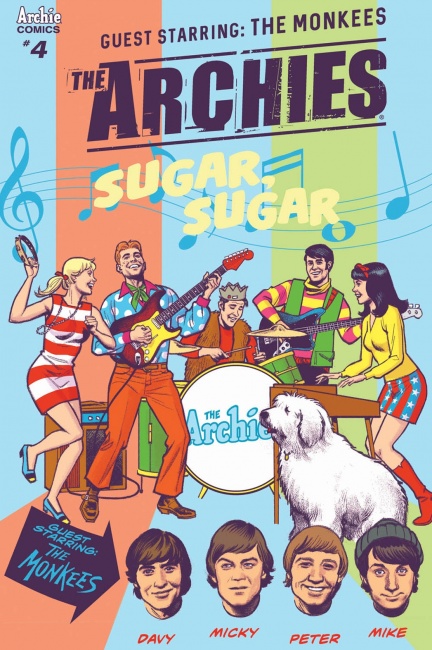 Mentioned in the piece was the news, in
The Archies
#4, out in January, the band will be meeting Micky, Davy, Mike and Peter, The Prefab Four, The Monkees! Which is a bit of a big deal for me, because, being a child of the 60s, (by which I mean I was a child, in the 60s) I unapologetically, unironically love the Monkees. I don't just mean the TV show; I even love their 1968 movie
Head
.
According to a piece in The Hollywood Reporter, "Archie to Meet The Monkees in Comic Book Crossover (Exclusive)" the two musical groups will meet "as the result of some good old-fashioned time travel." Which is a bit disappointing, since I was rather hoping the Monkees would be meeting their contemporaries, the Archies from the Filmation cartoon series. But Alex Segura, co-writer of the series, assures us the issue will be a "meta, off-the-wall romp that will hopefully entertain." Which is all I could want in a Archies/Monkees meet-up.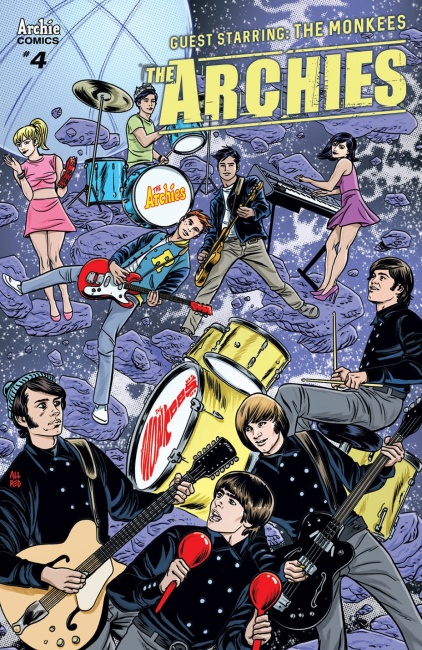 In all fairness, The Monkees should also meet Josie and the Pussycats. Which is as good a segue as any to reveal I recently was stunned to discover
Josie and the Pussycats
#9, the current issue, would be the last in the series. Which is, well, just unacceptable to me, because I legitimately think it's one of the best comics out there (see "
Confessions of a Comic Book Guy - Torn from Yesterday's Headlines
"), sure. But also because it's just too soon. Writer Marguerite Bennett (no relation) never quite got The Pussycats in Outer Space, or even just chased by a mad scientist bent on world domination..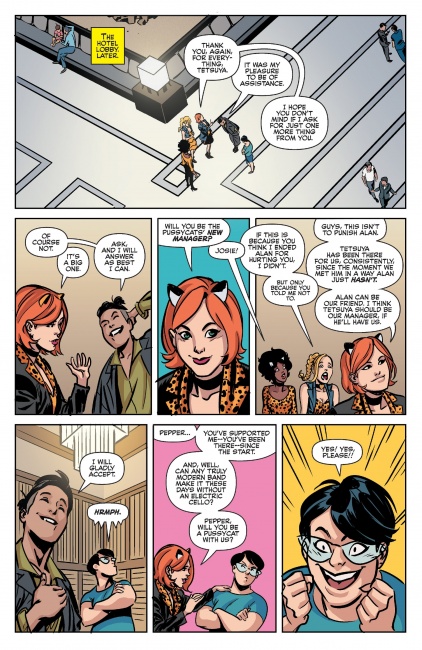 However, I do take some solace in the fact that in this issue, there's finally some justice for Pepper, Josie's best friend who disappeared from the comics when she formed the band and was never heard of again. Well, in this issue, Josie invites Pepper to join The Pussycats! Let's just hope that this development becomes canon and when the comic makes its inevitable return, Pepper will be sporting cat ears. But mostly I'm just hoping there'll be more
Josie and the Pussycats
, and soon.
(Click any image for larger view.)

Finally, as a big fan of the character, I was well pleased when I saw this headline on
Bleeding Cool,
"
Tom Strong And Family Join The Watchmen In The DC Universe With The Terrifics
." Alan Moore and Chris Sprouse's character is notoriously difficult to get right; writers as talented as Brian K. Vaughan and Michael Moorcock have tried, with somewhat disappointing results. But I have every confidence Jeff Lemire and Doc Shaner can do him justice. Still, I have to wonder, first there was the announcement that HBO was working on a
Watchmen
TV series (see "'
Watchmen' Greenlit for Pilot
"). Then, according to a story on
Slashfilm
, "'
V For Vendetta' May Become a TV Series
" for the British television network Channel 4. Why, it's almost as if someone at Time-Warner had been looking over their books and discovered they had these potentially valuable assets that were being under-utilized for no discernible reason.
The opinions expressed in this column are solely those of the writer, and do not necessarily reflect the views of the editorial staff of ICv2.com