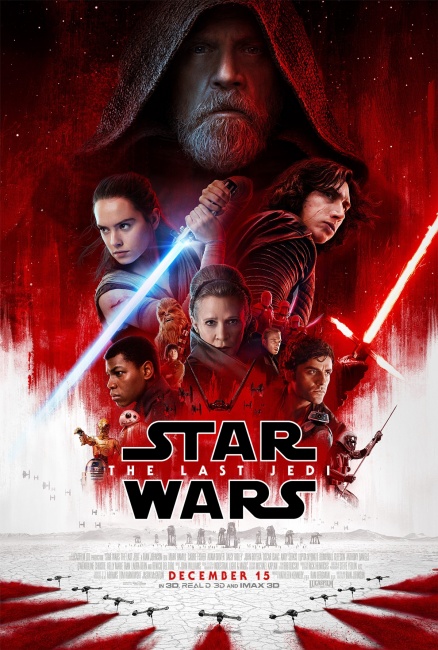 Rian Johnson's
Star Wars: The Last Jedi
scored the second best weekend opening of all time (not adjusted for inflation) with a $220 million bow, which represents a mammoth eighty percent of the money spent on movie tickets in North America during the past three days. While this weekend's box office total represents a 228% increase over the same weekend last year when
Moana
topped the charts for a third time, a better comparison would be to the next week in 2016 when
Star Wars: Rogue One
opened, which would yield a 25% lift for
The Last Jedi
. This boost is important since, despite a strong November, at the beginning of December the box office was still down 4.4% from 2016.
The Last Jedi is only the fourth film to open with more than $200 million. Star Wars: The Force Awakens still leads the pack with $247.9 million, while the only other films to open in that rarefied air are Jurassic World ($208.8 million), and The Avengers ($207.4 million). The Last Jedi (aka Episode VIII), which scored the second biggest Thursday night ever with $45 million, debuted just 11% below The Force Awakens, a smaller drop than that of The Hobbit: The Desolation of Smaug, which slipped 12.9% from the first Hobbit film. Credit for this strong showing should go to Disney's marketing department, which crafted an excellent marketing campaign that didn't give away the film's narrative twists, as well as to director Rian Johnson, the strong ensemble cast bolstered by the return of Star Wars veterans Mark Hamill and the late Carrie Fisher (to whom the film is dedicated), the excellent special effects, and J.J. Abrams, who successfully revived the franchise in an extremely entertaining manner with The Force Awakens.
With a $220 million debut, a 93% positive rating from the critics on review aggregator Rotten Tomatoes, and an "A" CinemaScore from opening weekend audiences, which skewed male (57%) with 37% of the crowd under 25, The Last Jedi should easily eclipse Beauty and the Beast to become the #1 film of 2017. The question is, by how much? Since it opened above Rogue One ($755.11 million) and below The Force Awakens ($831.2 million), one might reasonably expect The Last Jedi to come in somewhere between those two numbers. One caveat is the low audience rating that the film has on Rotten Tomatoes with just 56% approval, though that could be the work of Internet trolls (with their diverse casts the new Star Wars films have received some ill-deserved political attacks), though IMDb also shows a decline (though much smaller) in user rating with The Last Jedi registering 8.0/10 vs. 8.3/10 for Rogue One and 8.8/10 for The Force Awakens.
The Last Jedi's mammoth opening put Disney over the $2 million mark in the domestic market for the third straight year—and with the impending acquisition of Fox (see "Disney-Fox Deal Signed"), plus the Mouse House's already potent slate of releases for 2018 and beyond, it is hard to see when, if ever, this streak will end.
Overseas The Last Jedi racked up $230 million for a global debut of $450 million, the fifth largest ever even though the film doesn't debut in the world's second biggest market (China) until January 5, 2018. It may take some time, but The Last Jedi will become the highest-grossing film of 2017 on the global stage as well as in North America.
Weekend Box Office (Studio Estimates): December 15-17, 2017

Film

Weekend Gross

Screens

Avg./Screen

Total Gross

Wk#

1

Star Wars: The Last Jedi

$220,047,000

4,232

$51,996

$220,047,000

1

2

Ferdinand

$13,325,000

3,621

$3,680

$13,325,000

1

3

Coco

$10,025,000

3,155

$3,177

$150,810,896

4

4

Wonder

$5,400,000

3,047

$1,772

$109,256,738

5

5

Justice League

$4,170,000

2,702

$1,543

$219,456,347

5

6

Daddy's Home 2

$3,800,000

2,493

$1,524

$96,579,982

6

7

Thor: Ragnarok

$2,981,000

1,895

$1,573

$306,375,120

7

8

The Disaster Artist

$2,636,908

1,010

$2,611

$12,932,039

3

9

Murder on the Orient Express (2017)

$2,470,000

1,923

$1,284

$97,252,742

6

10

Lady Bird

$2,108,117

947

$2,226

$25,977,506

7
The Last Jedi did not leave much oxygen in the room, so it's a bit unfair to beat up on Blue Sky Studio's animated feature Ferdinand, which debuted in second place with $13.3 million. The familiar tale of the reluctant bull who would rather smell flowers than skewer matadors in the arena posted the lowest debut ever for a Blue Sky release by a big margin. The good news is that Ferdinand did receive an "A" CinemaScore, and performed in a remarkably similar fashion to the animated Alvin and the Chipmunks: The Road Chip, which debuted opposite The Force Awakens with $14.2 million and went on to earn $85 million here in North America.
Ferdinand, which was also hurt by the continuing popularity of Pixar's Coco, should remain a strong option for parents with young children, but with a production cost of $111 million, it will need to do well overseas to have any chance of profitability. Blue Sky's major franchise, Ice Age, has apparently run its course, and with the Disney acquisition of Blue Sky's parent company Fox, the animation studio's future is very much up in the air. Does Disney, which already has two animation units (Pixar and Disney Animation), want a third? If not, other studios might be interested—so, if the Fox acquisition goes through, the fate of Blue Sky Studios will be one of the many elements to keep track of as the two major Hollywood studios combine their efforts.
Pixar's Coco dropped 45.7% in its fourth weekend as it added $10 million to bring its domestic total to $150.8 million. The fact that Coco was able to earn 75% of Ferdinand's debut total indicates that the Pixar film could still hang on in the coming weeks in spite of the direct competition from Ferdinand.
The family drama Wonder, which debuted modestly five weekends ago in the shadow of Warner Bros.' Justice League, is now doing more business. Wonder dropped just 36.1% as it earned $5.4 million to bring its domestic total to $109.3 million, while Justice League fell 56.9% as it earned $4.17 million to bring its 5-weekend total to $219.5 million. Yes, that's right, The Last Jedi pulled in more in its first weekend than Justice League earned in a month.
In the bottom half of the top ten, there were a few developments of note. Thor: Ragnarok earned nearly $3 million to bring its domestic total to $306.4 million. With a global total of $841.8, Ragnarok is the seventh highest grossing film of 2017 so far. Also The Disaster Artist, which added 170 theaters (to just over a thousand), nevertheless took a steep drop (58%), and this "inside Hollywood" satire about the making of the worst film of all time looks more and more like "cult hit" fodder rather than "mainstream comedy hit," though an Oscar nomination for James Franco might help a bit.
Outside the top ten (at #12) Guillermo Del Toro's Cold War fantasy The Shape of Water went from 41 theaters to 158 as it earned $1.7 million with a decent $11K per venue average. Next weekend The Shape of Water expands to 750 theaters in what will be very hectic marketplace.
Be sure to check back here next week to see what happens in the ensuing chaos next weekend as Sony drops Jumanji: Welcome to the Jungle into 3,600 theaters on Wednesday, along with Fox's big gamble, the musical The Greatest Showman, which bows in 3,100 locations, followed by a trio of big releases next Friday, Alexander Payne's Downsizing (2,500 theaters), Warner Bros.' comedy Father Figures (2,800 locations), and Universal's Pitch Perfect 3 (3,400 theaters).