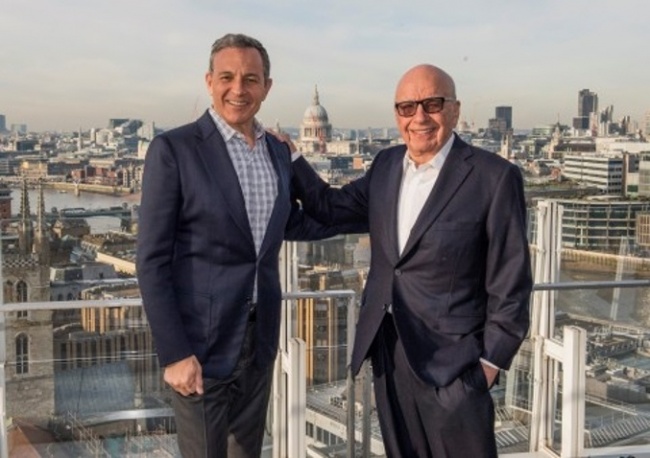 As predicted earlier in the week (see "
Disney-Fox Deal Update
"), Disney announced the acquisition of key Fox assets on Thursday, including the film and television studios, FX Networks, National Geographic, Fox's regional sports networks, Star India, and interests in Hulu, Sky, Tata Sky, and Endemol Shine Group. Fox shareholders will receive $52.4 billion in Disney stock (subject to adjustment), and Disney will assume $13.7 billion of net Fox debt, valuing the transaction at $66.1 billion.
Disney CEO Bob Iger has extended his contract through 2021 to manage the digestion of his fourth major acquisition as CEO (the others were Pixar, Marvel, and Lucasfilm), potentially the most challenging given the diversity of the assets being acquired.
Iger said he expects the deal to close in 12 to 18 months, but regulatory approval on a deal this size is never assured. The combined entity will control 40% of the movie business, which leads some, like Joe Nocera in
Bloomberg
, to question whether the deal will pass antitrust muster.
Opposition to the deal is already lining up, with the Writers Guild of America West issuing a statement that urged the blocking of the deal on antitrust grounds without mincing words. "Disney and Fox have spent decades profiting from the oligopolistic control that the six major media conglomerates have exercised over the entertainment industry, often at the expense of the creators who power their television and film operations," the statement said. "Now, this proposed merger of direct competitors will make matters even worse by substantially increasing the market power of a combined Disney-Fox corporation."
Assuming the deal does close, Disney said it expects to realize $2 billion in annual cost savings from the combination, which translates to a significant number of jobs that are likely to be cut during the consolidation.
So what is the roster of geek properties going under the Disney umbrella under this deal? Here's a partial list, compiled from the company announcement with help from coverage by
License Global
:
Fox distribution rights to Star Wars: A New Hope, bringing the rights to the first Star Wars film together with the rest of the Star Wars films under one roof.
Film and TV rights to X-Men, Deadpool, and Fantastic Four. This will allow Marvel to bring these properties into the Marvel Cinematic Universe, and will presumably lead Marvel to begin publishing Fantastic Four and emphasizing X-Men in its publishing program again.
James Cameron's Avatar and the upcoming sure-to-be-blockbuster sequels. Disney already had a deal for parks attractions.
The Simpsons
Bob's Burgers
American Horror Story
Ice Age and sequels
Alien films
Planet of the Apes
It's in Disney's management of these properties that we see the biggest potential impact on the business of geek culture. All three of Iger's earlier major acquisitions produced big sales gains as Disney fed the new IPs into the company's legendary film, TV, and consumer products businesses, while preserving the essence of each.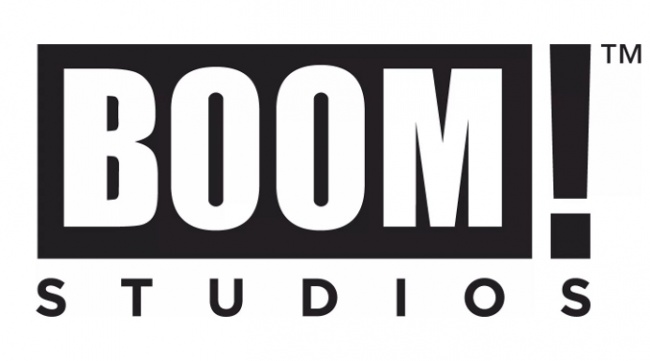 One other asset of note is Fox's minority interest in comic publisher BOOM! Studios, acquired earlier this year (see "
Twentieth Century Fox Buys into BOOM! Studios
"). We reached out to BOOM! with a question on the impact of the deal, and received this statement:
"While we don't have any information beyond what has already been reported in the press, we are excited for the new opportunities that this partnership provides for our friends at Fox. Both Fox and Disney are world class organizations with exceptional teams, so we look forward to their shared success in the future.
"In regards to BOOM! Studios, there will be no immediate changes to how we operate day-to-day. Fox is a valued partner but they are also a minority shareholder, meaning we will continue to operate independently and pursue the same opportunities that have made BOOM! Studios such a success for over twelve years."

The Fox deal with BOOM! provided a pipeline of indy comic intellectual property into the film and TV studios, which we assume will continue.

One asset that's not moving is the actual Fox studio lot in Century City, which Disney is leasing for the next seven years, but not acquiring. The historic lot has been in operation for 80 years, according to Variety, a circumstance that may limit its use for any other purpose, as 58 of the 80 buildings on the 53-acre site have been designated as having historic value.