Confessions of a Comic Book Guy is a weekly column by Steve Bennett of Super-Fly Comics and Games in Yellow Springs, Ohio. This week, Bennett looks at holiday-themed comics and takes a look at some of the comics implications of the Disney-Fox transaction.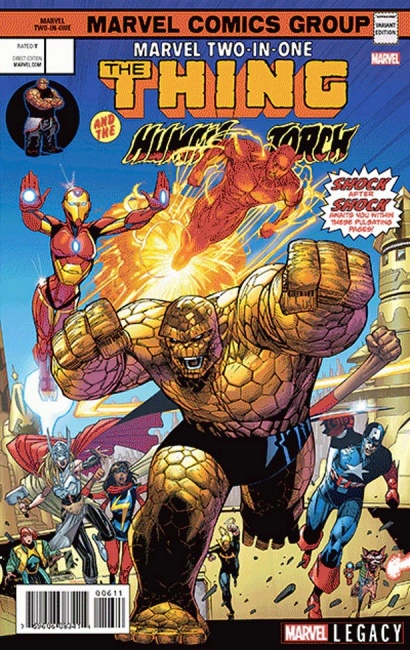 For a while, it seemed like it was never going to happen, but over the course of a single week, the Disney-Fox merger went from impossible to seemingly inevitable (see
"Disney-Fox Deal Signed")
. There's too much in it to unpack here and I won't even try, not when so many others have already beat me to it (see
"Disney's Post-Fox Streaming Strategy"
). I know there's a lot more to it than Marvel regaining control of some of their characters, but I won't lie to you; the part I'm actively interested in is the prospect of finally being able to read new
Fantastic Four
comics. I even unexpectedly find myself psyched that
Marvel Two-In-One
#1, featuring The Thing and Human Torch, is shipping this week.
But there is one comic book-related aspect of the deal that I don't think enough people are talking about. Because Fox purchased a minority stake in the publisher Boom! earlier this year (see "Twentieth Century Fox Buys Into Boom! Comics"), Disney effectively has a second comic book company. It's just a matter of waiting to find out what they actually plan to do with it, if anything. I know nobody asked my opinion, but it seems to me the smart thing for Disney to do would to treat the company like the valuable asset that it is.
Because in the coming years Disney is going to be needing an increasing amount of content that can be adapted to other media. And for a relatively small comic book publisher Boom has an impressive number of non-superhero properties that are currently in development. A slate which includes Irredeemable, Malignant Man, The Empty Man, Lumberjanes, Mouse Guard and Goldie Vance (see "'Goldie Vance' Headed to the Big Screen"). And with a considerable backlist of non-superhero titles, in Boom! Disney basically has an "Anti-Marvel." That's what I think anyway, but I'm just smart enough to know that I can't even pretend I'm capable of predicting what Disney will or won't do at any given moment.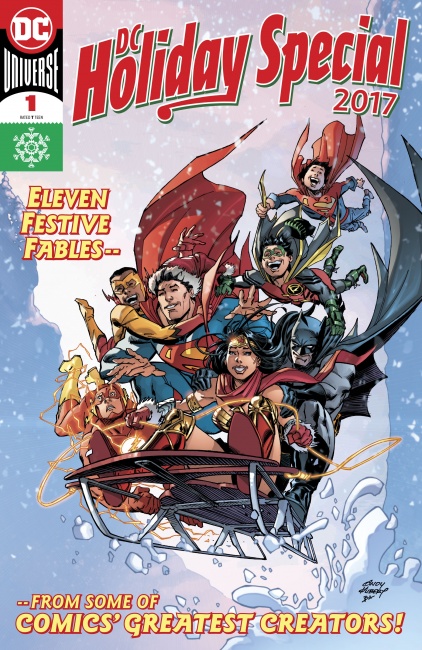 Historically, DC and Marvel Christmas comics have always been a hit or miss proposition. Having read a good number of them over the years I've found that when reading them it's usually a good idea to put strict limitations on your expectations, for a couple of reasons. First, this kind of low profile anthology title generally doesn't attract top-tier talent. And even when they're done relatively well, the stories are invariably just variations on the same three or four basic Holiday story templates. But I am happy to report that isn't the case with the
DC Holiday Special 2017
#1 (not that there's ever going to be a #2).
For older-timers such as myself who want their superheroes delivering bags of toys to orphanages or helping ex-cons go straight at Christmas, the comic contains heartwarming Holiday stories featuring Superman, Wonder Woman, The Flash and the Teen Titans. But, maybe because this has been an incredibly bleak year for a lot of people, there are also quite a few really grim, odd Yuletide tales here as well. It's really hard to decide which is darker, "'Twas The Night Before Christmas," a Batman story by Denny O'Neil and Steve Epting, or the Sgt. Rock Hanukkah story "Going Down Easy!" And I must admit I don't believe I've ever read a comic book story about a dysfunctional family's Christmas before, so Christopher Priest and Tom Grummett may have broken new ground with "A Wilson Family Christmas", a Deathstroke story that recounts one particular violent holiday that demonstrates just how messed up Slade Wilson's family was.
And when it comes to odd, "In the Echo of the Abyss" by Scott Bryan Wilson and Nic Klein, which places Swamp Thing in a space station is pretty unusual, but it just can't beat The Atomic Knights in Dan Didio and Matthew Clark's "Silent Knight." It's a most-appropriate-for-our-time's parable about welcoming the stranger, even when they're giant intelligent plants. For those of you who weren't around back in the early 60s, The Atomic Knights were a feature in the science fiction anthology Strange Adventures. It concerned a group of post-nuclear-war armored paladins who fought to restore civilization while astride their giant Dalmatian steeds. The DC Universe can get weirder than that, but not by much.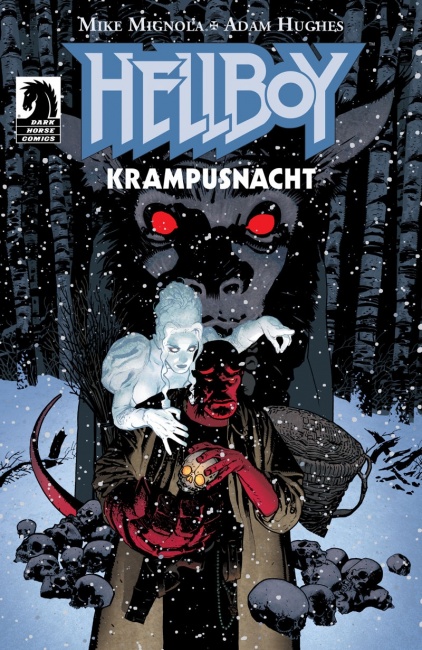 Speaking of dark Holiday fare, shipping this week is Dark Horse's
Hellboy: Krampusnacht
, in which Hellboy finally gets around to taking on someone that's always seemed to be a perfect opponent for me, Santa's "dark helper" The Krampus. Admittedly I've only read the preview posted on
AV Club
, but between the surefire premise and Adam Hughes art, it's hard to imagine this comic not being worth reading.
Click Gallery below for full-size images of all three covers!
The opinions expressed in this column are solely those of the writer, and do not necessarily reflect the views of the editorial staff of ICv2.com.