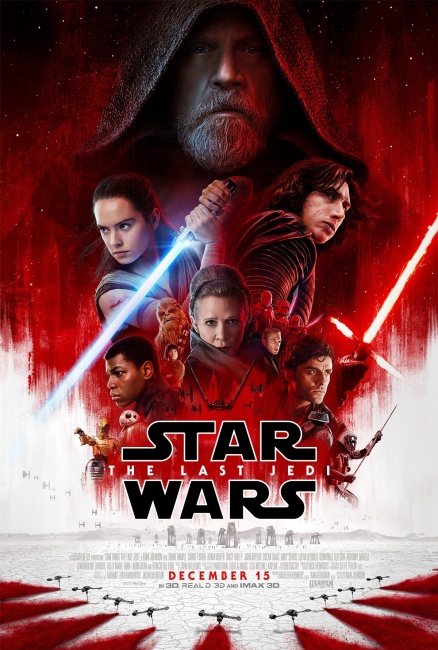 Rian Johnson's
Star Wars: The Last Jedi
(aka
Episode VIII
) ended 2017 as the highest grossing film of the year in North America as it topped the box office for the third weekend in a row, but Sony's
Jumanji: Welcome to the Jungle
boosted its weekend total by almost 39% and finished a close second. The top two films accounted for more than 50% of the total weekend box office, which was up about 1.5% from the final frame of 2016.
Though final figures are not in yet, it appears that the total North American box office revenue in 2017 will total around $11.12 billion, 2.3% lower than 2016's record $11.4 billion and just under 1% lower than 2015's total which means that 2017 was the third biggest year ever for Hollywood. 2017 started off like gangbusters with a strong Q1 and early spring, but ran into trouble with a disappointing summer season filled with "bombs" like the R-rated comedy
Baywatch,
Guy Richie's misbegotten
King Arthur and the Legend of the Sword
, and Luc Besson's ambitious
Valerian and the City of a Thousand Planets
, and middling efforts from long-in-the-tooth franchises like
Transformers
and
Pirates of the Caribbean
. Strong showings in September, November, and December couldn't make up for the summer deficit. More troubling than this year's dip in box office earnings was the fact that higher ticket prices are driving these huge annual figures. Despite the fact that 2017 was the third biggest year ever for the studios in terms of dollars earned, attendance at the movies was at a 22 year low.
Because of its big second weekend drop and online carping by some fans about the narrative twists of
The Last Jedi
, there has been an unwarranted cloud of negativity surrounding the film, whose tepid second weekend showing was largely the result of Christmas Eve falling on Sunday, effectively negating a key weekend day. But claims that Johnson's film is some sort of a "bomb," are ridiculous.
The Last Jedi
, which dropped just 26.7% in its third weekend, should finish this holiday weekend with around $530 million, well within easy striking distance of
Rogue One's
$532 million domestic total.
The Last Jedi
has also earned $1.04 billion worldwide, and it doesn't open in China until next weekend (the
Star Wars
franchise is not especially big in the Middle Kingdom, but it will still likely add some substantial numbers there and elsewhere overseas, where the film's total declined just 12% this weekend without adding any new territories). Just as it caught and surpassed
Beauty and the Beast
($504 million) to become the top domestic earner of the year, so
The Last Jedi
will surpass
Beauty's
global haul of $1.26 billion before it is done. No it won't become that sort of once-in-a-decade hit like
The Force Awakens
, but
The Last Jedi
should finish its run with a drop from
The Force Awakens
of around 25-30%, very much in line with the performance of
The Empire Strikes Back
, which ended its run about 32% below the original
Star Wars
film.
Jumanji: Welcome to the Jungle
posted a near-miraculous 39% gain from its first to its second weekend, the third biggest gain in box office history for a film with a substantial opening (though it should be noted that its debut weekend was hurt by the fact that Christmas Eve fell on Sunday, which kept Welcome to the Jungle's debut weekend numbers well below what they should have been). Still there is no denying that in this sequel to Joe Johnston's unlikely 1995 faux board game smash Sony has a true hit of its own—an elaborate (and expensive) comedic fantasy that could become
The Night at the Museum
of 2017.
Produced for $90 million, the star-studded
Jumanji: Welcome to the Jungle
has earned $170 million here in North America in just ten days, and should finish the weekend with a global total of around $350 million. With little in the way of competition over the next weekend and vacation continuing for lots of school kids, this family-targeting film should also post a strong start to 2018.
Weekend Box Office (Studio Estimates): December 29-31, 2017

Film

Weekend Gross

Screens

Avg./Screen

Total Gross

Wk#

1

Star Wars: The Last Jedi

$52,446,000

4,232

$12,393

$517,144,228

3

2

Jumanji: Welcome to the Jungle

$50,570,000

3,765

$13,432

$169,825,967

2

3

Pitch Perfect 3

$17,780,000

3,468

$5,127

$64,268,470

2

4

The Greatest Showman

$15,270,000

3,316

$4,605

$48,785,986

2

5

Ferdinand

$11,650,000

3,337

$3,491

$53,810,105

3

6

Coco

$6,572,000

2,104

$3,124

$178,944,459

6

7

All the Money in the World

$5,450,000

2,074

$2,628

$12,610,000

1

8

Darkest Hour

$5,280,000

943

$5,599

$17,926,287

6

9

Downsizing

$4,600,000

2,664

$1,727

$17,058,365

2

10

Father Figures

$3,705,000

2,902

$1,277

$12,740,000

2
This weekend's box office chart is definitely top-loaded with the first two films crushing it and the rest of the top ten, "not so much." Universal's Pitch Perfect 3 continues to attract (and please) its target audience of young women, but it is running 44% behind its predecessor, and finished a distant third, earning $17.8 million over the three-day weekend.

Fox's musical The Greatest Showman posted the biggest gain in the top ten (up 73.4%), indicating that there may be hope for this pricy musical, which has earned $48.8 million in ten days. This Hugh Jackman-starring film still has a long way to go before it earns back its $84 million production cost, but its older target audience takes its time getting to theaters, which could equate to a long run.

Fox's animated feature Ferdinand also faces a long road to profitability. The $111 million production has a 17-day total of $53.8 million, and is clearly losing out to The Last Jedi and Jumanji in the battle for the family audience.

Pixar's Coco spent its sixth weekend in the top ten, earning $6.6 million and driving its domestic total to $179 million. Starting slowly Coco has now amassed a global total of $538 million, and should finish its domestic run over $200 million.

With all the family-targeting films in theaters this Christmas, it would appear to be the perfect time for adult-oriented films, but Ridley Scott's All the Money in the World bombed, earning just $5.5 million from over 2,000 theaters for a poor $2,074 per-venue average. Alexander Payne's Downsizing is another "adult" movie that is really struggling, earning just $4.6 million over the three-day weekend for a ten-day total of just $17 million. With little in the way of critical praise (just 51% positive on review aggregator Rotten Tomatoes) or audience approval (it received a poor "C" CinemaScore), Downsizing appears to be the latest "high concept" failure from Hollywood.

The two adult-targeting films that are doing better are the Winston Churchill biopic Darkest Hour, which earned $5.3 million from 943 theaters, and Guillermo Del Toro's adult fairy tale The Shape of Water, which earned $3.5 million from 756 venues.

In limited release Stephen Spielberg's The Post, a film about the release of the Pentagon Papers, continues to well, averaging almost $60 K from each of nine theaters, and Paul Thomas Anderson's Phantom Thread, which stars Daniel Day-Lewis in the Oscar winner's "final" performance, averaged $55K from four venues.

Next weekend will be a light one for new releases with just the debut of Insidious: The Last Key to reckon with before the first big slate of 2018 films hits theaters on January 12.