Finally a week with plenty of great offerings ranging from the most expensive superhero film ever made to the winner of this year's "Best Picture" Oscar, along with the Oscar-winning I, Tonya, James Franco's ultimate "meta" film, The Disaster Artist, and the powerful third season of Fear the Walking Dead.
Theatrical Movies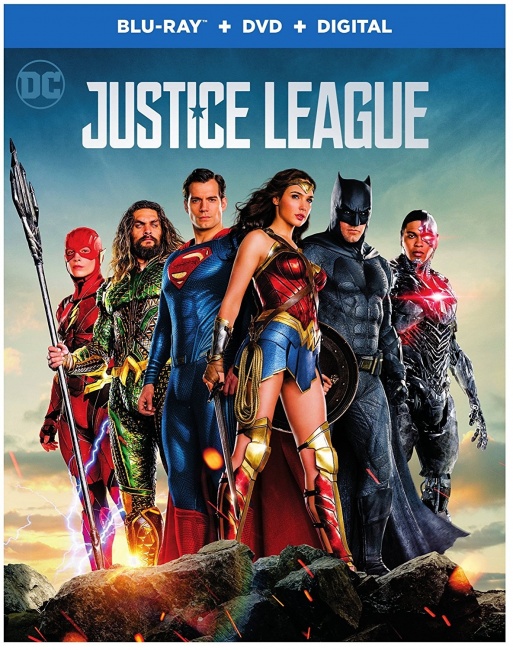 This week's highest grossing film to come out on DVD is
Justice League
(Warner Bros., "PG-13," 135 min., $29.98, BD $35.98, 3D BD $44.95, 4K $44.95), Warner Bros.' first DC superhero team-up movie. Superhero fans who haven't seen
Justice League
might well want to check it out, if only to discern the competing artistic visions of Zack Snyder, who prepared the film and directed much of it before taking a leave due to a family tragedy, and Joss Whedon, who was brought in to finish the film and evidently directed by the studio brass to lighten things up after the dark, leaden failure that was
Batman v. Superman
. Whedon's patented repartee does lighten the tone, but it doesn't necessarily save the film, which suffers from a thin and predictable plot. Still
Justice League
does have its redemptive moments and might have even made money if it had been produced for less than its reported $300 million cost.
The best of the strong set of releases due on Tuesday is Guillermo Del Toro's
The Shape of Water
(Fox, "R," 123 min., $29.98, BD $34.99, 4K $39.99), an adult fairy tale that was inspired by the classic 1950s horror film
Creature From the Black Lagoon
. Only this time it's the monster who is humane and the humans who act like monsters, keeping the creature in cruel captivity.
The Shape of Water
is an "art film," so those expecting a standard horror movie, should be forewarned.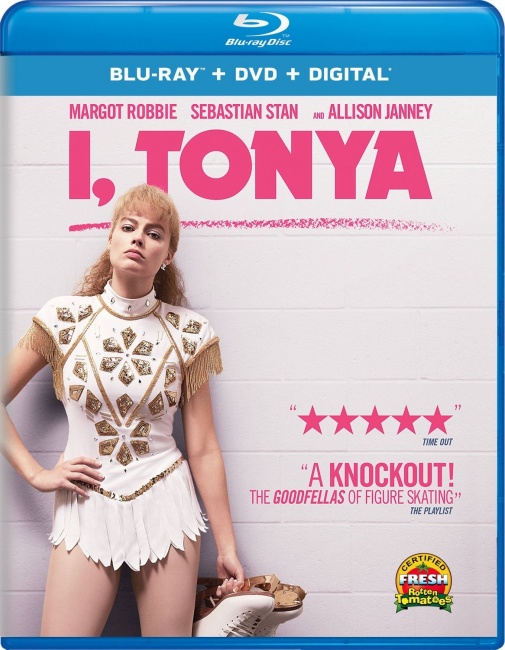 There are three other award-nominated films of great interest that are due out this week including Craig Gillespie's
I, Tonya
(Uiversal, "R," 119 min., 19.96, BD $22.95), which stars Margot Robbie and Alison Janney (who won the Oscar for "Best Supporting Actress") in the story of skater Tonya Harding, which is told in a clever mockumentary, fourth wall-breaking style. Gillespie lays bare the American "class" system in this complicated story of a talented woman, who never had a chance to succeed, largely because she couldn't shed the "white trash" label arising from her modest upbringing in Portland, Oregon.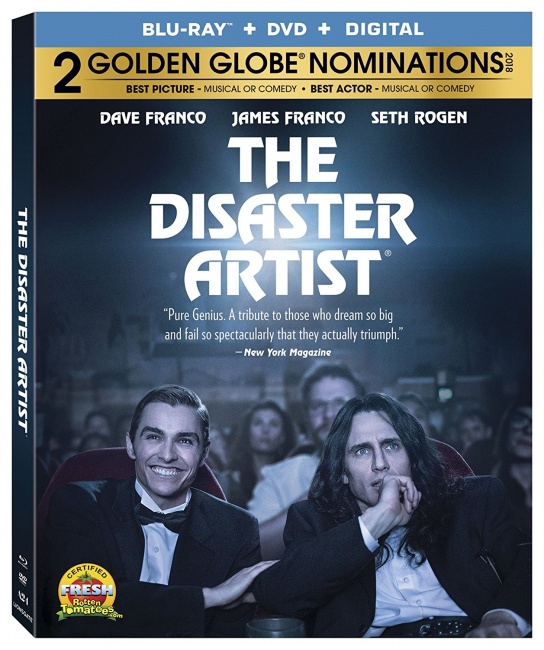 Also of interest are Luca Guadagnino's coming-of-age saga
Call Me By Your Name
(Sony, "R," 132 min., $17.64, BD $30.99), which stars Timothee Chalamet and Arnie Hammer as lovers in the gorgeous countryside of Northern Italy; and James Franco's
The Disaster Artist
(Lionsgate, "R," 104 min., $29.95, BD $39.99), a clever exercise in "meta-filmmaking" in which Franco plays Tommy Wiseau, who wrote, produced, directed, financed, and starred in
The Room
(2003), which many consider to be the worst film of all time.
For the kids there is Ferdinand (Fox, "PG," 108 min., $29.98, BD $34.99, 4K $39.99), Blue Sky Studio's updating of Munro Leaf and Robert Lawson's children's book about a flower-sniffing bull, who is uninterested in bullfighting. Wrestler John Cena demonstrates some real talent with his voice work on this film, which manages a strong anti-bullying message along with its basic attack on cruelty to animals.
TV on DVD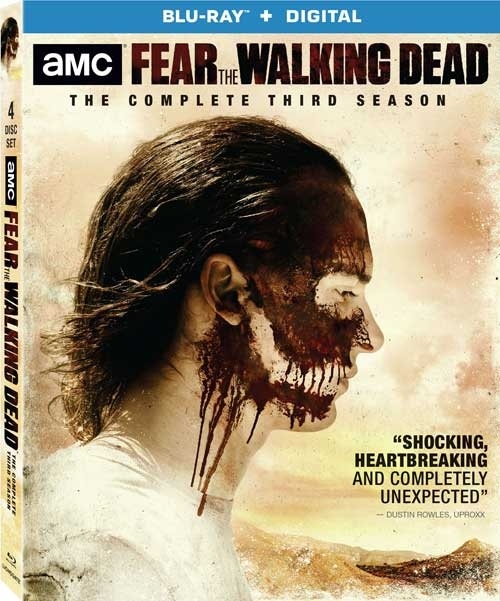 This week's top geek release is
Fear the Walking Dead: Season 3
(Lionsgate, 711 min., $39.98, BD $44.99). After some missteps in its sophomore season
Fear the Walking Dead
found its groove in
Season Three
as the story coalesced around Kim Dicken's Madison Clark.
Also of interest are Channel Zero: Season 2: No-End House (Universal, 261 min., $29.98) the second 6-episode of the SyFy series that is based on popular "creepypastas" (urban horror legends that have been copied and pasted all over the Net); the History Channel fictional series about the Knights Templar, Knightfall: Season 1 (History Channel, 473 min., $24.99, BD $29.99); the post-apocalyptic series Into the Badlands: The Complete 2nd Season (Lionsgate, 428 min., BD $44.99).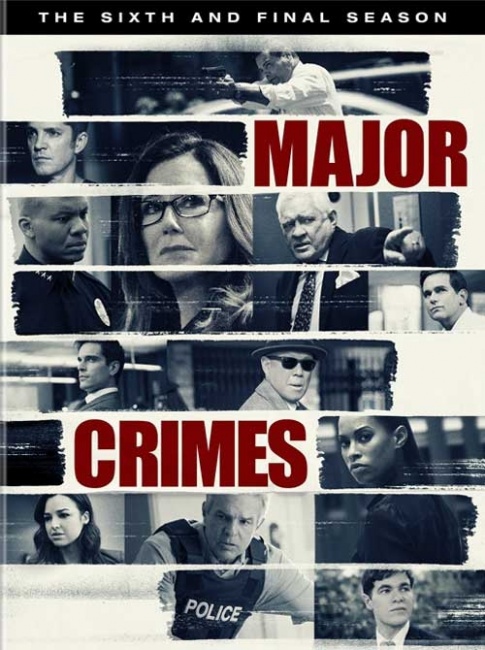 For those who enjoy literary television there is Bruce Miller's adaptation of Margaret Atwood's
The Handmaid's Tale: Season 1
(MGM, 535 min.$25.99, BD $39.98), but the best TV-on-DVD release of the week in this humble reviewer's opinion is
Major Crimes: The Sixth and Final Season
(Warner Bros., 572 min., $24.95), which contains the final 13 episodes of the best current American police procedural, which features not just a brilliant cast, but solid writing throughout this final season in which the writers experimented with long, multi-episode storylines.
There are also some excellent vintage TV releases led by Alfred Hitchcock Presents: Season 1 (Universal, 1004 min., $34.98), which presents the first 39 episodes of what was one of the very best shows of the 1950s and might just be the best anthology series of all time; plus the 1987 William Tell-inspired Crossbow: The Complete Series (Mill Creek, 1,872 min., $19.98); and the first season of the Julia Louis Dreyfus-starring sitcom, The New Adventures of Old Christine: Season One (Warner Bros., DVD-R, $24.99).
Anime
This week's anime releases include Tales of Zestiria: Season 2 (Funimation, "TV-14," 325 min., BD/DVD Combo $64.98), which includes 13 episodes of the 2017 video game-based fantasy series animated by Ufotable, D-Gray Man: Season Four, Part One (Funimation, "TV-14," 325 min., $39.98), which includes episodes 70-90 of the 103-episode series from TMS that originally aired from 2006-2008 and based on the manga series created by Katsura Hoshino, and New Initial D Legend 2: Racer (Sentai Filmworks, "TV-14," 70 min., BD $39.98), the second anime movie in a series of three 2014-2016 productions that retell the beginning story arcs of the influential street-racing manga by Shuichi Shigeno.