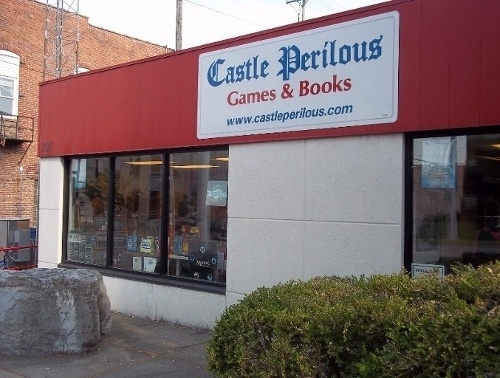 Rolling for Initiative is a weekly column by Scott Thorne, PhD, owner of Castle Perilous Games & Books in Carbondale, Illinois and instructor in marketing at Southeast Missouri State University. This week, Thorne comments on recent news from Target, Gen Con, and Amazon.
I found this
bit of news
regarding the 95 or so exclusive games that Target will get this fall interesting. Not earthshattering or devastating, just interesting. Lord knows I have not heard any customer demand for a
Brady Bunch
or
MacGyver
game and the Target (and Barnes & Noble and Walgreens) exclusive versions of
Ticket to Ride
or
Munchkin
tend not to impact sales of the core games in the store. If anything, people tend to play the stripped down version of the game (a simplified 15-minute version of
Ticket to Ride
? -- the game is simple enough as it is), then come to us looking for the full-fledged version of the game. I remember people purchasing the gallery edition of
Catan
and getting annoyed when they learned that none of the expansions would work with it since the board layout was pretty well fixed.
Similarly,
this incident from Gen Con
involving the president of GAMA or
this one
involving a father who left his daughter asleep inside the car while he went into the convention or
this one
involving The Quartering getting punched, allegedly by "Matt Fantastic," should not take away from the fact that over 60,000 people attended this year's Gen Con (making it the largest one ever, of course), had a wonderful time with no incident or drama, and pumped over $70 million into the Indianapolis economy.
From what I have heard, aside from some incidents getting in and out of the loading docks (if you are not ready to load in or out at the time, don't pull your vehicle in and take up a space while you are breaking down your booth), almost all of the vendors had a highly profitable year as well. Of course, when you have 60,000 plus people walking by your booth for 4 days, looking to spend money, almost anything you bring will sell. I recall years ago that the owner of Goodtimes Video was negotiating for space at Walmart but didn't like the terms the company offered him. He then stopped by a Walmart and took note of the number of people walking the aisles and checking out at the registers. He realized then, as he later commented, that Walmart drew such big numbers that he could put out a display full of trash and enough people would buy some to make it profitable. Similarly, if you take a game or related product to Gen Con, you have to really work at it to not make sales.
And, in a reminder that things don't always run smoothly even for the best of us,
this year's Prime Day
, though the largest one ever (of course), had its share of glitches, with millions of shoppers unable to add items to their cart or check out once they had finished shopping, costing the company some $72.6 million. Not to worry about Amazon though as total sales reached some $4.19 billion, a 74% increase over 2017's Prime Day, with 28% of online shoppers making a purchase from Amazon this year, compared to 22% last year. One worrisome note for those sellers using Amazon Marketplace: although Marketplace sellers did some $1 billion in sales, their share of sales has dropped by 10% since the inauguration of Prime Day, with shoppers making 38% of their purchases from the Marketplace vs. 62% from Amazon itself.
The opinions expressed in this column are solely those of the writer, and do not necessarily reflect the views of the editorial staff of ICv2.com.