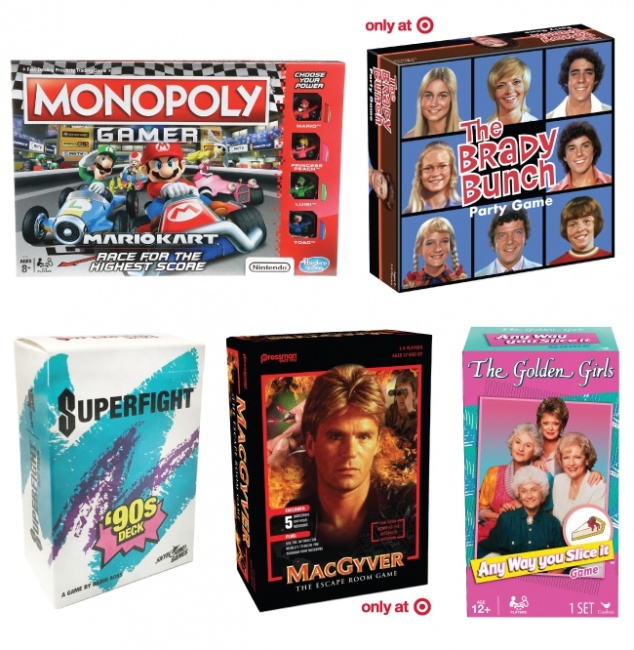 On Tuesday, when all serious game industry people where making the trek to Gen Con, mass market retailer Target announced another collection of exclusive games releasing now and into the fall.
This year marks the third in Target's widening catalog of hobby games, and also marks an increase in the number of exclusive titles. Back in 2016, the company released 50 Target-exclusive games (see "
Target Announces 50 Exclusive Games
"), in 2017 the offering increased to 70+ (see "
Target Adds 70+ Exclusive Games
"). This year's offerings include 95 Only-At-Target titles, and more than 130 total additions in all. The games range from simple children's picks, to brain teasers, to family favorites, and "epic throw-back gems."
Various publishers have been announcing Target exclusives for fall release, though they didn't specifically say the games were part of the retailer's larger seasonal effort: (see "
Tour the Big Apple in 'Ticket to Ride: New York'
," "
Red Raven's 'Megaland' Is Target Exclusive
," "
'The Game' Gets Makeover for Target
," "
Licensed Games for 'The Brady Bunch,' 'Bob Ross,' 'Home Alone,' and Breakfast Cereal Characters
," and "
North Star Games Releases 'dude' Card Game
").
"There's something special about breaking free from screens and spending real, face-to-face time with family and friends—and that's why our guests are loving the ever-growing board game trend," says Kelly Caruso, senior vice president, hardlines, Target. "We're out to make Target their go-to destination for great games, so over the past couple of years, we've more than doubled our assortment and we're constantly working with the nation's leading game makers to create even more unique, exclusive games for our guests to enjoy with those they love."
See images of several Target games in the Gallery below – look for "only at Target" bullseye for exclusives.