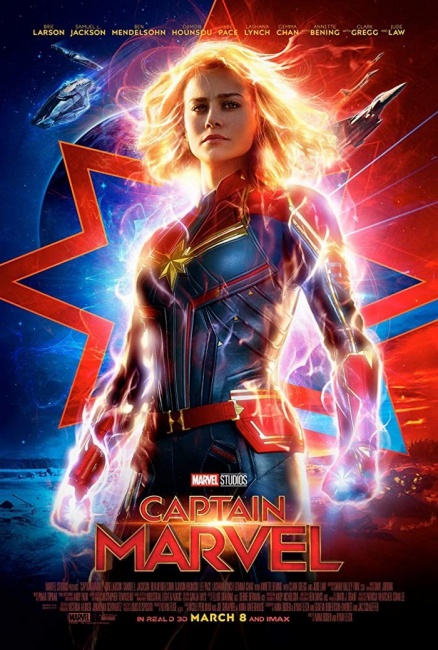 Despite the increasingly obvious and pathetic attempts of anti-feminist online trolls, who flooded online sites with negative "in-person" reviews, Marvel Studios'
Captain Marvel
revitalized the fading 2019 box office with a massive $153 million debut, grinding out a potent $35,499 average from over 4,300 venues in North America.
All by itself
Captain Marvel
earned more than the totals of all the films on any 3-day weekend so far in 2019, and provided the first year-over-year win so far with a 48% boost over the same frame in 2018 when
Black Panther
ruled the box office for a fourth consecutive week with $40.8 million. Even with the best efforts of
Captain Marvel
(and Goose the Cat), 2019 is still running 27% behind 2018's record pace, but it's still early, and there are plenty of major releases coming up that could cut into that gap considerably.
Disney launched
Captain Marvel
in every major market in the world (except Japan), and the result was a $455 million global debut, the biggest ever for a female-led film (smashing the previous record of $357 million set by
Beauty and the Beast
). In posting the sixth best global debut so far (not accounting for inflation),
Captain Marvel
demonstrated once again the savvy touch of Marvel Studios' head Kevin Feige, who picked the indie directing team of Anna Boden and Ryan Fleck with the idea of humanizing the origin story of "the most powerful character in the Marvel Universe," and the first Marvel female character to get the lead in her own solo film.
The success of
Captain Marvel's
massive global debut is due in part to the size of its launch, which a few years ago would have been almost impossible to mount on this scale, and to the growth in the global marketplace (especially China). Because Patty Jenkins'
Wonder Woman
was one of the few successful superhero films to earn more money here in North America than in the rest of the world, there was a notion that female-led superhero films didn't fare as well overseas, but
Captain Marvel's
opening indicates otherwise.
Captain Marvel's
$89.5 million debut in China is the equal of the $90 million that
Wonder Woman
earned during its entire run in the Middle Kingdom—and, at least so far,
Captain Marvel
is doing better internationally than any previous solo superhero origin film, regardless of the lead character's gender.
The success of
Captain Marvel's
debut also puts a spotlight on what appears to have been a major miscalculation by Marvel CEO Isaac Perlmutter (who no longer runs Marvel Studios), whose bias against female superhero characters was laid bare in an email (stolen and made public by North Korean hackers) in 2014 (see "
Wondering Why There Is No Black Widow Movie
?").
Here in North America
Captain Marvel
debuted 51% higher than
Wonder Woman
($103 million). Now whether
Captain Marvel
will be able to match
Wonder Woman's
$412 million domestic total still remains to be seen.
Wonder Woman
had the strongest "legs" by far of any DCU release, and
Captain Marvel
is likely to face stiffer competition, including a major superhero release, the DC/Warner Bros.
Shazam
, which debuts on April 5.
Opening weekend crowds for
Captain Marvel
skewed male (55%), and though
Captain Marvel
(along with
Black Panther
and
Ant-Man and Wasp
) managed the smallest gender gap yet for any Marvel film, it was still significantly bigger than
Wonder Woman's
52%/48% masculine margin. The audience for
Captain Marvel
was also one of the older crowds for an MCU film with 64% over 25. The good news is that they gave the film an "A" CinemaScore, which should help the Brie Larson/Samuel L. Jackson/ Reggie the Cat film avoid the front-loaded fate of
Batman v. Superman
, which bowed in March of 2016 with $166 million and promptly flopped, failing to earn that much again during its entire North American box office run.
Captain Marvel
is the twenty-first film in the Marvel Cinematic Universe and its potent debut indicates that superhero subgenre, which dominated the box office in 2018 (in which the top 3 films and 6 of the top ten were all superhero movies), shows no signs of giving up its reign anytime soon. In fact a good case can be made that the MCU is a more potent box office force than Disney's other major acquisition,
Star Wars
.
Weekend Box Office (Studio Estimates): March 8-10, 2019

Film

Weekend Gross

Screens

Avg./Screen

Total Gross

Wk#

1

Captain Marvel

$153,000,000

4,310

$35,499

$153,000,000

1

2

How to Train Your Dragon: The Hidden World

$14,696,000

4,042

$3,636

$119,662,125

3

3

Tyler Perry's A Madea Family Funeral

$12,050,000

2,442

$4,934

$45,879,810

2

4

The LEGO Movie 2: The Second Part

$3,825,000

2,930

$1,305

$97,109,961

5

5

Alita: Battle Angel

$3,200,000

2,374

$1,348

$78,346,064

4

6

Green Book

$2,488,000

2,097

$1,186

$80,140,871

17

7

Isn't It Romantic

$2,410,000

2,223

$1,084

$44,154,720

4

8

Fighting with My Family

$2,188,868

2,455

$892

$18,656,958

4

9

Greta

$2,161,000

2,417

$894

$8,252,735

2

10

Apollo 11

$1,301,000

405

$3,212

$3,780,952

2
There wasn't much oxygen left in the room for films other than Captain Marvel this weekend. How to Train Your Dragon 3 continued its solid, if unspectacular run, earning $14.7 million and bringing its domestic total to nearly $120 million. With a global gross of $435.2 million, this $129 million production is approaching the total earned by the first film in the franchise back in 2010 ($484 million), but it appears that Dragon 3 will have a hard time matching either the domestic total of Dragon 1 ($217.6 million) or the global total of Dragon 2 ($621.6 million)—and that's not even considering ticket price inflation.

While Tyler Perry's A Medea Family Funeral is performing like the rest of the franchise, and becoming a modest genre hit, Warner Bros. animated The LEGO Movie 2, and the James Cameron-produced, Robert Rodriguez-directed Alita the Battle Angel still haven't been able to shake the label of "box office disappointments."

The only newbie in the top ten was the documentary Apollo 11, which earned $1.3 million from 405 theaters.

Be sure to check back here next weekend to see how Captain Marvel fares in her second frame as she faces competition from the animated Wonder Park, which will debut in more than 3,500 theaters, as well as from the teen romantic drama Five Feet Apart (2,600 venues), and the alien invasion film Captive State (2,200 locations).