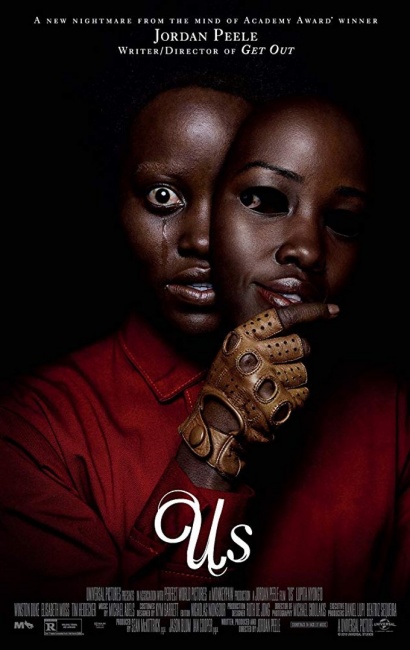 After falling badly behind 2018's record pace during the first two months of the year, the box office has turned around in March thanks to
Captain Marvel
and now Jordan Peele's R-rated horror film
Us
, which debuted with an estimated $70.3 million, the second best bow of 2019 so far, and the best opening for an original live-action movie since
Avatar
back in 2009.
With
Us
accounting for almost 50% of all ticket revenue for the top 12 films this weekend (and
Captain Marvel
producing 25%), this weekend's two chart toppers drove the total of the top tier films to a 23.1% gain over the same weekend in 2018 when
Pac Rim 2
opened with $28.1 million. While 2019's totals still lag behind 2018's record pace, this is third weekend in row that Hollywood has produced year-over-year gains.
Jordan Peele scored a huge hit with the socially conscious horror film
Get Out
, which earned a $176 million back in 2017, making it the #3 horror film of all time (not adjusting for inflation). But
Get Out's
$33 million debut pales beside
Us's
$70.3 million opening.
Us's
debut was the third largest ever for a horror film, and by far the best for an original horror movie (not a sequel or an adaptation of a horror novel or story).
Us
appears to be on track to top
Get Out's
domestic tally ($176 million), though it will face stiff competition in the weeks ahead, first from Tim Burton's Dumbo next weekend, and then from a second film based on Stephen King's
Pet Semetary
, which bows on April 5 along with a major superhero film (
Shazam!
from DC and Warner Bros., which earned $3.3 million in sneak previews this weekend). Opening weekend audiences, which were split evenly between genders, and quite young for an R-rated movie with just 53% over 25, gave Us a "B" CinemaScore, a bit below the "A-" that Get Out received, but still a very good grade for a horror film.
Us
appealed to a very diverse audience with Caucasians accounting for 36% of the crowd, followed by African-Americans (32%), Hispanics (21%), and Asian/others (11%). With a $20 million production budget, it appears that
Us
is likely already in the black, though Universal did spend widely (and wisely) on a savvy marketing campaign that began on Christmas Day, and included strategic spots on NBA and NCAA basketball broadcasts.
Meanwhile Marvel Studios'
Captain Marvel
dropped 48.5% as it earned $35 million in its third weekend, driving its domestic total to $321.5 million, which means it currently ranks as the tenth biggest Marvel Studios release in the North American market (not adjusting for inflation).
Overseas the first female-led Marvel superhero film brought in $52.1 million bringing its total outside North America to $588.8 million, and its total global tally to $910 million. It now appears virtually certain that
Captain Marvel
will become the seventh Marvel Cinematic Universe film to earn more than $1 billion worldwide.
Weekend Box Office (Studio Estimates): March 22-24 2019

Film

Weekend Gross

Screens

Avg./Screen

Total Gross

Wk#

1

Us

$70,250,000

3,741

$18,778

$70,250,000

1

2

Captain Marvel

$35,021,000

4,278

$8,186

$321,498,835

3

3

Wonder Park

$9,000,000

3,838

$2,345

$29,477,304

2

4

Five Feet Apart

$8,750,000

2,866

$3,053

$26,461,064

2

5

How to Train Your Dragon: The Hidden World

$6,533,000

3,347

$1,952

$145,752,630

5

6

Tyler Perry's A Madea Family Funeral

$4,500,000

2,187

$2,058

$65,881,232

4

7

Gloria Bell

$1,802,500

654

$2,756

$2,498,485

3

8

No Manches Frida 2

$1,780,000

472

$3,771

$6,626,279

2

9

The LEGO Movie 2: The Second Part

$1,125,000

1,389

$810

$103,328,550

7

10

Alita: Battle Angel

$1,015,000

1,439

$705

$83,748,050

6
There was a huge gap between the top two films and the rest of the pack, which was led by Paramount's animated Wonder Park, which earned an estimated $9 million in its second weekend. This $100 million production has earned just $29.5 million here and only $10 million overseas, totals that indicate that this animated feature will have a hard time even getting close to breaking even.

Fourth place went to the teen tearjerker Five Feet Apart, which dipped just 33.7% in its second frame as it earned $8.8 million to bring its domestic total to $26.5 million. With its "A+" CinemaScore, Five Feet Apart should stay on the charts for some time in spite of its limited demographic appeal—it is doing quite well within that demographic, which should be enough to make this modestly-produced film a hit.

Another film that targets females, albeit a slightly older demographic, is Sebastian Lelio's Julia Bell starring Julianne Moore, which expanded from 29 theaters to 654 and earned $1.8 million, which could indicate that Julia Bell has the makings of a modest art house "hit," though it's way too early to tell if this remake of Lelio's 2013 film will have enough staying power.

As summer nears the competition at the box office is heating up. Be sure to check back here next weekend to see if Us can maintain its top spot in the face of competition from Tim Burton's live-action/hybrid Dumbo, which is tracking well and will open in over 4,000 theaters. In two weeks Warner Bros. will unleash Shazam!, which earned more ($3.3 million) in previews than did Aquaman ($2.9 million), and has garnered very strong early reviews (it is currently 94% on review aggregator Rotten Tomatoes).