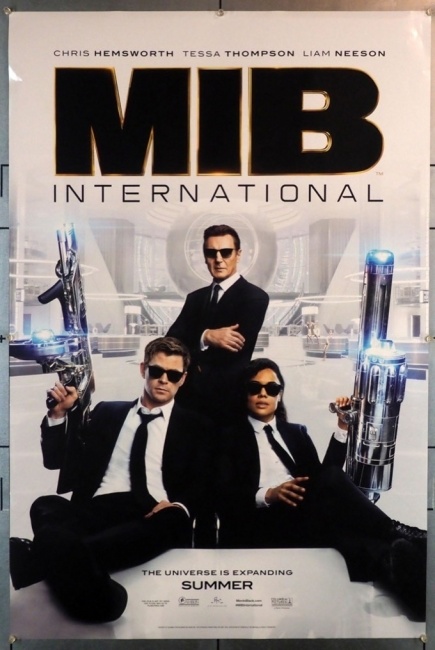 Two spin-offs, a reconstituted
Men in Black International
and a multi-generational
Shaft
stumbled as the summer box office took a turn for the worse with total revenues down nearly 53% from the same weekend a year ago when
The Incredibles 2
debuted with a stellar $182.7 million, which by itself was $54.6 million more than the entire box office total for this past weekend.
Men in Black International
stars Chris Hemsworth and Tessa Thompson in roles created originally by Will Smith and Tommy Lee Jones in a series of successful sci-fi comedies directed by Barry Sonnenfeld and based on the comic book series by Lowell Cunningham and Sandy Carruthers. The studio never expected to match the results of the original
MIB
, and wisely kept the film's production budget to $110 million, but
MIB International's
$28.5 million debut was well below expectations. In contrast all the Will Smith/Tommy Lee Jones
Men In Black
films opened with at least $50 million (and that's not adjusting for inflation).
With just a 27% positive rating on review aggregator Rotten Tomatoes, and a mediocre "B" CinemaScore from opening weekend audiences,
MIB International
appears doomed in light of increasing competition over the next few weeks. The film earned $72.3 million overseas, making almost as much in China ($26.3 million) as here in North America. As a comedy
MIB International
has a chance to hang around, and its production cost will limit studio losses, but don't expect any sequels to this spin-off.
Opening weekend audiences for
Men in Black International
skewed male (56%) and a bit younger with 74% under 35. Caucasians made up 48% of the surveyed opening weekend crowds with Hispanics accounting for 22% with 15% African-American, and 15% Asian.
Coupled with the disappointing debuts this year of other sequels and spin-offs including
The LEGO Movie 2, Dark Phoenix, The Secret Life of Pets 2, Godzilla: King of the Monsters
, the poor showings
of Men in Black International
and
Shaft
have some industry analysts talking about "franchise fatigue" again. While that is a hard generalization to make given the huge success of sequels like
Avengers: Endgame
and
John Wick 3
, it is also obvious that sequels have provided some this year's biggest hits—and does anyone want to bet against
Toy Story 4
? Still it is clear that just being the next
X-Men
movie, or the next
Men in Black
offering is not enough to insure any kind of box office success.
Weekend Box Office (Studio Estimates): June 14-16 2019

Film

Weekend Gross

Screens

Avg./Screen

Total Gross

Wk#

1

Men in Black International

$28,500,000

4,224

$6,747

$28,500,000

1

2

The Secret Life of Pets 2

$23,800,000

4,564

$5,215

$92,044,390

2

3

Aladdin

$16,712,000

3,556

$4,700

$263,446,314

4

4

Dark Phoenix

$9,005,000

3,721

$2,420

$51,767,350

2

5

Rocketman

$8,800,000

3,021

$2,913

$66,142,725

3

6

Shaft

$8,315,000

2,952

$2,817

$8,315,000

1

7

Godzilla: King of the Monsters

$8,105,000

3,207

$2,527

$93,688,172

3

8

John Wick: Chapter 3 - Parabellum

$6,100,000

2,033

$3,000

$148,626,905

5

9

Late Night

$5,136,734

2,220

$2,314

$5,449,553

2

10

Ma

$3,610,000

1,794

$2,012

$40,349,995

3
Second place went to The Secret Life of Pets 2, which dropped 49% from its disappointing debut, earning $23.8 million to bring its domestic total to $92 million. Pets 2, which cost $80 million to make, is no bomb, but its box office performance represents a steep drop-off from the first Pets film, a runaway hit that earned $875 million worldwide.

Will Smith isn't in Men in Black International, but he is in Guy Ritchie's Aladdin, which in spite of its enormous cost ($183 million), is now a certified hit with domestic earnings of $263.5 million and a worldwide haul of nearly $725 million. After failing with Dumbo, Disney's series of "live-action" remakes of animated hits appears to be back on track.

Dropping to fourth place in its second weekend is Simon Kinberg's Dark Phoenix, the final Fox X-Men film, which is likely to become the biggest superhero bomb so far, overtaking Josh Trank's miserable 2015 Fantastic Four thanks to a bloated $200 million budget. Technically Dark Phoenix's 73% second weekend drop is the third worst ever for a comic book film, but that is only if you consider the Shaquille O'Neil-starring Steel and the Italian comic-based Dylan Dog: Dead of Night as comic book movies. Dark Phoenix's fall has no counterpart among "major comic book films." Only three other films of any genre that opened on over 3,000 screens have fallen harder.

Fifth place went to the Elton John biopic Rocketman, which dropped just 36.3% in its third frame as it earned $8.8 million to bring its domestic total to $66.1 million. Rocketman already projects as a solid hit, especially given the "legs" demonstrated by recent musical offerings like Bohemian Rhapsody.

This weekend's other new release, Tim Story's Shaft, debuted at number six with $8.3 million from nearly 3,000 theaters. This multi-generational sequel to Samuel L. Jackson's 2000 Shaft (itself a remake of Gordon Parks' 1971 film) was roasted by the critics (it has just a 36% positive rating on RT), but opening weekend audiences, which skewed slightly female (52%) and quite a bit older (46% over 35) gave the film a solid "A" CinemaScore, the lone sign of hope for this sequel. African-Americans made up 43% of the opening weekend audience, followed by Caucasians (32%) and Hispanics (16%).

Another of 2019's disappointing sequels, Godzilla: King of the Monsters finished in seventh, followed by one of 2019's most successful sequels, John Wick 3 Parabellum, which slipped just 17.8% as it earned $6.1 million to bring its domestic total to $148.6 million. In 2017 John Wick 2 more than doubled the domestic gross of the franchise's first offering in 2015, and John Wick 3 could come very close to doubling its predecessor's $92 million domestic earnings.

Although it didn't debut this week, Amazon's comedy Late Night, which stars Emma Thompson and Mindy Kaling, went wide, expanding from four theaters to 2200, but the former Sundance festival favorite earned just $5.5 million and finished in ninth place.

Debuting outside the top ten was Jim Jarmusch's zombie comedy The Dead Don't Die, which earned $2.5 million from 613 theaters. With a cast that includes Bill Murray, Adam Driver, Steve Buscemi, Tilda Swinton, and Danny Glover, The Dead Don't Die may well end up as Jarmusch's second best box office film ever, trailing only 2005's Broken Flowers, which earned $13.7 million in North America and $46 million worldwide.

Be sure to check back here next week to see if Toy Story 4, which opens in over 4,400 theaters, will display any signs of 2019's epidemic of "sequelitis." Also "Chucky" returns in a reboot of the 1988 horror film Child's Play from United Artists, along with Anna, a new English language French action thriller from Luc Besson, and the British musical drama Wild Rose.