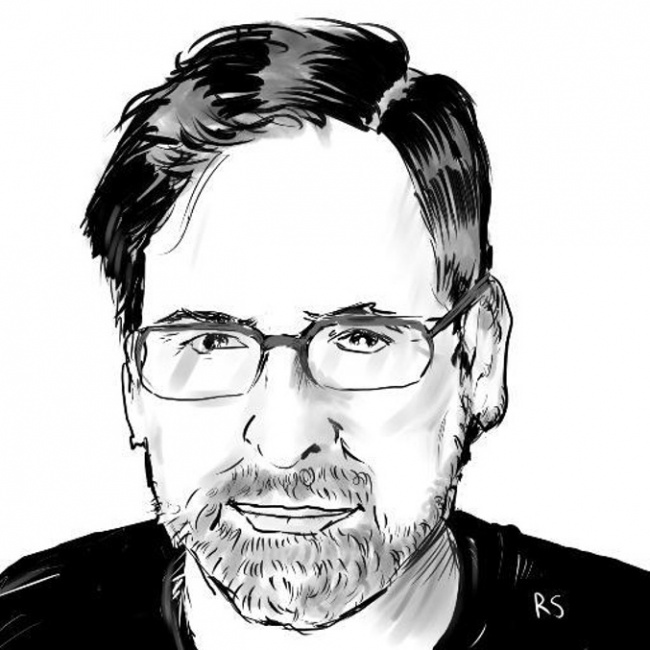 Earlier this week, comics publisher
A Wave Blue World (AWBW)
introduced a new distribution model called the Premier Program, where first issues are released in print, further issues are available digitally, and a trade collection arrives in stores two months afterwards.
The company also announced two new series as part of the program: Mezo, an Aztec-themed fantasy adventure by Tyler Chin-Tanner, Josh Zingerman, Val Rodrigues, Doug Garbark and Thomas Mauer, and Dead Legends, a female-led martial arts thriller by James Maddox, Gavin Smith and Ryan Ferrier.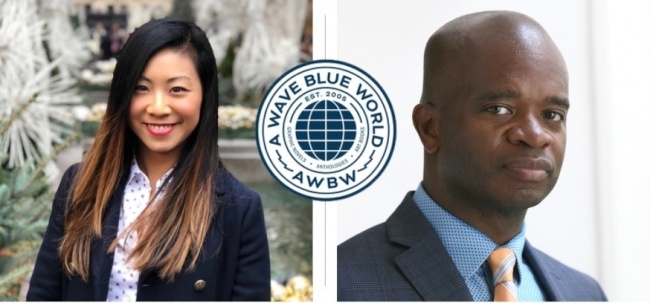 Though AWBW has been around since 2005, these current moves demonstrate a new approach to the market, closer to the disruptive intent of some of the brand new publishers we've seen step forward in recent months. I had a chance to speak to recently-hired VP of Sales and Marketing Lisa Wu and Editorial Director Joseph Illidge about the company's plans and strategy from a business perspective. Our conversation has been edited for length and clarity.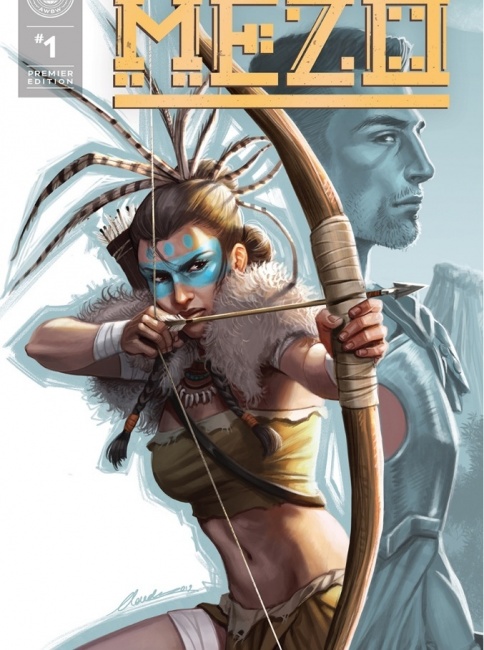 Rob Salkowitz, ICV2: Give me a little background on the company. You've been around since 2005, but it looks like you're becoming much more assertive in the market in the last few months. What's behind the push?
Joe Illidge, Editorial Director, AWBW: AWBW is an independent publisher, around for 14 years, founded by Tyler and Wendy Chin-Tanner. We specialize in anthologies, art books and graphic novels, based on creator-owned stories and stories created by Tyler. The company brought Lisa and me on board to join the team; with Lisa's expertise in marketing, sales and retailer relations, and my expertise in content, talent acquisition, and publishing vision, we were able to work with existing team of Nicola Black (art director), Justin Zimmerman (media director) and Jesse Post (book and trade). It really starts to position the company for growth and a firmer position in the market. We're all excited about it.
Lisa Wu, VP, Sales and Marketing, AWBW: In addition, it's nice to see a company that really cares about the comics industry and grow it beyond its limits, really believes in storytelling and bringing together a multitude of creative voices. Comics are impactful. I used to be a teacher. Back then, people didn't see the value of incorporating comics into the classroom. There are so many different aspects that can be used to be creative, business-minded, work together as a team. We believe in a better world and future. Our books embody that. You don't see that much in comics these days – everything is dark and negative. We reflect a brighter future.
RS: Despite having been around for 15 years, I don't think a lot of the industry has a sense of what A Wave Blue World is about. What's the unique brand and position that you're going for?
LW: Consumers are being smarter about how they choose, how they spend their money. People are looking to brands that have social responsibility elements in their company. They want to be sustainable, especially parents who want to build a future for their kids. Consumers who are in their 30s are looking for companies that understand them. Those are people we shouldn't be alienating. We should welcome them into the market and attract them to the comic book world. We have amazing stories that speak to them. We want to do as much as possible to be inclusive.
JI: I'd say it's speculative fiction that speaks to a future in which humanity will survive, the world will survive, and how we're going to make it there. We tell personal journeys and global stories that speak to the theme of the company. Even when you go to the name, "Wave Blue World" references Huxley's Brave New World. But water connects everything on the planet. We're a company that connects communities.
RS: What are the key points about the Premier Model?
LW: A lot of people like to collect/sample number one issues then wait for the trade collection [which is why retailers see fall-offs on sales after #1]. We know readers don't like the wait time. We want to give them a great collectible cover from great artists plus the full story without a delay.
JI: Fans, readers and retailers are attracted to quality, whether in a single issue or trade paperback. We're providing quality for a single issue: good cover stock, great art, compelling stories, exclusive extra background material on world building. On the TPB side, that's going to be a complete package with the high production values we're known for. We're delivering that quicker than other companies in response to what the market has been looking for.
RS: What problems do you think this can solve?
LW: With the change in the retail market, it's important for us to realize different customers want different things. Consumers have so much choice these days. If we don't cater to that, we can lose that customer for the industry. We want people to be able to open our books and have a great experience.
JI: The digital issues speak to accessibility. People may not have a comic store nearby. We've all come to accept that print and digital are partners. We're providing content through different channels, where content in each channel has value. If you want it as an entire package, it's there.
RS: What are the benefits from a retailer perspective?
LW: Retailers have a lot of options. They can adopt the #1 premier edition. People love #1s. That's where the sales are. Fans can have that chance [to buy and collect] before the trade. Those who can't wait for the trade can buy online, but we want to do as much as possible to drive people into comic shops. As a former reviewer, and customer, I often couldn't find the comics I was asked to review. I went to comiXology to find it. My reviews tried to drive people to comic shops and ask them to order. We think our program can do the same thing.
JI: When you look at direct market, we're seeing the growth in collected volumes. Retailers I've spoken to over the years have advocated for collected volumes without an unreasonable delay. As a company, we're being transparent. There are other companies that do #1 issues, which leads you on a road to different stories and different formats. We're following a model of reader engagement, reader direction, that already has precedent, based on good artwork and good stories.
RS: Where can people find the digital copies?
JI: On comiXology. We'll have some new announcements around digital later this year.
RS: To do this on an ongoing basis, you're going to need to tee up the content well ahead of schedule. That's a pretty big risk and investment. How do you plan to make that sustainable? Are you doing crowdfunding?
JI: Crowdfunding is something AWBW does with anthologies. For the Premier Program, we're looking at providing everyone with quality content for a good price point. Quality is always a good foundation to engage new readers and satisfy existing readers. When we're talking about single issues, we're speaking to a cover, compelling content, production values. For the trade, it's the same, but that expands availability into various outlets and opportunities.
RS: Where is the money coming from?
JI: AWBW is a privately owned company. The owners maintain the ethos they believe in, and that belief system brought us together as a team. It ensures our operation will grow organically and not through explosive acceleration. We're looking at our resources and the best way to utilize them. It's not about shelf-space domination, it's about quality stories.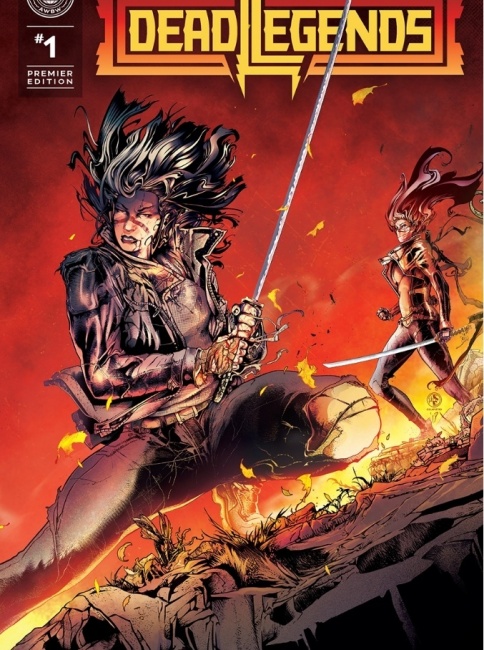 RS: Are the Premier Program titles creator-owned?
JI: That's correct. Tyler is a creator of Mezo and James Maddox and Gavin Smith are the creators of Dead Legends.
RS: How does your editorial process work? Are you soliciting creators for projects that are already in mind? Are you open to submissions? And what efforts are you making around including diverse creative voices?
JI: We've been receiving submissions and reaching out to particular talent. It comes down to identifying the kinds of stories that fit with our message. We're looking the right stories and the right creators from across the gamut of the industry: established creators, emerging creators, first-timers. We want creators to make their best stories.
Because our world is diverse, the creators will be diverse. We believe in that as a world community. We're offering that kind of variety. That's part of the anthologies. We're talking about a company that's inclusive, wants to tell fun stories, and stories with compelling characters and journeys. It's part of our mission intrinsically. When you're talking about stories for a better world, they have to be developed by people from diverse communities. It can't just be one community, one gender ID, one age demographic. We have to cast a wide net.
RS: Most new comic publishers have some kind of bigger media play in mind. Is that part of your strategy? Anything in the works?
JI: That's not the mindset from which we develop stories, but we know good stories are translatable across different media platforms. For the creators, it would be great for that to happen in the future. In the new world of entertainment, we're seeing more creator-owned projects. This is a great time. So we want that for our creators. The best way to make that possible is to be sure the comics are great.
RS: What's on the docket for the next 6-12 months? How aggressive do you plan to be about releases?
JI: We'll be making announcements in the next few months, between now and NYCC, which are going to outline the expansion of AWBW's publishing program and the continuation of our promise.
RS: Any final thoughts?
LW: A lot of comic shops in North America are shifting, and starting to realize there's a change in the market. Retailers talking about remodeling their stores to attract new readers. Data shows a change is needed. We offer a great alterative. They're embracing the positivity that's needed.
JI: There are a lot of new publishers. AWBW has been around for 14 years. We have a great backlist. We're not new, but this expansion is not just about internal staffing and it's not just an expansion of product: it's an outreach. We're reaching out to the entire comic book community, retailers and customers and fans, and with that, we're expanding our publishing palette.

The opinions expressed in this column are solely those of the writer, and do not necessarily reflect the views of the editorial staff of ICv2.com.

Rob Salkowitz (@robsalk) is the author of Comic-Con and the Business of Pop Culture.