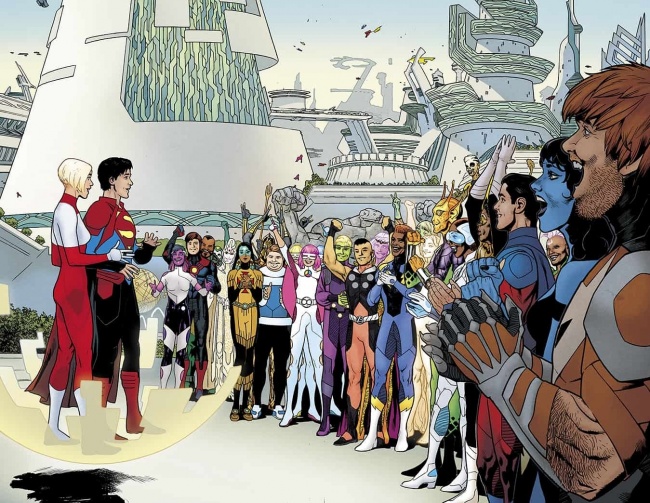 Confessions of a Comic Book Guy is a weekly column by Steve Bennett of Super-Fly Comics and Games in Yellow Springs, Ohio. This week, Bennett reflects on the origins of the phrase "Sad Astronaut", and the future of Trollhunters.
Back in June, I confessed that I had been a fan of the Legion of Super-Heroes since the early 60s, and had been looking forward to reading the first issue of the new series by Brian Bendis and Ryan Sook for literally months ("Confessions Of A Comic Book Guy -- Look To The Future"). Well, it's at long last November and Legion of Super-Heroes #1 finally shipped this week, and I'm fairly confident by the time this gets posted I'll have already read the first issue at least a couple of times. And I do hope that by that point I'll also have gotten one of those promotional Legion Fights rings that select comic book shops are distributing. Because I recently turned 60, and can now say with some authority it looks increasingly unlikely I'll ever outgrow my desire to own one, preferably one which actually works.
For those of you who have never been fans of the Legion, there are plenty of recent pieces in the press that do a pretty thorough job of detailing why you should at least be a fan of the contemporary comic, like "Legion of Super Heroes: How DC Rebooted a Convoluted Franchise With Help From Spider-Man" and "5 comics to read in November 2019: Look to the future ." Any of these should do the trick, but the one that I would really recommend is Brian Michael Bendis On His Revival Of DC's Legion Of Super-Heroes And Ending The Sad Astronaut Phase. Sure, because the headline contained the words "Sad Astronaut," but mostly because in spite of also having been a lifelong astronaut fan I was somehow unfamiliar with the phrase (see "Confessions Of A Comic Book Guy -- My Heroes Have Always Been Astronauts").
This really shouldn't have come as a surprise because over the course of this past year (the 50th Anniversary of mankind's first steps on the moon, something I saw for myself), it has become increasingly clear I don't know nearly enough about the subject. Although it really should have been obvious, but until about ten minutes ago, it never once occurred to me the reason Osamu Tezuka's boy robot Mighty Atom (a.k.a. Iron Arm Atom, Ambassador Atom, and in at least one instance, Captain Atom) was renamed Astro Boy in America might have had something to do with astronauts.
For the record, although the term is in the Urban Dictionary and is a song by the group Lagwagon, "Sad Astronaut" usually refers to real-life events from 2007 involving an American astronaut accused of "attempted murder and kidnapping" as well as wearing a diaper. Something NASA itself has called a "bizarre and sad story" and none of which has anything to do with the Internet piece I'll be referencing here. It uses the term to describe a particularly gloomy, humorless, un-heroic sub-genre of cinematic science fiction we've recently been overrun with (Gravity, Interstellar, Ad Astra, Contact, etc.)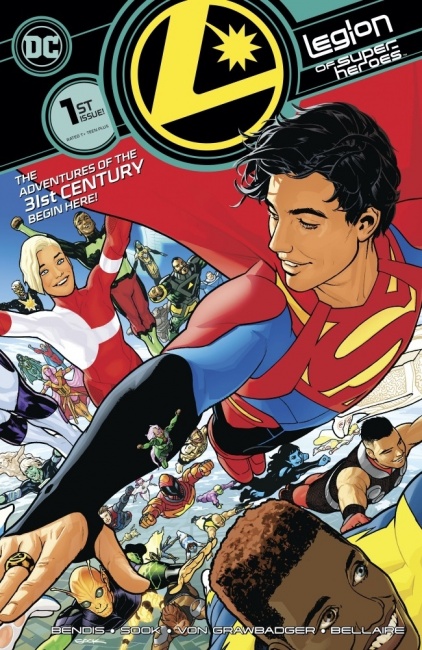 In an exclusive interview on the
Syfy
website, someone asks Bendis where the "uplifting attitude" in his new
Legion of Super-Heroes
series steams from. His response:
"I'm bewildered by the 'Sad Astronaut' genre and there's a lot of it in comic books. I just saw Ad Astra, the most 'Sad Astronaut' thing ever, and I'm watching a character who passionately, desperately wanted to get into outer space and when he gets there he's just miserable the entire time. Isn't the general sense of accomplishing your goal exciting? And invigorating as well as hopeful? I'm reflecting in this book that everyone is genuinely excited to be where they are. You watch Star Wars and they're under duress, but they're very excited to be where they are and on their chosen quest."
It probably won't come as a surprise to anyone, but this only makes me more interested in reading his Legion. The one essential ingredient in the franchise, as well as the one that has been sadly missing for the last couple of decades, is its fundamental conviction that a Utopian society is not only theoretically possible, but, conventional wisdom aside, an exciting engine for generating a nearly endless supply of new ideas. I keep saying that I'm very often wrong, but in this case, I don't think I can be; Legion of Super-Heroes is going to be sooooooooooo cool.
Back in July, I wrote about the Netflix animated series Trollhunters. created by Guillermo del Toro (see "Confessions of a Comic Book Guy -- Too Much Is Always Enough"). Specifically that it was a smart, funny, frequently bittersweet action/adventure show about a bunch of (initially) ordinary teens who protected the town of Arcadia from evil Trolls. And how after three very well done seasons and a couple of comics from Dark Horse (Trollhunters: Tales Of Arcadia --The Secret History Of Trollkind, Trollhunters: Tales Of Arcadia--The Secret History Of Trollkind), the franchise was sadly shuttered. Seemingly forever.

But, I recently learned that during an interview at last summer's Comic-Con, the
Trollhunters
director indicted that there may be a possible continuation of its franchise. Though it was actually Norwegian filmmaker Andre Ovredal who was also being interviewed that said
Trollhunters
was "definitely a world that could be played with, either as a TV scenario or as a movie." Initially, I assumed Ovredal was there because his latest film,
Scary Stories to Tell in the Dark
had been produced by del Toro. Until I read him being quoted as saying "we just released a comic in Norway which I hope can be distributed worldwide."
Although I couldn't find any other evidence corroborating it anywhere online, that "we" would indicate del Toro and Ovredal are teaming on a possible Trollhunters project. Which would be appropriate, given how Ovredal is best known in America for directing the unrelated, not to be confused with 2019 movie Trollhunter (singular) a "found footage" dark fantasy "mockumentary" dealing with Norway's cultural fascination with myths and folktales about trolls.

The country has long been associated with trolls, which would make Norway the perfect place to launch a Trollhunters comic book, if one actually exists. Not that I doubt Ovredal's word but after scouring the Internet, other than his quote I haven't been able to find any other evidence that this comic actually exists. But there's nothing like not knowing that makes me want to know more, so I'm going to keep searching because I also hope we'll soon be seeing an ongoing Trollhunters comic in America.

The opinions expressed in this column are solely those of the writer, and do not necessarily reflect the views of the editorial staff of ICv2.com.