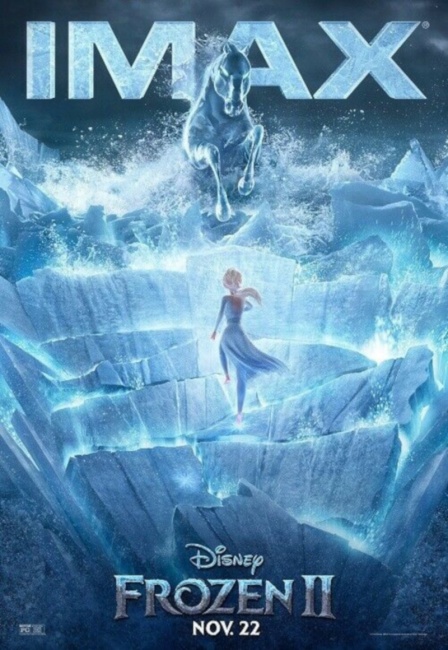 Disney's animated musical
Frozen II
easily took the weekend box office crown with an estimated $127 million bow, the best non-summer opening ever for an animated film (not adjusting for inflation), but the box office was still down 8% from the same frame a year ago when
Ralph Breaks the Internet
debuted with $56.2 million. Going into this weekend, the November box office was down 27% from 2018, which means that it will take one heck of a December to even get close to 2018's box office record.
Frozen II
posted the fifth best November domestic opening of all time with an estimated $127 million, which is also the third best animated film debut of all time (sans inflation adjustment). As a sequel to the biggest animated film of all time (
Frozen
earned $1.274 billion in 2013),
Frozen II
was almost guaranteed a strong opening, but how close will it come to its illustrious predecessor? The original
Frozen
fared better with the critics (90% positive on review aggregator Rotten Tomatoes vs. 75% for
Frozen II
) and with audiences who gave the original Frozen a stellar "A+" CinemaScore vs. an "A-" for
Frozen II
.
Frozen II
attracted an audience that skewed female (60%) and younger with families making up 70% of Friday crowds.
Frozen II
will face little in the way of direct competition over the next few weeks, but by mid-December there will be plenty of films like
Jumanji: The Next Level, Star Wars: The Rise of Skywalker
, and
Spies in Disguise
angling for the youthful portion of the audience.
While
Frozen II
opened bigger than its predecessor, it will not likely be able to match the original
Frozen's
$400 million domestic run. Will
Frozen II
be one of those sequels that makes enough overseas to overcome its domestic deficit with its predecessor? Not likely, though
Frozen II
is off to a great start with a $223.3 million overseas debut for a 3-day global total of $350 million.
Frozen II
scored the biggest opening for an animated film in the U.K., France, and China, but will it have the staying power of its predecessor?
Weekend Box Office (Studio Estimates): November 22-24, 2019

Film

Weekend Gross

Screens

Avg./Screen

Total Gross

Wk#

1

Frozen II

$127,000,000

4,440

$28,604

$127,000,000

1

2

Ford v Ferrari

$16,000,000

3,528

$4,535

$57,989,570

2

3

A Beautiful Day in the Neighborhood

$13,500,000

3,235

$4,173

$13,500,000

1

4

21 Bridges

$9,300,000

2,665

$3,490

$9,300,000

1

5

Midway

$4,700,000

2,627

$1,789

$43,107,561

3

6

Playing with Fire

$4,615,000

2,760

$1,672

$31,621,647

3

7

The Good Liar

$3,375,000

2,454

$1,375

$11,765,794

2

8

Charlie's Angels

$3,175,000

3,452

$920

$13,940,592

2

9

Last Christmas

$3,040,000

2,411

$1,261

$27,792,390

3

10

Joker

$2,820,000

1,410

$2,000

$326,931,813

8
Second place went to last week's winner Ford vs. Ferrari, which dropped just 49% as it earned $16 million to drive its ten-day domestic total to nearly $58 million, which is not a bad drop at all considering the film lost its IMAX screens to Frozen II. This old school, adult-skewing racing drama is holding its own and still looks like a good bet to garner some Oscar nominations.

The Mr. Rogers-based drama A Beautiful Day in the Neighborhood, which stars Tom Hanks as the beloved kids' TV host, opened with $13.1 million, a solid though unspectacular bow. A Beautiful Day looks well-positioned for a long run (and potential Oscar nods) with an "A" CinemaScore from opening weekend audiences, which skewed slightly female (52%) and older with 75% over 25.

Fourth place went to the R-rated action film 21 Bridges, which stars Chadwick Boseman (Black Panther). 21 Bridges, which was directed by the Russo brothers, earned an estimated $9.1 million and attracted an audience that skewed male (56%) and older with 75% over 25. This police action thriller has a chance to hang around in a crowded market thanks to a "B+" CinemaScore, a solid mark for this sort of R-rated action film.

With Frozen II accounting for 68% of the total of the top ten films, there wasn't much happening in the bottom half of the chart. Elizabeth Banks' Charlie's Angels remake dropped 62% in its second frame, solidifying its status as a "bomb," while Todd Phillips' The Joker remained in the top ten for the eighth straight week as it added $2.8 million to drive its domestic total to $326.9 million, surpassing Deadpool 2 ($324 million) and Suicide Squad ($325 million).

Rian Johnson's stylish murder mystery, Knives Out, which opens wide on Wednesday, earned $2 million in sneak previews on Friday and Saturday. Also opening wide on Wednesday is the romantic action thriller Queen & Slim, a modern take on Bonnie & Clyde starring Daniel Kaluuya and Jodie Turner-Smith.