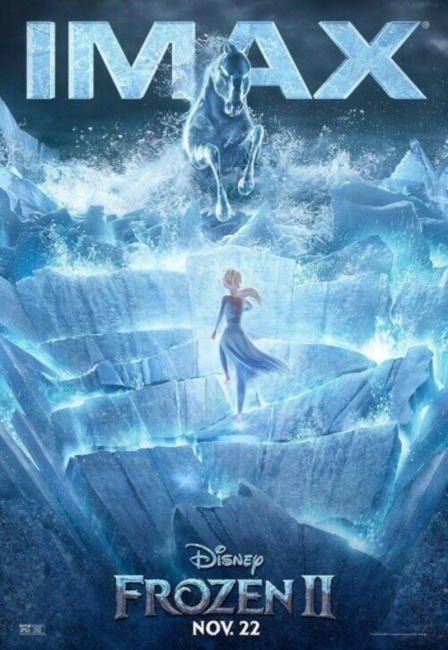 The weekend after Thanksgiving is typically one of the slower sessions of the year, and 2019 proved to be no exception. While Disney's
Frozen II
topped the box office once again, the total of the top 10 films was 25% lower than the post-Thanksgiving frame in 2018 when
Ralph Breaks the Internet
remained at number one with $25.6 million. Despite a raft of big films set to compete head-to-head in the next couple of weeks, no studio executive wanted to take a chance by bucking the "weekend after Thanksgiving curse" to allow their film to open in a less competitive environment.
Frozen II
dropped 59.7% in its third weekend of release as it earned an estimated $34.7 million to bring its domestic total to $337.6 million
. Frozen II
is now the #7 film of 2019, having already passed The Joker, and a final tally of over $400 million appears likely, which would put the animated Disney film in the #5 spot for the year (not accounting for potential December blockbusters to come).
Frozen II
is doing even better overseas where it has already earned 582 million (including 104 million in China and $75 million in South Korea) for a current global total of $919 million. Very soon
Frozen II
will become the eighth film of 2019 to surpass the billion dollar mark, and the sixth one from Disney, which has now earned $12.94 billion in ticket revenue for 2019.
Weekend Box Office (Studio Estimates): December 6-8, 2019

Film

Weekend Gross

Screens

Avg./Screen

Total Gross

Wk#

1

Frozen II

$34,670,000

4,348

$7,973

$337,594,901

3

2

Knives Out

$14,150,000

3,461

$4,088

$63,486,491

2

3

Ford v Ferrari

$6,537,000

3,746

$1,745

$91,110,353

4

4

Queen & Slim

$6,530,000

1,715

$3,807

$26,894,005

2

5

A Beautiful Day in the Neighborhood

$5,200,000

3,491

$1,489

$43,120,415

3

6

Dark Waters

$4,100,000

2,012

$2,037

$5,284,749

3

7

21 Bridges

$2,880,000

2,465

$1,168

$23,932,696

3

8

Playing with Fire

$2,000,000

2,253

$887

$41,982,325

5

9

Midway

$1,940,000

2,100

$923

$53,402,471

5

10

Joker

$1,040,000

956

$1,087

$332,141,623

10
The next six films in the top 10 are fighting it out for the adult audience. Rian Johnson's old school murder mystery (with a contemporary twist or two) Knives Out dropped just 47.1% as it earned $14.15 million to bring its 10-day domestic total to $63 million.

The exact order of third and fourth place will be determined by final figures on Monday. Right now the Disney/Fox racing epic Ford vs. Ferrari holds a slim lead over the racially-charged Bonnie & Clyde/Thelma & Louise saga Queen and Slim. Ford Vs. Ferrari is now in its fourth weekend in theaters, and it earned $6.537 million to bring its domestic total to $91.1 million insuring that it will make it over the $100 million mark (25 films have done just that so far in 2019). Queen & Slim amassed almost as much as Ford vs. Ferrari ($6.53 million), but from fewer than half as many screens (Queen and Slim posted the third best per venue average in the top 10 behind only Frozen II and Knives Out).

Todd Haynes' Dark Waters, a hard-hitting docudrama about the reporters and activists who finally brought the immense pollution created by chemical company powerhouse Dupont, finished in sixth place. With its grim subject matter and intense competition for the serious adult audience, Dark Waters actually did fairly well in its debut, but will it be able to maintain its momentum?

Debuting outside the top ten was the French animated feature film Playmobil: The Movie was a total bomb, earning just $660,000 from over 2,300 theaters, the third worst opening of all time for a film debuting in more than 2000 theaters.

Be sure to check back here next weekend when the expected blockbuster Jumanji: The Next Level debuts along with Clint Eastwood's Richard Jewell as the holiday movie season begins in earnest.