Confessions of a Comic Book Guy is a weekly column by Steve Bennett of Super-Fly Comics and Games in Yellow Springs, Ohio. This week, Bennett focuses on "other" comics he's looking forward to in 2020.

There's currently a deluge of comic book "Best Of" lists and listicles all over the Internet, and I don't mean just for this year, there are also some for the entire decade, but as I mentioned last week (see "Confessions Of A Comic Book Guy - He-Man Returns Again") I just don't have the organizational skills to compose one of my own. Not to mention sufficient long-term memory; I've always kind of forgotten my life as it happened but I've reached a point where if I want to know what I was doing five years ago I have to consult old posts on Facebook. I know this sounds like a comic exaggeration, but I even wasn't entirely sure exactly what day New Year's Day was this week until I consulted the calendar.

I know that it calls into question my qualifications as a fan, but to be honest, I also just don't have the fire in my belly to go around ranking and rating things at random, then routinely railing about my choices online. And though I know looking back is what we're supposed to do between Christmas and New Year's, I'd much prefer to look forward, which is exactly what I'm going to do. And while there are a number of superhero comics I am looking forward to reading, I'm going to focus on comics that fall under the category of "other."

Given that this year, the 50th Anniversary of Apollo 10 and 11, I've been writing extensively, some would even say obsessively, about astronauts, it's nice to see both Marvel and DC have some high-profile space titles coming in 2020.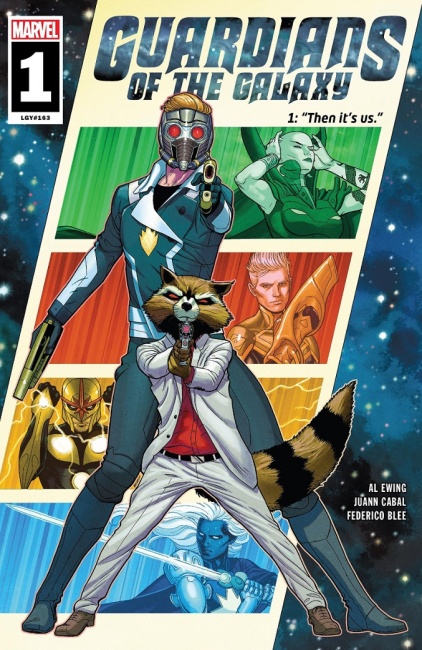 I love the MCU version of the
Guardians of the Galaxy
a lot more than the one found in their current Marvel comic, which is why I'm looking forward to the upcoming series relaunch
Guardians of the Galaxy
#1. It's written by Al Ewing, whose work on
Immortal Hulk
earned him "Best Writer" from
Entertainment Weekly
and drawn by Juann Cabal, who's been one of my favorite artists since I discovered his work on
All-New Wolverine
. The only thing I can see that's missing from it is Korg, and of course his insectoid friend Miek. Yes, Korg the surprisingly soft-spoken Stone Man from
Thor: Ragnarok
; I know they originally appeared in the
Planet Hulk
comics, but let's face it, it's the movie that's made them memorable. They should be immediately upgraded to
Guardians
. I mean, if Marvel can give the MCU version of
Yondu
his own mini-series, there's no reason I can see why they shouldn't make good use of these scene-streaming breakout movie stars.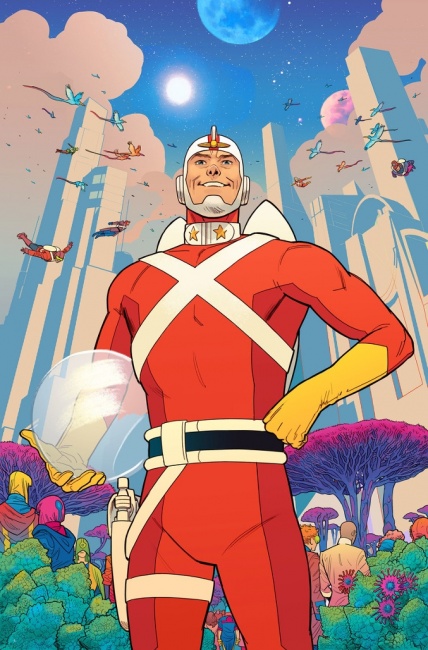 And DC Comics has
Strange Adventures
, a 12-issue mini-series by Tom King and artists Mitch Gerads and Evan "Doc" Shaner, about DC Classic space hero Adam Strange. Everything by King and Shaner gets my immediate attention, and I've always been a fan of DC's
Man Of Two Worlds
; I can only hope that the series (which will apparently "push Adam Strange to the breaking point—and beyond!") won't emotionally devastate and deconstruct the Strange I know too much. I know it's not very likely, but an old fan has to have his hopes.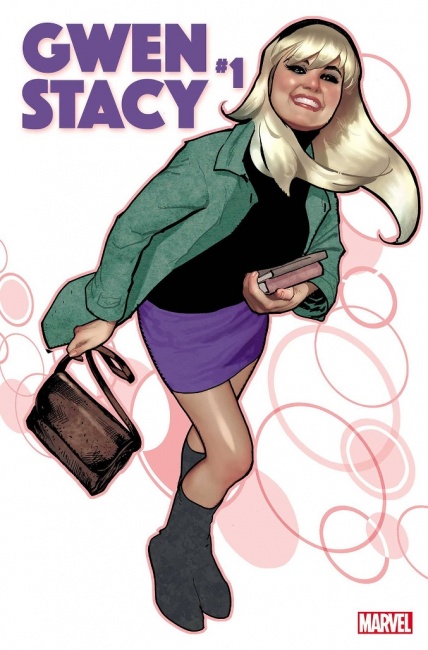 I've never made a secret of the fact that I wish both Marvel and DC would do more (or at least something) with their classic teen characters. Well it's unlikely we'll come any closer, any time soon anyway, than
Gwen Stacy
#1, written by Christos Gage, drawn by Todd Nauck and (naturally) featuring covers by Adam Hughes. To be clear, this is the actual, original Gwen, not the one from Earth-65 (a.k.a.
Ghost-Spider
), and I'm curious to see what the response from readers will be to what's essentially "just" a teen drama. And what, if anything, Marvel will do to direct teen readers to something that isn't a young adult graphic novel.
Back in 2017 (see "
Confessions Of A Comic Book Guy - Back Off The Injured List
"), I wrote about how much I enjoyed
Heavy Vinyl
(formerly
HI-Fi Fight Club
, until someone noticed there was also a novel and movie titled
Fight Club
), a wonderfully written and beautifully drawn comic about an all-female record store staff who after hours worked as a crime-fighting crew (through an online description of it still, perhaps defiantly, refers to them as a "fight club"). Well, I completely forgot all about it, but now I can't wait to read
Heavy Vinyl: Y2K-0!
It's a BOOM! original graphic novel coming out in March that reunites series creators Carly Usdin and Nina Vakueva.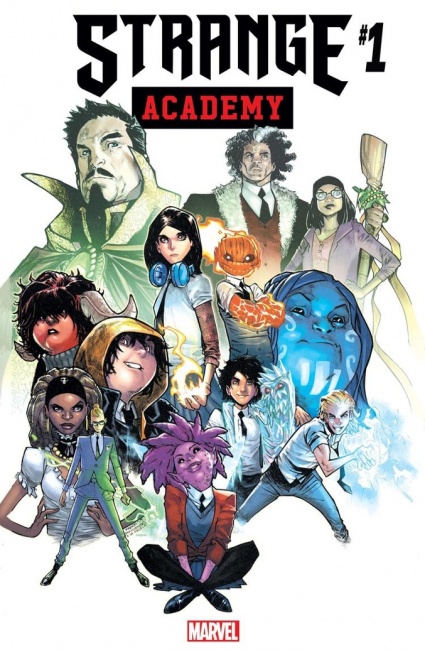 There's more; there's always more. Like DC's
Amethyst
, that's being written, drawn and colored by Amy Reeder, co-creator of
Moon Girl and Devil Dinosaur.
So there's nearly no chance that this won't be a version of the character that actually lives up to the original comic by Dan Mishkin, Gary Cohn, and the late Ernie Colón. And then there's Marvel's
Strange Academy
by Skottie Young and Humberto Ramos, where characters like Doctor Strange, Brother Voodoo and The Scarlet Witch instruct kids from across the MU in the mystic arts.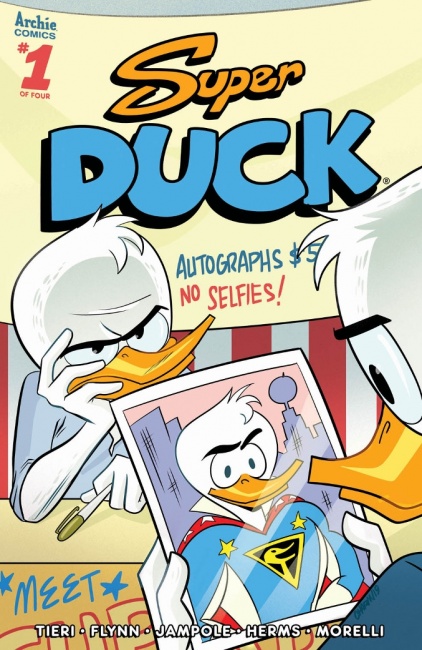 And finally, and perhaps especially, there's
Super Duck
written by Frank Tieri and Ian Flynn and drawn by Ryan Jampole, Matt Herms and Jack Morelli from Archie. Created in 1943 by the great Al Fagaly, "The Cockeyed Wonder" started life as a super-heroic funny animal (of which there were many back then). But the character stopped being a Superman parody, traded his costume for a still distinctive costume composed of (for some reason) red lederhosen, black shirt, and Alpine hat and became a much put upon "ordinary" duck whose given name was apparently "Supe."
Al Fagaly had an energetic signature art style, distinctively different from anyone else drawing funny animal comics at the time, and while his stories had conventional enough plots they also had an anarchic quality and were loaded with wild cartoon violence. I know the new
Super Duck
can't possibly be anything like Fagaly's version, but I'm willing to give it a chance -- Archie deserves a lot of credit for trying to do a new version of a character this oddball and obscure. And hopefully, it will do at least well enough to encourage the publisher to do some collections of the Fagaly stories.
In 2019 Marvel did an issue of
Ziggy Pig - Silly Seal Comics
, now Archie does
Super Duck
. I can only hope that this means by next Christmas DC will finally release that collection of their
Rudolph the Red-Nose Reindeer
comics I've been waiting decades for.
The opinions expressed in this column are solely those of the writer, and do not necessarily reflect the views of the editorial staff of ICv2.com.