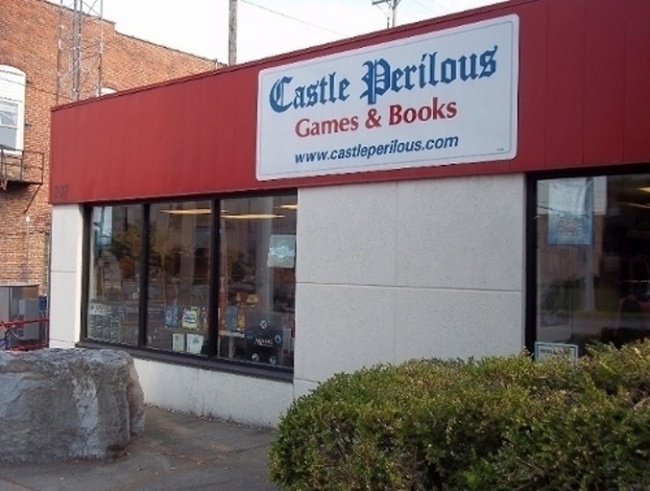 Rolling for Initiative is a weekly column by Scott Thorne, PhD, owner of Castle Perilous Games & Books in Carbondale, Illinois and instructor in marketing at Southeast Missouri State University. This week, Thorne
offers his take on the major announcements of the week involving Renegade Game Studios, Fantasy Flight Games, and Wizards of the Coast.
Renegade Game Studios announced this week that the company will cut back on three of its current American distributors, Peachstate, GTS and Southern Hobby, and follow Looney Labs in limiting distribution to ACD Distribution and Alliance Distribution only (see "Renegade Game Studios Cuts Back to Two U.S. Hobby Distributors"). This tightening of distribution channels will hurt the three distributors getting the boot, have little impact on consumers, and benefit Renegade, Alliance and ACD. Consumers should see little impact on availability of the Renegade line as most retail outlets already have accounts with ACD and Alliance, especially, due to the exclusive distribution arrangements WizKids and Asmodee NA have with the latter distributor. Any US retailer wishing to carry their product lines, with which over 90% of the game stores in the US have an account. ACD and Alliance will benefit some as accounts that purchased Renegade products from the other three distributors will have to shift purchases. The big beneficiary of the change is Renegade which should see significant cost savings by condensing five distribution partners down to two, reaping significant economies of scale by bulking up shipments to ACD and Alliance. It is almost always cheaper, per item, to ship an item as part of a larger shipment than a smaller one.
Speaking of Asmodee NA, Fantasy Flight Games announced this week that Covert Missions would be the last expansion for the Star Wars: Destiny dice game, and that organized play support would end with the world championships this May (see "'Star Wars: Destiny's' Fate is Sealed"). Star Wars: Destiny started off quite strongly, with huge demand and selling out quickly nationwide. Unfortunately, the line's sales level apparently caught Fantasy Flight Games unprepared for the demand with product remaining out of stock for several weeks (shades of Keyforge) and sales levels, though good throughout 2017 and 2018, it never maintained the levels reached at introduction and steadily trended downward for the duration of the product line. Modifying the rules for tournament and league play, essentially rendering the first few sets unusable in organized play and making all of those dice collected useless, did not encourage new players to enter the game. Unlike Magic, HeroClix, Yu-Gi-Oh and Pokemon, new players did not enter the game as early players moved out, significantly reducing the player base. As with Warlord and Highlander (the early version of which was, in my opinion, one of the best designed TCGs ever), pockets of play will continue but most likely through online communities.
Making WPN Premium status even more desirable for stores selling Magic products, WotC announced new benefits for stores achieving Premium status with the benefits starting next month (see " Wizards of the Coast Announces 'Magic' World Championship Viewing Parties for WPN Premium Stores "). WPN Premium stores will get to host a Magic World Championship viewing party and host a Standard format tournament the same day with an alternate art foil Crucible of Worlds going to the top 16 players. Other announced benefits include the Mystery Booster set launch tournaments with special prizing, additional marketing materials for the Ikoria: Lair of Behemoths booster expansion, a foil version of Commander Collection: Green, only available at Premium stores, and priority scheduling for WPN Qualifiers. Most of what WotC had planned was designed to drive in-store tournament play, with only the foil Commander Collection: Green a limited product that customers will have to visit Premium stores to purchase. If they are not interested in the foil edition, customers should find them at their local WPN store. Most of the other benefits drive WotC's focus on retail-tainment. The company sees stores as places to play the game and will provide events and support to drive them into them to play, not, at least currently, providing exclusive product to drive them in to buy. It will certainly prove interesting to see if WotC continues that marketing plan.
The opinions expressed in this column are solely those of the writer, and do not necessarily reflect the views of the editorial staff of ICv2.com.