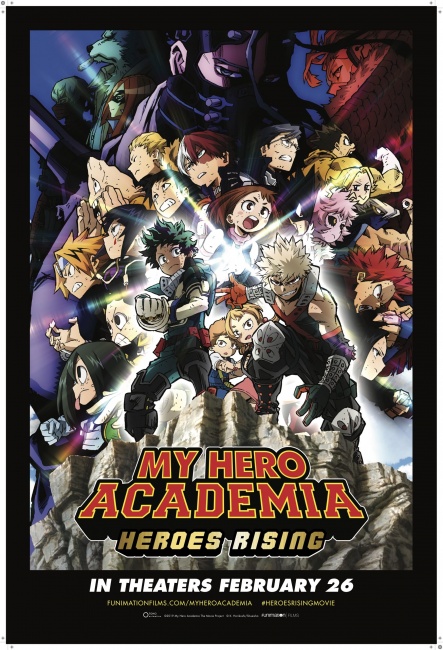 Universal finally has both a critical and box office success with one of its "classic monsters" thanks to a contemporary reimagining of the H.G. Wells classic
The Invisible Man
for the #MeToo era, which topped the weekend box office with an estimated $29 million. Meanwhile, despite opening on Wednesday, Funimation's
My Hero Academia: Heroes Rising
planted the anime flag #4 on the weekend chart. Still the total of the top ten box office films was down 16.5% from the same weekend a year ago when
How to Train Your Dragon: The Hidden World
topped the charts for the second week in a row with $30 million.
Written and directed by Leigh Whannell, The Invisible Man was produced by Universal's Blumhouse unit for just $7 million. Taking a page from the playbook that helped establish the superhero genre, Whannell picked a superb actor, Elizabeth Moss, for the lead in The Invisible Man--a woman tormented by her demented "ex," who just might have faked his suicide and figured out a method to make himself invisible. In Well's original the focus is on the titular antihero, whose invisibility discovery leads to megalomania, but Whannell switches the focus to the victim and manages to add all sorts of elements that relate to today's social concerns.
Moss's stellar performance won't win any awards (the folks at the "Academy" don't have the proper respect for horror films or comedies), but it did help The Invisible Man earn a stellar 92% positive rating on review aggregator Rotten Tomatoes, as well as a strong "B+" CinemaScore from the notoriously tough-grading horror film audience, which, in contrast to the typical female-skewing horror crowd, was, according to PostTrak, 53% male.
Produced for just $7 million, The Invisible Man is already a hit. It has earned $20 million overseas for a nearly $50 million worldwide haul. After a serious of poorly-performing horror movies so far this year (Fantasy Island, Brahms: The Boy 2, etc.), The Invisible Man is the first fright flick to beat expectations. It may have a short window, since A Quiet Place Part II opens in two weeks, but The Invisible Man should still finish somewhere in the $70-100 million range.
The live action/animated hybrid Sonic the Hedgehog slipped to #2 after two weeks at #1, though it declined just 38.9% as it earned $16 million to bring its17-day domestic total to $128.3 million. It will soon pass Lara Croft: Tomb Raider's unadjusted $131 million domestic total, though the inflation adjusted total of the 2001 film may be a bridge too far ($180.3 million), and become the "unadjusted" #2 videogame-based film in here in North America.
Worldwide Sonic has earned $265 million so far, but is yet to open in Japan and China, which are potentially big markets for the popular videogame property, but the Coronavirus outbreak is wreaking havoc in the fast-growing movie markets in Asia. If this potential pandemic worsens the effects on the movie industry could be severe, particularly for films due out in the next few weeks and months.
The Call of the Wild, which was produced by Fox (and now distributed by Disney), had a pretty good hold in its second weekend, dropping 46.7%, but so far it has earned just $45 million here in North America, and with a bloated production cost of $125 million, this Jack London adaptation still looks like a loser.
Funimation opened Kenji Nagasaki's action-packed anime My Hero Academia: Heroes Rising on Wednesday in over 1,200 theaters. It has already earned $8.92 million, which is considerably more than its predecessor My Hero Academia: Two Heroes, which appeared in 513 venues, earned in its entire North American run ($5.75 million). In fact MHA: Heroes Rising is now Funimation's second biggest release, having topped the $8 million earned by Dragon Ball Z: Resurrection F in 2015, and its $4,054 per-theater average was the second highest in the top ten behind The Invisible Man's $8,033. While MHA: Heroes Rising has little chance of topping 2019's Dragon Ball Super: Broly's $30.7 million to become Funimation's top release, its success is further proof that anime movies can support theatrical releases here in the U.S.
2020's first breakout hit, Bad Boys for Life, stayed in the top five in its seventh weekend in theaters as it earned $4.3 million to bring its domestic total to $197.4 million. Later this week it should become the first 2020 release to earn more than $200 million, and it has brought in $406 million worldwide so far.
Warner Bros.' DC Comics-based Birds of Prey earned $4.1 million to bring its domestic total to $78.8 million, and its worldwide total is now $188 million. But given its cost and the fact that it is a superhero film (though some might call it a "second tier" spin-off), Birds of Prey still has to be seen as a box office disappointment in Warner Bros.' up and down series of attempts to establish DCU superheroes with something approaching the level of success enjoyed by Disney's Marvel Studios.
Be sure to check back here next week to see what happens when two new films appear. Pixar's animated Onward will debut in over 4,000 theaters and is predicted to top the charts, though it is an original property, which will have to rely on Pixar's sterling reputation (it did sell out a special "Leap Year" preview yesterday), so expectations are somewhat muted. That is also the case in a bigger way for the Ben Affleck-starring sports drama The Way Back, which was originally slated to open in October, but will debut Friday in about 2500 venues.