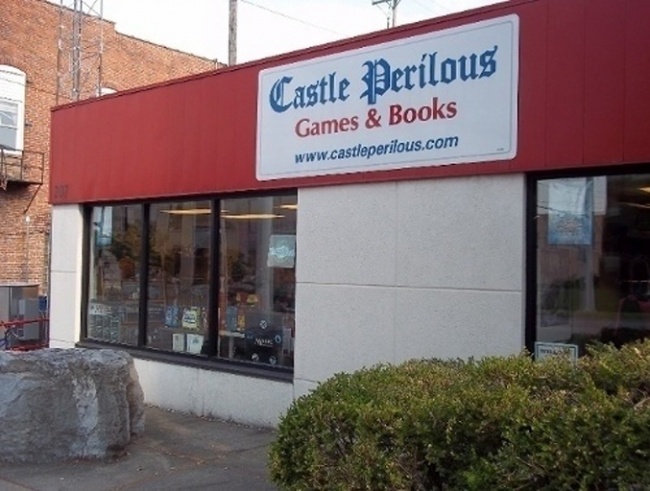 Rolling for Initiative is a weekly column by Scott Thorne, PhD, owner of Castle Perilous Games & Books in Carbondale, Illinois and instructor in marketing at Southeast Missouri State University. This week, Thorne compares how Asmodee NA handled backing out of Alliance Game DistributorsAlliance Game Distributors against how DC Comics backed out of Diamond Comic Distributors.
'
Comics are not a huge part of my business, but since we do sell them and graphic novels, I thought I'd share a comparison of the way DC handled leaving Diamond Comic Distribution after over two decades (see "
DC Cutting Off Diamond
") versus the way Asmodee NA ended its exclusive arrangement with Alliance Distribution after about three years (see "
Asmodee USA Distribution Making Massive Shift
"). From my viewpoint (and I have no information beyond the letters Diamond and DC sent out and my experience with the Asmodee shift to ACD), Asmodee approached the change in distribution with a far more professional attitude, with far more concern about the retailers selling its products, than did DC. Two reasons why:
Timing. According to the letter from Diamond at the link above, a renegotiation of the contract between the two channel members started last April, just after most of the country had started sheltering in place in order to slow the spread and flatten the curve of COVID-19 infection. DC had a sixty day escape clause from its contract with Diamond (see "ICv2 Interview: Geppi Family Enterprises CEO Steve Geppi, Part 2 ") and was negotiating with Diamond to add two additional distribution platforms to the industry, both operated by large online comic retailers. Diamond would continue as one of the distributors from whom retailers could opt to purchase. Then Friday, just as the current FOC goes online, came the announcement that DC would no longer use Diamond as one of its distributors and that retailers wanting to carry DC comics, the second largest publisher in the industry, would have to set up accounts with one of the two new distributors and be ready to order by next weekend. Meanwhile (though I have no knowledge of the negotiations between Alliance and Asmodee), I assume similar negotiations regarding Allaince's continued exclusivity took place, and when those ended, Asmodee announced at the GAMA Trade Expo that its contract with Alliance would end on June 30 with Asmodee shifting its hobby game distribution to ACD and entering the distribution field itself. This gave tabletop game retailers three month's lead time in which they could make changes to their own supply chains, by setting up accounts with either ACD, Asmodee NA or both (or neither, although, given the number of properties Asmodee handles, neither is a pretty poor option). Three months notice versus a week's notice certainly makes modifying operations easier for Asmodee customers than for DC.

Timing (again). Since game and comic stores are not considered essential businesses in most people's minds, most stores throughout the country followed government regulations and cut back significantly on business. In a few cases, these mandated closures led to the permanent shuttering of stores (see "San Diego Comics Closing End of May"). Then, just as most of the retail shutdown comes to an end and stores start to open to more or less regular traffic, stores over the past couple of weeks get vandalized and looted. Instead of opting to continue negotiations until the end of June or announcing plans to end the contract at the beginning of July giving retailers a month or so to recover from significant hits to their business and to adjust to the new world of distribution, they now had about a week. Stores dealing in comics did not need to get hit with this now.
One thing that does give me hope is this paragraph from DC's letter to retailers: "We can assure you that this change in DC's distribution plans has not been made lightly and follows a long period of thought and consideration. The change of direction is in line with DC's overall strategic vision intended to improve the health of, and strengthen, the Direct Market as well as grow the number of fans who read comics worldwide. Here's hoping DC rolls out its plans to "improve the health" of stores as quickly as it shook them up.
If you have comments, I am always glad to read them at: castleperilousgames@gmail.com.
The opinions expressed in this column are solely those of the writer, and do not necessarily reflect the views of the editorial staff of ICv2.com.