Confessions of a Comic Book Guy is a weekly column by Steve Bennett of Super-Fly Comics and Games in Yellow Springs, Ohio. In his first post-shutdown column, Bennett looks at the state of the comics business, some DC comics that are a great fit for new readers, and comics with coronavirus connections.

The last time I wrote one of these things was back on March 18 (see "Confessions of a Comic Book Guy -- Hunker In Your Bunker"), just when we were just starting to accept there was a global pandemic. Since then, over 110,000 Americans have died, unemployment has reached levels not seen since The Great Depression, the country essentially closed down and there have been mass protests and violence in the streets.

Plus Americans have been gargling bleach (Coronavirus: Americans drinking and inhaling bleach to try to prevent COVID-19 infections - study), there's an invasion of Murder Hornets (First queen 'murder hornet' discovered in America, leading to fears there may be 'hundreds' more, scientists say), monkeys in India have stolen COVID-19 blood samples (And Now We Have Plague Monkeys. Because Why Not?), and lightning struck the Statue of Liberty (Huge lightning bolt strikes Statue of Liberty...and someone captures it on camera). Apparently, this is not uncommon; being made from copper plates, it's struck by lightning bolts roughly 600 times a year, but I'm going to be 62 and this is the first time I've ever heard of it happening.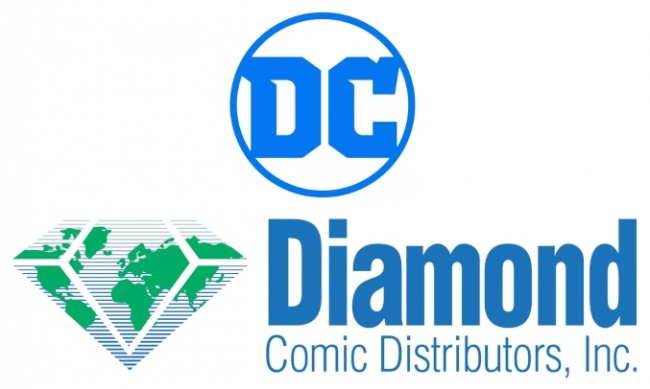 And, as you all know all too well, it was also the first time in over 80 years that comic books weren't published. Then just as comic book shops were starting to reopen it was announced after 25 years DC and Diamond were parting ways (see "
DC Cutting Off Diamond
"). I really don't have anything to add to what Rob Salkowitz has already written on the subject (see "
Is The Comic Shop Apocalypse At Hand? Hope Vs. Fear
"), other than to state the obvious: another major disruption happening at the worst possible time is the very last thing individual retailers and the industry as a whole need.
As to whether this will be "apocalyptic" to the industry or not, I really couldn't say. My automatic answer is "no," just on the basis of accumulated memory. I've seen a lot of industry bubbles burst, and distributors close their doors, and the Direct Market is still here. But given what's happened in this country in the last two months, I honestly couldn't hazard a guess as to how things will look six months from now. Personally, I'm going to go ahead and assume the industry will still be here, if only because it's better than assuming the opposite.
I know now is kind of an awkward time to be praising DC Comics, but while the comic book industry was temporarily paused, I was able to really enjoy DC's Digital First line of titles. Sure
Batman: The Adventures Continue
by Paul Dini, Alan Burnett, and Ty Templeton, set in the world of
Batman: The Animated Series,
has understandably gotten the most media attention. But I'm also talking about the ones featuring material previously available only in the DC Giants line that originally was exclusive to Walmart:
Superman: The Man of Tomorrow,
Batman: Gotham Nights, Wonder Woman: Agent of Peace, Aquaman: Deep Dives, Flash: Fastest Man Alive, Swamp Thing: New Roots
and
Harley Quinn: Make 'em Laugh
.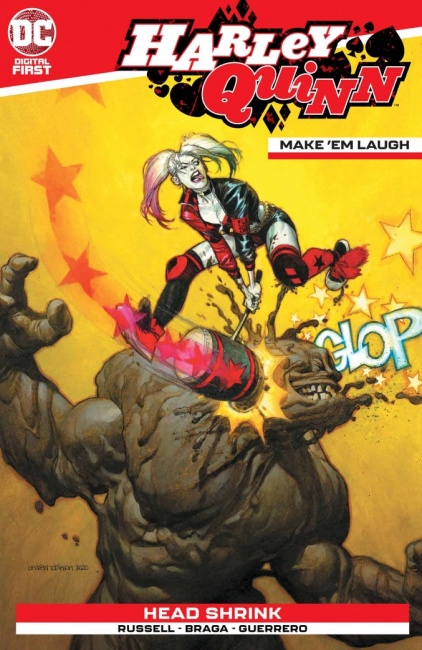 For literally decades I've been saying there should at least be at least one DC (and Marvel) comic featuring done-in-one, outside-of-continuity stories featuring their major characters. Something you could place before someone who hasn't read a comic in either forever or ever that along with making them want to read another comic says "this is what a Superman comic is like." Well, DC's Digital First titles do just that, and even better, the stories show the characters to their best advantage, giving readers reasons to care about them. And they've even been able to do that with some of their less automatically likable characters like Swamp Thing and Harley Quinn. Now all DC Comics has to do is make some of these comics available to the direct sales market, and Marvel to follow their lead.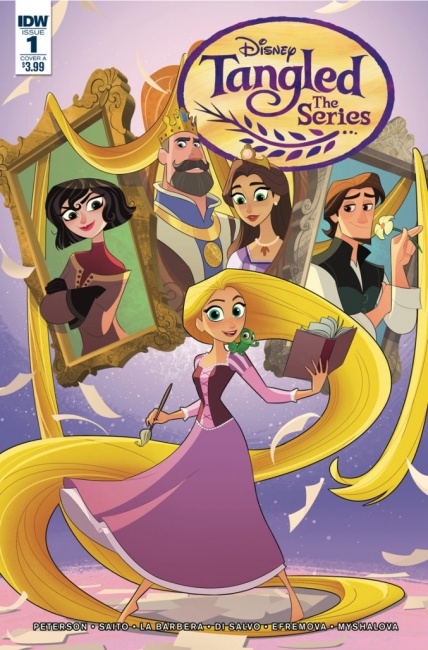 If I had written one more column in March, I would have mentioned two properties with comic book ties that had Corona connections. Like Disney's 2010 feature
Tangled
, their take on Rapunzel, the girl that lived alone in a tower who let down her very long hair, which spawned a surprisingly good three-season animated spin-off series as well as its own IDW comic. In the Disney version, she comes from the kingdom of Corona (which in Latin means crown or garland), and with people stuck at home soon there were headlines like
Did Disney's 'Tangled' predict the coronavirus pandemic?
, and
People Are Having A Heyday With Tangled 'Predicting' Coronavirus
. And according to
Interest in 2010 movie 'Tangled' surges amid coronavirus pandemic
, "what is the name of the kingdom in 'Tangled'" was at the time a top Google search.
Surprisingly, the corona connection doesn't seem to have hurt the franchise any and hasn't ginned up any online outrage, let alone demands for Disney to retroactively redub the movie and series to give the kingdom of Corona a different name. However, it will be interesting to see if they change the kingdom's name if they do in fact make a live-action
Tangled
movie;
Disney Is Reportedly Making A Live-Action Rapunzel Movie For Theatrical Release
.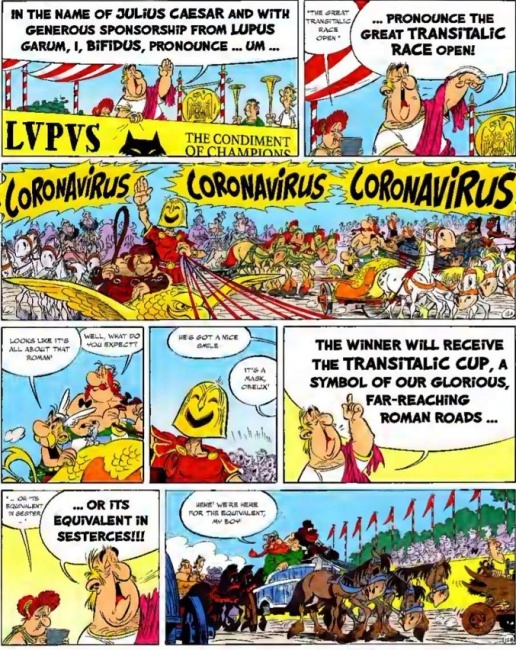 And, finally, while it also generated a number of headlines at the time,
No, Asterix Did NOT Predict COVID-19 (But He DID Battle Coronavirus)
. The confusion comes from the fact that the 2017
Asterix and Obelix
album
Asterix and the Chariot Race,
written by Jean Yves-Ferri and illustrated by Didier Conrad featured a masked villain named Coronavirus, the name of the family of viruses to which COVID-19 belongs. So not a prediction, but timely.
Sadly, also in March, Albert Uderzo died at the age of 92 (see "
R.I.P. Asterix Co-Creator Albert Uderzo
"). After his death four of his original drawings were sold at a charity auction with the proceeds going to Paris hospitals;
Asterix Creator Died Of COVID-19, His Art Raises $400,000 For Hospitals
.
The opinions expressed in this column are solely those of the writer, and do not necessarily reflect the views of the editorial staff of ICv2.com.