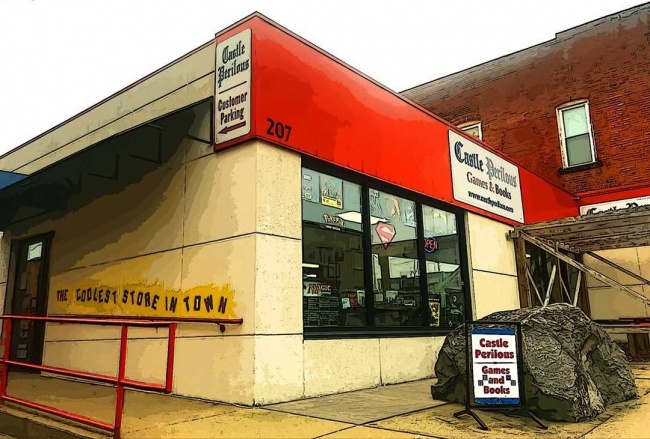 Rolling for Initiative is a weekly column by Scott Thorne, PhD, owner of Castle Perilous Games & Books in Carbondale, Illinois and instructor in marketing at Southeast Missouri State University. This week, Thorne takes a look back at his 2020 predictions and pays tribute to RPG writer Jackie Cassada.
After looking back at 2020 last week (see "
Rolling for Initiative -- Notable Events (Besides the Epidemic) of 2020
"), I figure this is a good time to take a look back at my predictions from last year for 2020 and see how spot on or off I was but then, looking back, I see I didn't make any predictions for 2020. Instead, I made three predictions for the next decade of which two have already come to pass (see "
Rolling For Initiative -- Three Predictions for the Next Decade
"). I predicted that Hasbro/WotC would kill the
Transformers TCG
, just as they have all of their other non-
Magic
TCGs and lo and behold, that happened last July (see "
Wizards of the Coast Powers Down 'Transformers TCG'
"). I also predicted more of a move to online sales and that brick and mortar retailers would have to respond, but did not expect that stores would have to pivot online so quickly when ordered to close as a non-essential businesses under government's emergency powers. We saw far more stores setting up online operations through Amazon, eBay, Shopify, Square and their own websites than we would have sans epidemic.
As far as my third prediction, regarding continued disruption in the supply chain, we shall have to wait and see what the new administration plans. So far, what I hear is that the Biden administration
plans to keep
the Trump administration tariffs in place, at least for the immediate future, which means continued concern for their effect on game costs and pricing (see "
Rolling for Initiative -- It's Beginning To Look a Lot Like Tariffs (Again)
"). We'll have to see what happens over the next four years, but I would expect to see a gradual elimination of the tariffs on Chinese imports over the next couple of years. Especially if the U.S. and China can reach some agreements on trade policy.
On a sad note, veteran RPG author and developer Jackie Cassada passed away from COVID-19 on December 29th. If you played RPGs during the 90s or the earlier part of this century, you likely used a rulebook or sourcebook that Cassada either wrote or developed as she and her partner Nicky Rea wrote extensively for the
White Wolf/World of Darkness
RPG line. Cassada worked on both editions of the
Changling: The Dreaming
and
Wrath: The Oblivion
rulebooks as well as the 20th Anniversary editions and dozens of other sourcebooks for those lines, and
Mage: The Ascension, Werewolf: The Apocalypse
and White Wolf Publishing's
World of Darkness
setting. In addition, she was the developer of the
Ravenloft
gothic horror RPG campaign setting for
Dungeons and Dragons 3E
. Most recently, she worked on 2018's 20th anniversary edition of
Wraith the Oblivion
for Onyx Path Publishing, and her influence can been seen in all of the
World of Darkness
books and many of the horror RPGs released to the market over the past couple of decades.
The RPG industry functions primarily on a work for hire, rather than royalty based model, meaning that authors give up rights to the material they produce in exchange for a one-time payment. This means that Cassada and her widow of almost 60 years, also a prolific RPG author, Nicky Rea had income streams as long as they could write. Rea contracted COVID-19 at the same time as Cassada and, although she has recovered, she still faces major medical and financial concerns. Fellow Onyx Path author Phil Brocatohas set up a Go Fund Me campaign to help Rea deal with the medical bills, funeral costs and other ongoing expenses. If you enjoyed Cassada's work and have a mind to,
you can contribute here
.
The opinions expressed in this column are solely those of the writer, and do not necessarily reflect the views of the editorial staff of ICv2.com.