Confessions of a Comic Book Guy is a weekly column by Steve Bennett of Super-Fly Comics and Games in Yellow Springs, Ohio. This week, Bennett shares his joy over the announcement for an upcoming comic book cookbook from Marvel Comics.

In August 2016 (see "Food For Thought") I wrote about my disappointment that while there is plenty of manga on the subject, there have never been all that many American comics about food and cooking. Oh, there's probably been more of them than you'd think, starting with the graphic novels Get Jiro and Get Jiro: Blood and Sushi by the late, legendary author/chef Anthony Bourdain. As well as a handful of titles like Starve, Chew, Space Battle Lunchtime, Voracious, and Brave Chef Brianna, but there haven't been nearly enough of them for my (sorry) tastes.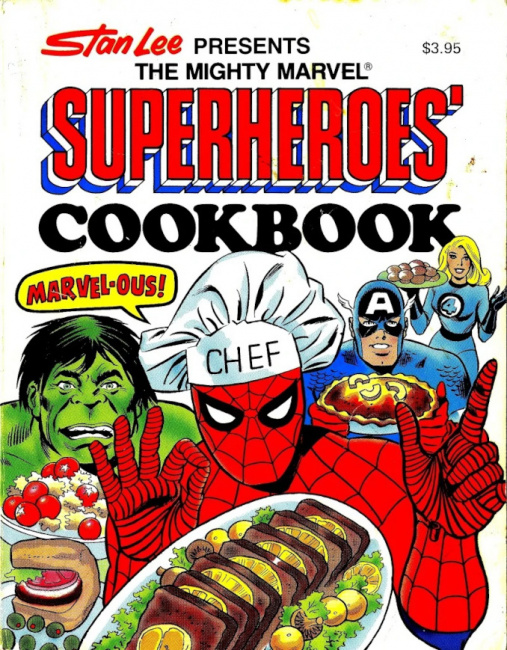 There have been plenty of superhero cookbooks though. I was well aware of
Stan Lee Presents The Mighty Marvel Superheroes' Cookbook
and
DC Super Hero Cookbook,
but until I started Googling "superhero cookbook," I had absolutely zero idea just how many of them there were. I came across literally dozens of them, most of them of fairly recent vintage. They included
The Official DC Super Hero Cookbook: 60+ Simple
,
Tasty Recipes for Growing Super Heroes
,
DC Super Hero Girls Cookbook: The Complete Cooking 20 Recipes Dc Super Hero Girls Wellness And Healing, Wonder Woman: The Official Cookbook: Over Fifty Recipes Inspired by DC's Iconic Super Hero, Marvel Vs Dc Cookbook: Simple Recipes To Enjoy Together, Avengers Campus: The Official Cookbook: Recipes from Pym's Test Kitchen and Beyond, Marvel Comics: Cooking with Deadpool, Marvel's Black Panther The Official Wakanda Cookbook, Marvel Eat the Universe: The Official Cookbook,
and
Marvel Cookbook: A Fascinating Book That Gives You Many Recipes and Images of Marvel
.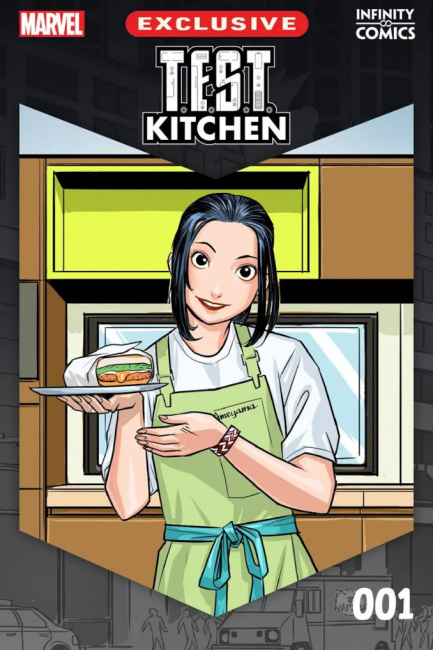 But neither Marvel or DC have done an actual cooking comic book before, and I honestly never thought I'd ever see one. Then at this year's SDCC, C.B. Cebulski, editor in chief of Marvel Comics, announced that on August 8 Marvel Unlimited would launch the Infinity Comic
T.E.S.T. Kitchen
which along "
with the requisite comic book action, each installment will include a recipe
." Cebulski is quoted as saying, "A comic like
T.E.S.T. Kitchen
, which contains both stories and recipes, will hopefully appeal to a different kind of viewer/reader than we traditionally reach at Marvel."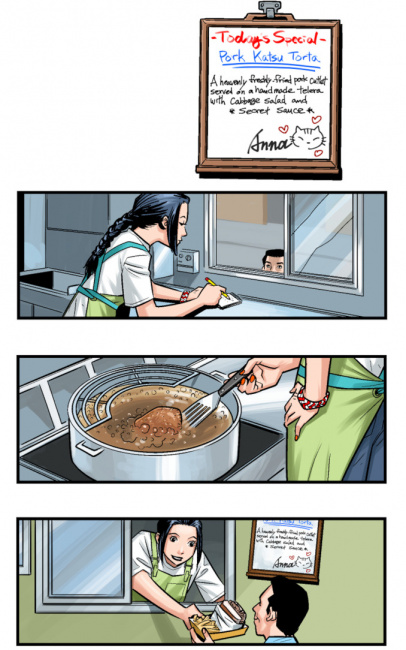 Written by chef Paul Eschbach and illustrated by artist E.J. Su, the comic focuses on Anna Ameyama, a cook who operates a food truck and has the misfortune of having Iron Man crash into it. But after tasting her food Tony Stark immediately hires her to work at Stark Enterprises. Cebulski also said:
"As Marvel continued to expand our efforts into the culinary space—from our original Food & Comics panels at comic-cons; to developing our food-centric Eat The Universe brand, products, and content; to the culinary concepts you see at places like Avengers Campus—creating an in-universe character to be at the front of all these endeavors only made more sense,"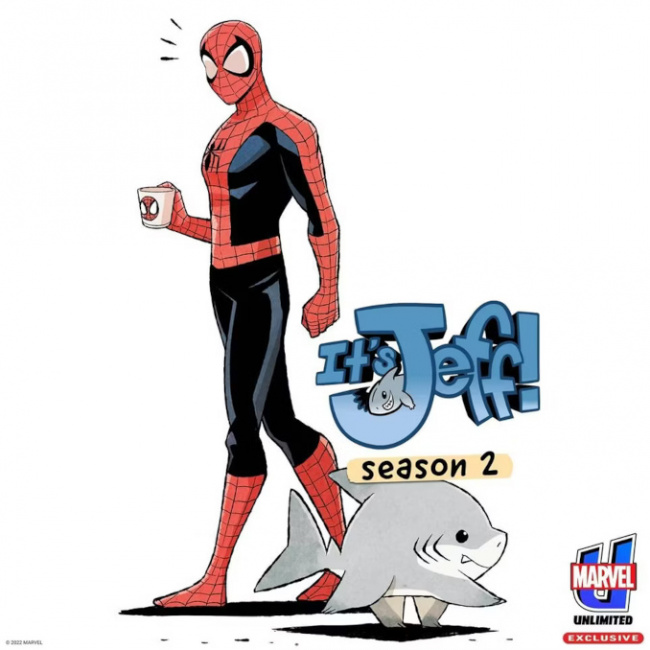 Back in June (see "
Where The Eyeballs Are
") I had heaps of praise for the Marvel Infinity Comic
It's Jeff!
by Kelly Thompson and Gurihiru. For those who haven't seen it, it's a usually textless pantomime strip that follows the sweet and straightforward adventures of the adorable silent shark dog, Jeff. It seems to have been a success, given the number of other comics featuring pantomime Marvel funny animals (
Lucky the Pizza Dog
,
Marvel Meow
, and
Alligator Loki
) that followed it. And the fact that Marvel just announced Season 2 of
It's Jeff!
by the same creative team, is coming this September.
The opinions expressed in this column are solely those of the writer, and do not necessarily reflect the views of the editorial staff of ICv2.com.