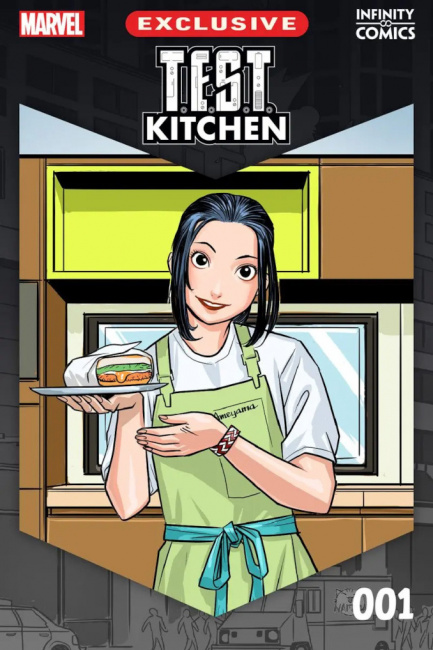 Confessions of a Comic Book Guy is a weekly column by Steve Bennett of Super-Fly Comics and Games in Yellow Springs, Ohio. This week, Bennett addresses a potpourri of leftovers from last week, including a few comics to check out and his review of Lightyear.
Last week (see "The Very Thing I Wanted"), I wrote T.E.S.T. Kitchen, an upcoming Marvel Infinity Comic that gave me something I've long wanted; a science fiction cooking comic that came complete with recipes. Unfortunately, it was only after I wrote that column that I came across a New York Times article dated July 23 about Webtoons and Infinity Comics that had some interesting things to say about webcomics and their relation to print ones.
You'll be happy to know that "print comics are far from dead" and "sales exploded during the pandemic." Comic book fans still make "weekly pilgrimages to their local shops to buy the latest issues about their favorite caped-and-cowled adventurers" also known as "Wednesday Warriors" (I confess to having missed a lot of memos over the years, but if this is actually a thing it's certainly news to Steve) who skew "mostly male."
Meanwhile, Webtoons are "where readers under 25 live" and the "explosion of webcomics has been driven by tapping into an audience the industry had long overlooked; young, female readers" More than half of its 82 million users are Gen Z and Millennial women. Leeanne Krecic, creator of the webcomic "Let's Play" about "a young woman who wants to design video games is quoted as saying "The majority of American comics have been the hero story, which is great...nothing wrong with that..." but "in Korea and Japan, they've been telling the romance story, the high school story". And Ken Kim, Webtoon's chief executive for North America, is quoted as saying that "successful digital creators understand that young readers -- the platform's target demographic -- tend to want stories reflecting their lifestyles and dreams."
While it's primarily about Webtoons, it does major another webcomics platform, Tapas Media, which says more than 80 percent of its readers are between 17 and 25 and roughly two-thirds are women. Michael Son, Tapa's vice president of content, said:
"We wanted to get rid of gatekeepers... the readers directed what content directions we were taking. What organically popped up was a very young, very female-centric readership that was also reflected in the creator base."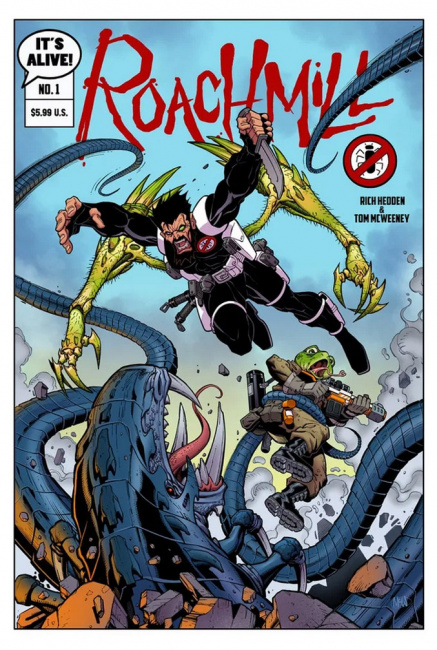 There were two more comics that I should have included last week under the category of "the very thing I wanted". First, there's
Roachmill.
I consider the 80s to be the second Golden Age of Comics, and I loved the creator-owned comics full of larger-than-life characters (
Mr. Monster,
Nexus
,
American Flagg,
Zot!
) that came out of it. And one of my favorites was Rich Hedden and Tom McWeeney's
Roachmill
, which ran 16 issues from late 1986 to winter 1990. Published first by Blackthorne Publishing and then Dark Horse Comics, it featured an insect DNA-enhanced, all-purpose exterminator operating out of 30th Century NYC. And after 40 years and a successful Kickstarter campaign the publisher, It's Alive will release a new
Roachmill
miniseries, with the first issue arriving in shops on October 26.
I know I've been extravagantly praising Harley Quinn: The Animated Series: The Eat. Bang! Kill! Tour by Tee Franklin and Max Sarin (see " Bursting With Pride"), but I didn't dare hope that there would be more. But there is, the sequel, Harley Quinn: The Animated Series Legion of Bats# 1, which is a six-issue mini-series coming out in October that has Harley joining up with the Bat-Family while her BFF/GF Ivy finds herself heading up the Legion of Doom. The art this time is by Shae Beagle who drew Moonstruck by Lumberjanes co-writer and co-creator Grace Ellis, and from his pencils from the first issue that has been posted online, I don't think I'll be disappointed.
And finally, I said I'd comment on the Disney/Pixar film
Lightyear
once it began streaming on Disney+. Well, it started streaming on August 3, 2022 and I thought it was mostly meh, which is a shame since I'm ordinarily a sucker for spaceman/astronaut movies. Looks good, though. Oh, and as for the six-second scene that had a second-and-a-half kiss;I know this will seem like a bad joke, but I swear, I literally must have blinked and missed it.
The opinions expressed in this column are solely those of the writer, and do not necessarily reflect the views of the editorial staff of ICv2.com.