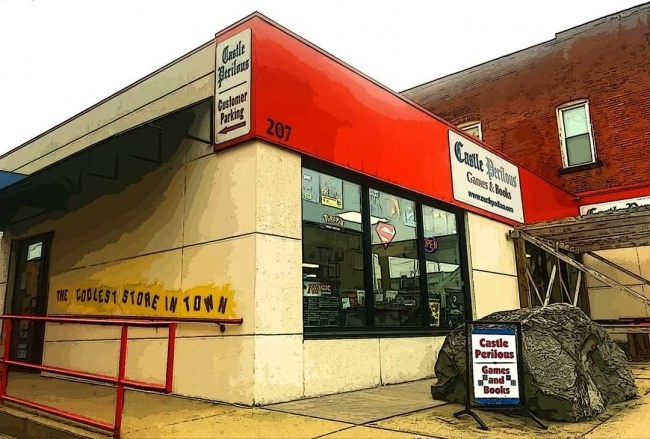 Rolling for Initiative is a weekly column by Scott Thorne, PhD, owner of Castle Perilous Games & Books in Carbondale, Illinois and instructor in marketing at Southeast Missouri State University. This week, Thorne looks at Asmodee's MAP holiday and changes to its Best Sellers program.
Most stores that deal with Asmodee received emails from the company over the past couple of days detailing a MAP amnesty running from 12:01 a.m. (Eastern Time) on November 20 through 11:59 p.m. (Eastern Time) on December 3. Per the posted amnesty, retailers may advertise most Asmodee products at up to 50% off instead of Asmodee's posted MAP of 20% off.
I thought it was a company-wide policy, save for specified game lines, but, after I reached out for clarification from Asmodee, I learned that the policy only covers about 500 titles, primarily new releases for the first 90 days, games in the Best Seller category and those publishers that opted to be covered by MAP. This explains why, when I was poking around on Amazon's website, I found most of the
Ticket to Ride
line listed at prices reflecting the MAP, while
Ticket to Ride: Nordic Countries
, had a whopping 48% discount. Looking at the list of products on Asmodee's website covered by MAP, there are about seven games in the
Ticket to Ride
line included in MAP.
Ticket to Ride: Nordic Countries
is not one of them and hence is fair game for deep discounting by any retailer willing to take the hit to their gross margin on the product.
Speaking of gross margin, I think the way most retailers will take advantage of Asmodee's MAP holiday is to look for online retailers offering Asmodee products at deep discounts and buy them for resale later after the MAP holiday ends. Since quite often stores can find gaming products on Amazon, eBay and other sites for less than stores can get them through regular distribution, a number of stores keep an eye on Amazon for discounted evergreen product and stock up at lower than distribution pricing. Currently Amazon has
Ticket to Ride: Nordic Countries
priced lower than I can get it buying directly from Asmodee.
Asmodee also sent out an email announcing changes to its Best Sellers program starting the first of 2023. No longer will participating stores receive free freight on orders, $50 credit each month toward the purchase of games, and a free "Best Seller" set of shelves upon enrollment in the program. Instead, under the new terms, participants in the program will receive: 1) Additional 1% off MSRP on most Asmodee products. 2) Priority allocation. 3) Listing on the Asmodee store locator. 4) Enrollment in the Hobby Next program. Although not confirmed by Asmodee, I have heard from several sources that free shipping kicks in at $500.
To continue to participate in the program, stores must stock the top 35 Asmodee titles "plus 2 cases from a curated list of releases." I really hope Asmodee reconsiders this plan before implementing it as I could see a good number of stores exiting the Best Sellers program. Asmodee already offers a significantly lower discount on its product than stores get on other products and an extra 1% will not bring that margin up to distributor discounts on other lines. As far as the other benefits, any publisher should have a store locator and willingly list stores carrying its product. Unfortunately, demand for Asmodee products has waned significantly over the past several years, to the point where first allocation priority is not a big selling point, while requiring the purchase of two cases of new releases sounds like a recipe for inventory creep. I think the Hobby Next program consists of the promotional items and displays tied to the release of new products. Unfortunately, I have seen very little evidence that promotional items, aside from Wizard of the Coasts' BIBTB Card, drive sales. I hope to see more details about the stocking requirements as the date gets closer as currently I see the program as a driver for increased sales of Asmodee products with little additional benefit to the retailer.
What do you think? Email
castleperilousgames@gmail.com
with your thoughts.
The opinions expressed in this column are solely those of the writer, and do not necessarily reflect the views of the editorial staff of ICv2.com.