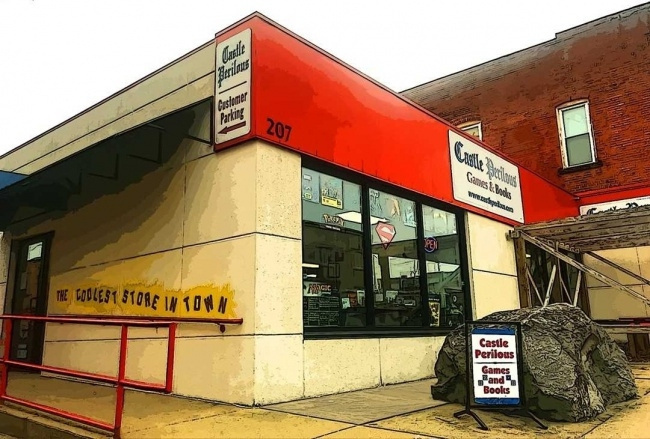 Rolling for Initiative is a weekly column by Scott Thorne, PhD, owner of Castle Perilous Games & Books in Carbondale, Illinois and instructor in marketing at Southeast Missouri State University. This week, Thorne talks Black Friday and Small Business Saturday sales and prospects for the season.
Happy 100th birthday to Charles Schultz, creator of
Peanuts
!
Another Thanksgiving holiday, Black Friday and Small Business Saturday are in the books. It appears that Small Business Saturday has hung around long enough that it has earned itself a place on the calendar despite (or perhaps in spite of) the lack of support from American Express. According to Mastercard's Spending Pulse, sales on Black Friday were up a healthy 12% over same store sales in 2021. In store sales increased 12% while online sales were up 14% over last year. Since same store sales in 2021 were up 7.4% over 2020 (see "
MasterCard Thinks It Will Be A Good Retail Season
"), the retail economy is recovering nicely from the COVID pandemic. Even jobs are back to pre-pandemic levels and the backup at the Ports of Long Beach and Los Angeles has dropped to zero the week before Thanksgiving, the first time this has happened since October of 2020. So far, things look good.
Of course, all the news cannot be rosy as the railroad strike thought averted a few months ago now looms as disrupting the holiday season, with 8 of the 12 railroad unions voting to approve the contract and only four voting to reject it (see "
Retailers Urge Congress to Avert Rail Strike
"). Unfortunately, all 12 unions must approve the contract by December 8, 2022, the end of the cooling off period. With roughly 40% of all freight in the U.S. shipped by train, a strike would shut down rail freight and our already strained trucking system would find it very difficult to absorb the additional stress put upon it.
A strike would probably not affect the retail sector immediately, and probably not drastically until after the holiday season as manufacturers, distributors, and retailers have already ordered most of their stock for sale during Christmas. In fact, there is a glut of merchandise clogging up the shelves of a lot of big box retailers, caused by dysfunctional supply chains and merchandise orders placed earlier than normal. In addition, the U.S. is a service-based economy, and consumers spend a lot on goods but even more on services.
During the epidemic, service purchases dropped dramatically, as consumers who wanted to buy something, shifted $1 trillion in spending from services to goods and retailers scrambled to meet that demand. As people returned to normal behavior patterns, spending shifted back to services, leaving a whole lot of unsold goods on the shelves and, unfortunately, those were not all goods consumers wanted at the time. Mass market retailers have been cutting prices on inventory for months, trying to move it out the door and the Christmas holidays is the last chance they will have to do so without having to resort to deeper discounts in January to clear out overstock.
I don't want to downplay the seriousness of a railroad strike, though. It would drastically affect the supply chain in terms of raw materials and industrial goods, as well as consumer goods scheduled to arrive in Q1 of 2023. In addition, the announcement of a strike, after telling the consumer that the unions have settled it, could drastically affect consumer confidence and cause a spending pullback. Not good for stores this time of year, especially when we are on track to see another banner season.
First reports I have read from stores in the hobby channel have indicated strong sales, with lots of customers through the door without stores resorting to the discounts Walmart and Target have used. Here's hoping they continue.
Your thoughts? Email them to castleperilousgames@gmail.com.
The opinions expressed in this column are solely those of the writer, and do not necessarily reflect the views of the editorial staff of ICv2.com.