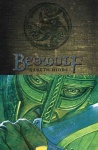 McFarlane Toys has acquired the license to produce action figures based on the upcoming Paramount motion picture Beowulf, which is based on the 8th Century poem. Directed by Robert Zemeckis (The Polar Express) from a script by Neil Gaiman and Roger Avary (see 'Gaiman Beowulf Script Greenlit') using advanced motion capture technology, Beowulf is scheduled to hit theaters this November.
McFarlane Toys figures will retail for from $10 to $15. The first series, which is due out in the fall, includes Young Beowulf, Grendel, Grendel's Mother (Lizard manifestation), and Dragon.
Retailers should also note that Gareth Hinds' graphic novel adaptation of the classic epic, which has no direct relation to Paramount's film other than the original source material, will be published in April by Candlewick Press. Candlewick is publishing Hinds' Beowulf ($21.99, ISBN 0763630225) in a 128-page large format (7' x 10.5') hardcover edition.