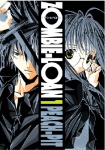 At the New York Comic Con Yen Press, the graphic novel imprint of the Hachette Book Group, unveiled plans to launch its line of graphic novels this coming fall with four titles: Zombie-Loan, Alice on Deadlines, Black God, and Spiral: Suiri no Kizuna from manga publisher Square Enix; (Full Metal Alchemist) as well as Nightschool from Svetlana Chmakova, creator of the popular OEL title Dramacon. The Yen Press manga titles will retail at $10.99 and will include color sections if there were color pages in the original Japanese editions. Yen Press's Co-Publishing Director Kurt Hassler explained. 'Our goal is to make our books as close as possible to the original presentation,' he said. 'We want to stay out of the way of the creators.'
Yen Press' focus is primarily on licensed manga, but the company plans to publish across the wide spectrum of the graphic novel market, including original manga publications, original American comics/graphic novels, Webcomics, licensed adaptations, and children's graphic novels.
Yen Press will engage in a number of marketing activities to aid its launch including the release of a free multi-title sampler, which should be ready for Book Expo America and could be given out at subsequent shows. The first three Yen Press titles will be available in a 36-count floor display, which will be available in the fall.
Two of the four Square Enix releases (Yen Press plans to co-brand these releases with Square Enix) involve the increasingly trendy shinigami (death spirits). Zombie-Loan, from the creative duo Peach-Pit (Rozen Maiden, DearS), involves two great looking high school boys who should be dead, but who have made a deal that involves serving as shinigami themselves. And in Alice on Deadlines, by Shiro Ihara, a well-endowed teenage girl finds herself occupied by the spirit of a perverted shinigami.
Black God is the work of Korean creators Dall-Young Lim and Sun-Woo Park, but since it is published by Square Enix in Japan, it will be presented in the traditional manga format. Spiral: Suiri no Kizuna by Kyo Shirodaira and Eita Mizuno is a mystery with an ingenious plot and some serious philosophical underpinnings. The Spiral manga inspired a 25-episode anime series, which FUNimation has released in the U.S. (see 'Funimation Licenses Spiral Anime').