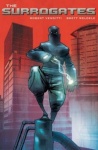 Variety is reporting that Disney has acquired the rights to The Surrogates by Robert Venditti and Brett Weldele, a bleak science fiction thriller published by Top Shelf. Michael Ferris and John Brancato are writing the screenplay for The Surrogates movie with Jonathan Mostow set to direct. This creative trio previously worked together on Terminator 3: Rise of the Machines. Like Terminator 3, The Surrogates is set in a robot-dominated world of the future, though in The Surrogates human beings live in isolation and interact only via robots known as surrogates.
The Surrogates, which first appeared as a five-issue mini-series, was the first periodical comic book published by graphic novel specialist Top Shelf, which has collected all five issues into a 208-page graphic novel ($19.95), which was published last August. The edgy plot of The Surrogates, which features a sympathetic techno-terrorist known as The Steeplejack, who wants to put an end to the robots and restore real human interaction, will likely mean that the film version of The Surrogates will be released by Touchstone rather than under the Disney imprint. David Hoberman, one of the film's producers told Variety, 'It's clear from 300 that people want to see different kinds of things, and The Surrogates falls into that category.' If The Surrogates does survive the development process and reaches the big screen, it has the potential, like 300, Sin City and V for Vendetta, to sell a lot of books.
Jonathan Mostow, who directed Terminator 3 and is slated to direct The Surrogates, is also writing the screenplay for the Marvel-based Sub-Mariner movie for Universal.