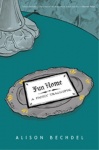 The Marshall Democrat-News is reporting that the Marshall Public Library Board of Trustees has voted to place two graphic novels, Craig Thompson's Blankets and Alison Bechdel's Fun Home, back on the shelves. The public library in the Missouri community had previously decided to remove the two titles from circulation pending the adoption of a new materials selection policy (see 'Graphic Novels Removed From Library').
Blankets will be shelved in the 'Teen Section,' while Fun Home will be racked in 'Adult Fiction.' John Carton, Executive Director of Butterfield Youth Services, spoke at the meeting and noted that he found both volumes 'intriguing' because they dealt sensitively with tough issues of personal identity and isolation, which can be devastating to teens.
No one on the Board of Trustees voted against the adoption of the new materials selection policy and the re-shelving of the two graphic novels, though Treasurer Connie Grisier abstained because the new policy did not include provisions for labeling materials.
Blankets was the best-selling alternative graphic novel release of 2005, while Fun Home was tops in the category in 2006.