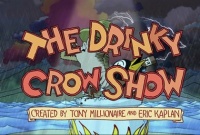 Tony Millionaire's Drinky Crow makes his television debut in an 11-minute animated pilot, which will air on Cartoon Network's Adult Swim block on Sunday May 13th. The Drinky Crow Show was co-created by Eric Kaplan, whose credits include stints on The David Letterman Show, Futurama, and Andy Richter Controls the Universe. The animated Drinky Crow is based on Tony Millionaire's comic strip The Maakies, which runs in The Village Voice. Fantagraphics has published six collections of The Maakies so far.
The Drinky Crow Show, which like Millionaires' original strip, is brutal, surreal and hilarious, should be a good match for the calculated irreverence of Adult Swim, although the fate of the Drinky Crow Show depends on the ratings it draws during its Sunday night debut. Sunday night is the Adult Swim's try out venue for its growing number of domestically-produced animated series.
Igor Kovalyov, who co-directed the Rugrats movie, helmed the Drinky Crow pilot, which features the alcoholic avian and his Uncle Gabby, an overweight, drunken monkey sailor.