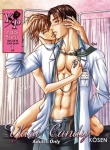 Yaoi Press announced it will launch a comic book line beginning in October with the bi-monthly series, Yaoi Candy, and a one-shot, Offered to a Demon. According to Yaoi Press Publisher Yamila Abraham, 'Comic books will give yaoi fans a less expensive alternative to graphic novels.'
The first volume of Yaoi Candy will reprint stories from existing Yaoi Press titles, and upcoming issues will include new material. The series is for adults only with a cover price of $3.95.
Offered to a Demon is a one-shot featuring a story about a pagan priest and a demon. It's for mature readers and will have a cover price of $4.95.