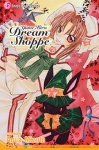 ICv2 has confirmed that between September of 2007 and January 2008 Viz Media will be adding five new shojo series to their already formidable lineup. These shojo titles are in addition to two other shojo properties, Fall in Love Like a Comic (October) and Sand Chronicles (January -- see 'Viz Adds Shojo Titles') that are debuting during the same time period.
With the market for shojo manga in the U.S. demonstrating steady growth (nearly half of the ICv2 Top 50 Manga Properties in the most recent ICv2 Guide were shojo series, see 'ICv2 Relases ICv2 Guide #42: Anime/Manga'), the five excellent new Shojo Beat titles slated for the fall and winter should help solidify Viz Media's position as North America's leading publisher of shojo manga and help justify the publisher's heavy investment via the Shojo Beat magazine and imprint in manga targeting female readers.
The first of the new Shojo Beat releases, which is due out in September, is Aqua Mizuto's Yume Kira Dream Shoppe, a one-shot that collects romantic/fantasy short stories that have been appearing in Shojo Beat, stories about a bright shiny place in the sky where dreams come true. But be careful what you wish for -- there's a price and sometimes it just increases the heartbreak.
In November, Viz Media will release the first volume in Maki Minami's 5-volume romance Special A, an all-out shojo series that features great art and a compelling story about the relationship between a girl (Hikari) and her childhood friend Kei, whose work has always surpassed hers. But now they are the top two students at a prestigious high school and romantic complications are muddling the competition.
Also in November Viz Media is launching both Takuji Ichikawa's Be With You novel and a manga series written by Ichikawa and illustrated by Sai Kawashima under the Shojo Beat imprint, The romantic story about a young mother who, before she dies, tells her family that she will return, has already inspired a popular live action Japanese film in 2004, which is currently being remade here in the U.S. with a scheduled release date of 2009.
Viz Media's new December Shojo Beat release is Kiyo Fujiwara's Wild Ones, known as Arakure in Japan. It's an ongoing (4 volumes so far) and very funny shojo high school adventure/romance about a teenage girl who goes to live with her grandfather, who happens to be a yakuza boss, which means she has to have a bodyguard, the handsome student body president--but she spends most of her time attempt to elude his overprotective ministrations and trying to hide her situation from the rest of the student body.
The first new Shojo Beat release of 2008 will be High School Debut (Koukou Debut) a slice-of-life high school comedy romance about a tomboy who, when she gets to high school decides that she wants to get a boyfriend -- the only problem is that she doesn't know how, so she asks a popular guy to show her the way -- his only condition, that she doesn't fall in love with him. High School Debut appeared in the Japanese shojo anthology Margaret, where the stories tend to be a little more mature than those in other popular shojo magazines such as Ribbon and Hana to Yume.