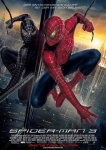 Sam Raimi's Spider-Man 3 collected an unprecedented 80% of the domestic box office total over the weekend while earning an estimated $148 million. The gap between Spider-Man 3 and Disturbia, which finished second, was the greatest in history. Opening on over 10,000 screens at 4,252 locations (both records) the third Spider-Man film easily topped the previous weekend record of $135.6 million set last summer by Pirates of the Caribbean: Dead Man's Chest. On its way to the weekend record Spider-Man averaged a spectacular $34,807 per venue and set daily records for Friday ($59.3 million) and Saturday ($51 million) as well as for Imax revenues where it generated $4.8 million breaking the previous record of $3.6 million set recently by Zack Snyder's 300 by 33%.
The audience for Spider-Man 3 was primarily young (63% under 25), but the film was able to attract enough females (46%) to put up its gargantuan numbers. Overseas Spider-Man 3 has grossed $227 million since it opened on Tuesday, which means that it has earned nearly half of Spider-Man 2's worldwide $784 million gross in just six days. Overall the weekend represents a great kick-off for the 2007 summer season. It was nearly 70% ahead of the take for the first weekend of May in 2006, which was headlined by Mission Impossible 3, and on a par (in terms of the number of admissions) with the debut of the original Spider-Man film in 2002, whose opening weekend total of $114.8 million remained the 3-day weekend record holder until last summer (and accounted for 70% of its opening weekend's total box office).
The critics have not been overly kind to Spider-Man 3, which registered just a 62% fresh rating on the Rotten Tomatoes Website versus the 93% earned by Spider-Man 2, but mixed notices were hardly enough to slow down the Spider-Man express. Next weekend Spidey will have the multiplexes pretty much all to himself again before Shrek the Third opens on May 18th. The next huge goal for the film would be earning a billion dollars at the worldwide box office, a feat that will depend in part on attracting repeat viewers, and showing the kind of 'legs' that depend on word-of-mouth. While Sony reports that audiences gave the film a 'B+' grade, online sites such as Yahoo movies give it a lower 'B' rating from some 18,365 ratings. The next few weeks will determine if Spider-Man 3 will have the staying power to become the highest grossing film in the mega-popular franchise and possibly bring in $1 billion in global box office revenues.
Meanwhile, will any film be able to top Spidey 3's $148 million 3-day opening record? Ticket price inflation makes that a near certainty, but it may take a while. When it happens it will probably done by a film that opens early in the season (like Spider-Man and Spider-Man 3) or one that opens fairly late in the summer when the competition has largely dissipated. Spider-Man 3 benefited from last weekend's pitiful box office performance (see 'Disturbia Threepeats'). With no competition to speak of theater owners put Spidey 3 on as many screens as possible, which meant that nearly everyone who wanted to see the film was able to do so, in other words, Spidey 3 left almost nothing on the table. It will be difficult for Shrek the Third or Pirates 3 to get on anything close to the number of screens that showed Spider-Man 3.