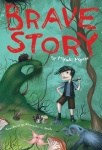 Viz Media has an impressive lineup of fiction releases for the remainder of 2007 including Brave Story, Picture Letters From the Commander-in-Chief, Ghost in the Shell 2: Innocence, Naruto Mission: Protect the Waterfall Village, Shakugan no Shana: Fight Day as well as inexpensive ($9.99) paperback editions of three previously released Shojo Beat novels, Be With You, Socrates in Love, and Kamikaze Girls.
Tadamichi Kuribayashi's Picture Letters From the Commander-in-Chief (S12.99), which is due out in June, is the first of Viz Media's new prose releases. This collection of letters from the Japanese commander on the island of Iwo Jima was the basis for Clint Eastwood's powerful film, Letters From Iwo Jima that portrayed the stoic bravery of the Japanese island garrison faced with a hopeless battle against overwhelming odds.
In July Viz Media will release Miyuki Miyabe's 820-page saga Brave Story ($23.99), a powerful story about a ten year-old boy who has to enter a fantasy world in order to save his mother from a cruel fate. The novel has inspired both a 15-volume (and counting) manga series as well as an anime feature produced by Gonzo, a major attempt by that leading anime studio to create a children's classic to rival the works of Hayao Miyazaki.
Also due out in July is Masaki Yamada's novelization of the Ghost in the Shell 2: Innocence ($9.99) anime feature, one of the most philosophically complex works in the series.
In October Viz Media will publish what is likely to be the most popular novel on this list, Naruto Mission: Protect the WaterFall Village ($9.99), the second Naruto novel Viz Media has released here in the North American market. With another volume of Naruto Anime Profiles (Hiden Shippu Emaki $17.99) and a Naruto: The Movie Ani-Manga ($14.99) out in September along with the three volumes of Naruto manga per month accelerated release schedule (see 'Naruto Goes Nuclear'), the pint-size ninja will be ubiquitous in bookstores this fall.
In October Viz Media will also release the first Shakugan no Shana novel along with the second volume in the Shakugan no Shana manga series. Written by Yashichiro Takahashi with illustrations by Noizo Ito, the 16-volume Shana of the Blazing Eyes series of light novels has inspired both the manga series and a 24-episode TV anime (released in the U.S. by Geneon). The novels, which are considered 'seinen' in Japan, chronicle the adventures of an ordinary high school boy with a deft blend of fantasy, science fiction and teenage slice-of-life drama as well as the Eastern philosophical concept of the struggle between the forces of balance and imbalance.
During November, in plenty of time for the holidays, Viz Media is publishing paperback editions of three popular Shojo Beat novels, Be With You, Kamikaze Girls, and Socrates in Love.