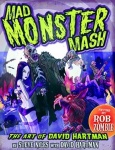 Vanguard Productions will release hardcover and trade paperback editions of the Mad Monster Mash Art of David Hartman this fall, with text by Steve Niles. Hartman is a director, animator, and illustrator who's worked on a long list of TV and feature film animation. He's also the artist on Rob Zombie's Devil's Rejects comic.
The book will carry an introduction by Zombie, and is dedicated to Bobby 'Boris' Pickett, the singer of Monster Mash, who passed away on April 26th.
The 132-page hardcover will street in August for $34.95, and the 128-page trade paperback in September for $24.95.