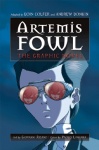 Disney Book Group announced its graphic novel line-up for fall, including Artemis Fowl: The Graphic Novel and El Cazador.
In September, Hyperion will release Artemis Fowl: The Graphic Novel, an adaptation of the first book in the popular series of novels (more then 8 million copies have sold in the U.S.) by Eoin Colfer. Artemis Fowl is a 12-year-old criminal genius pitted against an underground fairy world. The book will be 128 pages, sell for $18.99 hardcover, $9.99 paperback, and is for readers 10 and older.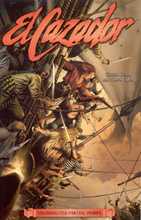 Then in October, Hyperion will release the El Cazador graphic novel which was originally published in six issues by CrossGen in 2003 and 2004. Disney acquired the rights to it and a number of other CrossGen properties in 2005 (see 'Disney Steps Into Graphic Novel Fray'). In the gritty setting created by Chuck Dixon and drawn by Steve Epting, Lady Sin is a beautiful aristocrat turned pirate who takes over a ship of rogues in order to take vengeance on Blackjack Tom. El Cazador will be 144 pages, retail for $12.99 and is suitable for readers ages 10 and older.
In December, Hyperion is releasing Satchel Paige: Striking Out Jim Crow, presented by The Center For Cartoon Studies (James Sturm and Rich Tommaso.) The biographical graphic novel is told from the point of view of a sharecropper following Paige through the segregated South. The book will sell for $16.99 hardcover, $9.99 paperback and is also for readers 10 and up.
And to go with its previous two Pirates movies graphic novels, Disney Press will be releasing the Pirates of the Caribbean At World's End graphic novel for ages 6-9 in August (48 pages, $3.99 MSRP.)