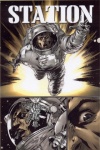 Boom Studios has signed with Perseus for book channel distribution of its graphic novels, and has begun shipping a wave of new releases that will reach over a dozen by the end of the year. According to a Boom spokesperson, the graphic novel line was delayed until the Perseus relationship was in place because of the importance of the book trade to the company's primarily non-superhero titles. Bookstore orders have been running two to three times comic store orders on the releases ordered to date.
The first Boom graphic novel releases to street in the book trade through Perseus were the titles that are headed for the big screen: Tag (see 'Boom Studios Comic Optioned') just shipped, and Talent (see 'Boom Comic Gets Movie Deal') will ship at the end of this month.
July will see four releases:
Jeremiah Harm, written by Keith Giffen and Alan Grant, with art by Rael Lyra.
Enigma Cipher, written by Andrew (Eureka, Haunted) Cosby and drawn by Greg Scott.
Jenny Finn, by Mike Mignola and Troy Nixey.
Cthulhu Tales by Marshall Dillon and a variety of artists.
August has three:
Beautiful Stories for Ugly Children (from the out of print DC series), by Dave Louapre and Dan Sweetman.
Savage Brothers, by Andrew Cosby and Johanna Stokes, art by Rafael Albuquerque.
Hero Squared Vol. 2: The Death of Captain Valor, by Keith Giffena and J.M. DeMatteis, art by Joe Abraham.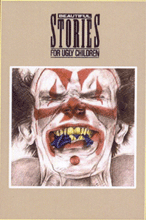 Three in September:
Fall of Cthulhu Vol. 1: The Fugue, by Michael Alan Nelson and Jean-Jacques Dzialowski.
Seekers into the Mystery, by J.M. DeMatteis, with art by John J. Muth and Glenn Barr.
Salvador, with story by Mark and Michael Polish and Sebastian A. Jones, and art by Steph Stamb.
Two in October:
Hunter's Moon by James L. White (who wrote Ray) and Dalibor Talijic.
Station, by Johanna Stokes and Leno Jefferson.
November has two:
The Last One by J.M. DeMatteis and Dan Sweetman.
Cover Girl, written by Andrew Cosby and Kevin Church, with art by R.M. Yankovicz.