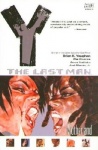 Sales of the top 100 graphic novels through Diamond Comic Distributors grew 67% over sales in the same month last year and reached a record dollar total, topping the $6 million mark for the first time since ICv2 has been preparing this analysis. With tens of thousands of graphic novels in print (and the #100 book on Diamond's list selling 1,266 copies), the total of the top 100 books seriously underestimates total graphic novel sales, but it does give a good indication of market trends.
May proved to be a perfect storm for graphic novels thanks to the release of DC's Y: The Last Man Vol. 9 and 52 Vol.1, Image's Walking Dead Vol. 6, and Archaia Studio Press' $24.95 Mouse Guard hardcover, but what drove graphic novel sales over the top was Marvel's Civil War event, which accounted for ten of the top 20 graphic novel releases, providing the graphic novel category with the same sort of sales bounce it produced in the periodical comics market in 2006. The $24.99 Civil War trade paperback (the #1 graphic novel in April selling over 19,000 copies), came in at #6, selling an additional 8,589 copies.
Meanwhile comic sales in May grew by 4%, the identical figure posted in March, the only other month so far in 2007 in which periodical comics have not demonstrated double digit growth. The growth in graphic novel sales (67%) was so dramatic that it pushed the overall sales growth number for the comic market to a healthy 13% for May.

For the top 300 comics in May, see 'Top 300 Comics Actual--May 2007.'

For the top 100 graphics novels in May, see 'Top 100 Graphic Novels Actual--May 2007.'

For an overview and analysis of the best-selling comics and graphic novels in May, see 'Marvel Dominates Periodical Sales in May.'

For the top 300 comics in April, see 'Top 300 Comics Actual--April 2007.'

For the top 100 graphics novels in April, see 'Top 100 Graphic Novels Actual--April 2007.'

For an over-view and analysis of the best-selling comics and graphic novels in April, see ''Fallen Son' Tops Comics in April.' For an analysis of the dollar trends in April, see 'Comic Dollars Continue Climb.'

For our index to our reports on the top comic and graphic novel preorders for January 2000 through May 2007, see 'ICv2's Top 300 Comics and Top 100 GNs Index.'