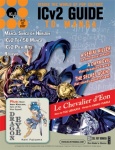 The number of new manga series launching in September, October and November has reached a new high according to the ICv2 Guide #45: Anime/Manga, which reports that 87 new series are slated to debut during those months. In the manga market report covering the second quarter of 2007, ICv2 reports that, according to retailers and distributors, sales of yaoi manga are growing, but not as fast as the number of yaoi releases, which could indicate the possibility of a logjam in the marketplace this fall since 32 out of the 87 new series are yaoi properties.
With a major influx of new series on the horizon ICv2 has endeavored to make its new Guide as useful as possible for retailers and librarians by breaking the 87 new manga series releases up by month and providing key information often omitted by publishers including country of origin, gender-orientation (shojo or shonen), as well as the narrative/thematic genre. In addition, ICv2 designates what its staff considers the top releases each month as 'Pick Hits to Click' and provides reviews by librarians and ICv2 staff members of a number of manga series including several that haven't been published yet.
The anime market, which has been in the doldrums for the past year-plus (especially when compared with manga), showed some surprising signs of life in the spring with the release of a number of popular series including Bandai's Melancholy of Haruhi Suzumiya, FUNimation's Afro Samurai, Geneon's Black Lagoon, and ADV's Le Chevalier d'Eon. Other positive indications for the market include a gradual 'anime creep' in the world of cable and satellite TV with new anime outposts on the Sci Fi Channel and the FUSE network as well as a strong slate of releases for the fall that includes Death Note, Witchblade, Pumpkin Scissors, and Black Lagoon 2nd Barrage.
In addition to reviews by librarians, retailers and the ICv2 staff of key anime and manga releases, the new ICv2 Guide includes a look at the fast-growing market for Asian live action cinema DVDs, a list of the 'Top 25 Anime Properties' as well as the authoritative 'Top 50 Manga Properties' list, which is based on BookScan reports of bookstore sales during Q1 2007 and ICv2's own analysis of Diamond Comic Distributors sales to the direct market. Here are the top 10 titles from each list:
ICv2's Top Ten Manga Properties for Q2 2007
1. Naruto
2. Fruits Basket
3. Death Note
4. Bleach
5. Fullmetal Alchemist
6. Kingdom Hearts
7. Pokemon
8. The Gentleman's Alliance
9. Tsubasa
10. Negima
ICv2's Top Ten Anime Properties for Q2 2007
1. Dragon Ball Z
2. Afro Samurai
3. Robotech Shadow Chronicles
4. Final Fantasy VII: Advent Children
5. Pokemon
6. Naruto
7. Bleach
8. The Melancholy of Haruhi Suzumiya
9. Howl's Moving Castle
10. Full Metal Panic
For information on how to obtain your copy of the ICv2Guide#45: Anime/Manga, with all the special feature articles, the complete Top Properties lists, and much more, see 'ICv2 Releases 'ICv2 Guide #45: Anime/Manga.'