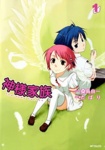 Go! Comi announced five new manga licenses at Anime Expo. Chief among them was Kamisama Kazoku by Yoshikazu Kuwashima, an eight-volume seinen/shonen series that appeared in the Comic Flapper manga anthology starting in 2005 and also inspired a 13-episode anime series produced by Toei in 2006. The hapless hero of this high school comedy/romance is an apparently ordinary guy pursuing his dream girl, but not without considerable interference from the rest of the members of his family, who just happen to be gods and goddesses.
Studio Ironcat originally announced Yuu Asami's A.I. Revolution, a 17-volume shojo series that began in 1994 in Princess Magazine, but never got around to publishing it which was too bad since it is an early example of the 'robot' boyfriend genre and a lot of fun. Now Go! Comi has scored the license, which is good news for shojo fans.
Shojo readers should also enjoy A Wise Man Sleeps, a two-volume mystery/fantasy by Mick Takeuchi, the creator of Go! Comi's best-selling title, Her Majesty's Dog.
You Higuri's Angel's Coffin is a one-volume shojo romance from the creator of Go! Comi's Cantarella. The heroine of this manga, which is set in Europe in 1889, accidentally liberates a demon from an ancient book -- and he decides to make her most fervent wish come true.
The fifth and final new manga series announced by Go! Comi at AX was Cy-Believers, a new series from Shioko Mizuki, creator of the shojo series Crossroad (also published by Go! Comi).