Tokyopop has a number of new releases set for the first quarter of 2008, but none have more potential than the seinen slice-of-life comedy drama Manga Sutra (Futari Ecchi) and the shojo comedy/drama Gakuen Alice. The 13-volume (and on-going) Gakuen Alice debuts in January, while the 35-volume (and still on-going) Manga Sutra will hit retail in February.
Manga Sutra, which has sold over 2 million copies in Japan, is definitely for readers 18 and up due to nudity and sexual situations, but it's not really a 'hentai' series or a manga version of the Kama Sutra, rather it's a very educational manga about the trials and tribulations of a newlywed couple who are both virgins on their wedding day. This popular series includes plenty of comedy along with its how-to elements and its tasteful treatments of 'taboo' subjects. Media Blasters has announced the release of the 3-volume Futari Ecchi OVA, which could be effectively cross-marketed with Tokyopop's manga (see 'Media Blasters Cornucopia of New Licenses').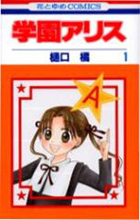 The Gakuen Alice manga, which debuted in 2003 in Hakusensha's Hana to Yume (the same magazine in which Fruits Basket appeared) quickly spawned a popular TV anime series in Japan (unlicensed in the U.S. at the present time). It won't have the sort of age restrictions that Manga Sutra will, since Gakuen Alice is the saga of two schoolgirls whose friendship is tested when one of the girl's is sent to a 'genius' school for girls with special abilities (known as 'Alices'). Tachibana Higuchi's delightful shojo series mixes plenty of humor into its school life drama and leavens the mixture with a helping of fantasy elements, creating a manga series that has been a major hit in Japan and which has a good chance to connect with the growing audience for shojo manga here in the U.S.