Yen Press, the graphic novel arm of the Hachette Publishing Group, has announced three new manga series debuting in 2008 as well as the summer 2008 debut of a new manga anthology magazine. The anthology magazine will include a mixture of translated and original stories. Two of the three new manga series, the 18+ high school sex comedy Sundome and the two-volume fantasy Kieli are from publisher Akita Shoten, while the third series, Kaze no Hana, is a shojo series from Media Works.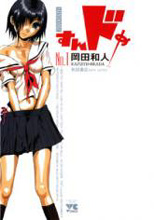 The first of the new series to debut will be Sundome, an on-going (two volumes so far) manga by Kazuto Okada that appears in the Akita Shoten anthology Young Champion. Sundome is an 'ecchi' ('ecchi' means 'lewd' or 'naughty' in Japanese) comedy about an apathetic teenager and a sexy high school girl who adds a whole new dimension to the teen's after school activities. Sundome, which Yen Press will rate 'M' for mature (which will likely translate to '18+') is sexier by a good measure than the vast majority of manga series published by the major U.S. manga houses so far, and could be on the cusp of a trend toward more mature titles as the audience for manga in North America ages. While U.S. publishers have released a fairly large number of 18+ titles, the vast majority of those titles have been yaoi manga aimed at female readers. Along with Tokyopop's release of Manga Sutra (Futari Ecchi, see 'Tokyopop's Top Q1 Releases'), Sundome indicates that American publishers are continuing to push the boundaries a bit to see if there is a significant audience here for 'ecchi' manga.
The two-volume Kieli manga series with art by Shiori Teshirogi and a story by Yukako Kabei is rated 16+. Kieli, which is also published in Japan by Akita Shoten, is a fantasy about a 14-year-old girl with the ability to see ghosts. Yen Press plans to release the first volume of Kieli in April along with the initial volume of Ushio Mizuta's three-volume Kaze no Hana, a shojo fantasy/drama about a teenager who suffers from amnesia caused by the accident that killed her parents. Kaze no Hana, which debuted in Japan in 2004, is the oldest of the new series announced by Yen Press -- both Sundome and Kieli debuted in 2006.