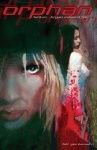 Radical Publishing's co-founder Barry Levine has a background in both Hollywood and comic books -- he spent years learning the ins and outs of comic book adaptation at Dark Horse Entertainment before striking out on his own and founding Radical with entrepreneur Jesse Berger and co-publisher and EIC Dave Elliott. As might be expected Radical has already made some sales to Hollywood -- Universal has picked up the company's Hercules comic book series and Radical's Medieval project was conceived as both a graphic novel and a script, but Radical has an ambitious slate of comics with work by top creators including Steve Niles, Bill Sienkiewicz, John Bolton, Dave Dorman, Simon Bisley, Jim Steranko, Steve Moore, Yoshitaki Amano, and Warren Ellis (see 'Radical in Tandem' for ICv2's examination of Radical's initial offerings) that can clearly stand on their own.
Radical also has a plan of attack for its assault on the crowded comic book marketplace. While not all their books will feature painted art, a good number of them will and the company plans on releasing its periodical mini-series in a deluxe, full color 32-page format and then collecting them into deluxe oversize hardcovers, and finally into trade paperback collections. Radical is obviously putting a heavy emphasis on cover art and is employing top artists such as Dave Dorman, Bill Sienkiewicz, Jim Steranko and John Bolton.
One exception to the periodical-first publishing model is Orphan, which is going directly to a 100-page graphic novel. Written by screenwriter Bryan Edward Hill, Orphan features a cover by Bill Sienkiewicz and interior art by Nelson Blake (G.I. Joe).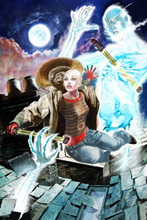 Warren Ellis and Steve Pugh created Radical's Hotwire, which has a fresh contemporary sense of character design, which contrasts with the other books in Radical's line and meshes perfectly with the book's science fiction themes.
James Heffron's Feast of Fools mixes horror with a prison theme, while Steve Niles' Ryder on the Storm is a six-issue horror/detective series.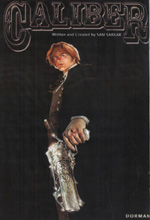 Sam Sarkar's Caliber, which features a striking cover by Dave Dorman, is a gun-toting refashioning of Arthurian legend with a magical, Excalibur-like firearm that only one chosen person can shoot.
In addition to comic books, Radical will also publish art book collections, most notably Yoshitaki Amano's The Winds of Silence, which will include 300 paintings complete with text and a story, and which will debut at next year's San Diego Comic-Con. Radical also plans to publish collections of John Bolton's unique art.