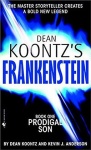 Dabel Brothers Productions has announced its first new project since departing Marvel (see 'Dabel Brothers Move On Again'), an adaptation of bestselling author Dean Koontz's Frankenstein: Prodigal Son. The monthly comic series will launch in February 2008. Frankenstein: Prodigal Son is the first of a planned trilogy of Koontz novels; the series will eventually adapt all three books.
The Dabels have a great history in adapting literary works. With their bestselling Laurell K. Hamilton series left behind at Marvel, the Koontz series starts what they promise will be a new group of literary adaptations under their own shingle.
Koontz has also licensed his character Odd Thomas to Del Rey Manga as the basis for new manga-style stories (see 'Del Rey Manga Does Dean Koontz').