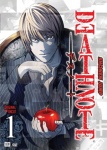 Viz has announced the English language voice cast for its biggest release of the fall, the Death Note Vol. 1 DVD, due out in November (see ''Death Note' DVD in November').
The lead role of Light Yagami will be played by Brad Swaile, who voices Rock in Black Lagoon, played Nightcrawler in X-Men: Evolution, and has had dozens of anime voice roles. Alessandro Juliani, who plays Felix Gaeta in Battlestar Galactica (and also voiced Prince Toma in Ranma 1/2 The Movie 2), will play the role of 'L.' Ryuk will be voiced by Brian Drummond, who's also voiced numerous animation roles.
Production will be done at the Ocean Group in Vancouver, which worked on Ranma 1/2 and Inuyasha for Viz, among other anime series.