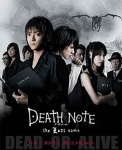 Viz Pictures has acquired the North American theatrical and DVD rights to the two live action Death Note features: Death Note and Death Note: The Last Name. The features were big hits in Japan (see 'Death Note 2 Opens Big in Japan'), and the property is also strong in the States. The DVD releases are slated for the summer of 2008.
The first Viz screenings will be at Austin's Fantastic Fest this weekend and at the Vancouver Asian Film Festival in November.
The features are based on the hit manga and anime; Viz Media has released the 12-volume Death Note manga, and is about to launch the Death Note anime DVD series in North America (see 'Viz Announces Cast for Death Note').