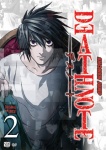 The Cartoon Network's late night Adult Swim block has confirmed via a message on its discussion boards that Viz Media's Death Note anime series will debut on Adult Swim on Saturday night, October 20th at midnight (ET, PT).
Adult Swim's Saturday night lineup, which follows the Cartoon Network's Toonami block, is the prime venue for anime on American TV. Typically a series like Death Note will appear on the once-a-week Saturday slot before (potentially) moving to a nightly rotation on Adult Swim.
Viz Media is planning on releasing the first Death Note DVD a month later on November 20th, in both a standard edition ($24.98) and an edition that comes with a limited edition figurine ($39.98), and the appearance of Death Note on Adult Swim should boost sales of the Death Note DVDs. The second volume of the Death Note anime series is due out on December 18th and subsequent volumes will be released on a monthly basis.
The Death Note manga, which finished its run with the publication of Volume 12 in July, remains extremely popular. The first volume in the series has sold over 35,000 copies in the bookstores so far in 2007, more than the initial volumes in any other manga series except Naruto and Bleach, an indication that the series is gaining new readers. The airing of the Death Note anime on Adult Swim (and Viz Pictures acquisition of the two live action Death Note movies, which will be released next summer, see 'Viz Gets Death Note Live Action Features') should keep the Death Note manga in the top ten in sales through 2008.